What's for dinner tonight?
The daily query prompted fresh answers this year. Options waned as restaurants closed, converting to takeout, delivery and limited dine-in due to COVID-19 restrictions.
Grocery stores stepped up to deliver dinner. Employees worked faithfully to stock shelves and provide safe access for customers.
People craved steak. And came to enjoy eating, and preparing, home-cooked meals.
"Retailers offering the brand have an edge," David O'Diam, Certified Angus Beef ® vice president of retail, says. "If you can't dine out for a steakhouse meal, you can have it at home."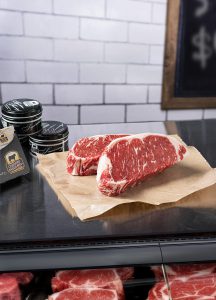 Consumers purchased 602 million pounds of Certified Angus Beef ® cuts at the meat counter this year, 12.3% above the prior year. Favored steaks when dining out—ribeye, N.Y. strip, tenderloin and top sirloin—increased 14%, and were closely matched in rising popularity by ground beef.
"Even as bottlenecks in deliveries to stores proved challenging, our retailers remained committed to quality," O'Diam says. "There's as much interest in the brand today as ever before."
Shoppers leaned into comfort foods, learning about roasting and slow cooking using the brand's Roast Perfect app.
"They're searching online for how-to skills, recipes and cuts for easy meals," O'Diam states.
Many retailers embraced new resources for online sales and advertising as attentions shift ever more digital.
"Customers know the product is special as soon as they walk in the store and arrive at the meat case," O'Diam says. "It's paramount to have that same brand experience online."
New photography featured beef in black trays, similar to what shoppers see in the store. Online offerings link to cooking tips, videos and recipes. Retailer social channels also welcomed customers to the new, free, interactive Steakholder Rewards™ community. Members learn about beef and earn rewards for purchasing the beef.
In stores, customers look to meat cutters for advice.
"They need to know how to cut meat, talk to customers and share how to prepare a great meal,"
O'Diam says. "Product quality is, of course, central to that message."
Butchers from Giant Eagle, based in Pennsylvania and Ohio, learned about meal solutions from chefs at the brand's Culinary Center in February. They also cooked on-trend beef cuts, adding to their repertoire of ideas for shoppers.
Southeastern Grocers, including Winn Dixie in Georgia and Florida, introduced the branded beef in 358 stores from October into summer. Early on, staff visited a family farm to learn about cattle care and beef quality. When in-person events shifted to digital, spring sessions reached 625 staff for online trainings.
Retailers offering the branded beef, such as Giant Eagle and Winn Dixie, were recognized for marketing and sales during the brand's Annual Conference, held virtually in September. Many of them achieved top sales and earned repeat customer visits by offering a full selection of Certified Angus Beef ® cuts: steaks, roasts and ground beef. Some, such as QFC based in Seattle, committed all ground beef in stores to the brand.
Still, limited availability of skilled labor remains challenging. During peak demand, foodservice meat companies augmented in-store offerings.
"Everybody struggled in different ways," O'Diam says. "Our retailers' focus on quality is key to keeping shoppers coming back and keeping them satisfied."
Customers seek the brand by name and logo. Fresh, case-ready steak cuts and ground beef help retailers keep the cases stocked even after the meat cutter goes home for the day.
A new label enticed shoppers to stock up on the freezer- and grill-ready cuts.
Today, retailers are placing hot prices in their ads and sharing the added value with customers. Meal solutions gaining ground include shaved steak, an easy start to sandwiches, salads, pizza, appetizers and so many family favorites. Marinated steaks also bring convenience to home kitchens: cook and serve.
As consumers continue relying on retailers for mealtime, O'Diam truly believes that quality will drive their purchases. Weis Markets, the brand's Retailer of the Year, has introduced restaurant-quality Certified Angus Beef ® brand Prime steaks in stores this summer.
"With more people learning new skills and eating at home, they'll be tuned in to making it a memorable meal," he says. "Our retailers are committed to delivering that quality every day."
The next time someone asks "What's for dinner?" brand retailers continue to answer with the best Angus beef.
Marketing Leaders
Weis Markets, Sunbury, Pa. – Retailer of the Year
Giant Eagle, Pittsburgh, Pa. – Retail Marketer of the Year, Large Chain
Gelson's, Encino, Calif. – Retail Marketer of the Year, Small Chain
Schnuck Markets, Saint Louis, Mo. – Retail Value-added Products Marketer of the Year
QFC / Quality Food Centers, Bellevue, Wash. – Retail Rising Star
Winn Dixie Stores, Jacksonville, Fla. – Retail Rookie of the Year
Corner Market, Hattiesburg, Miss. – Independent Retail Marketer of the Year
Sales Leaders
Meijer, Grand Rapids, Mich. – Top Sales Volume Large Chain Retailer and Top Retail Sales Volume Increase
Reasor's, Tulsa, Okla. – Top Sales Volume Small Chain Retailer
DeKalb Farmers Market, Decatur, Ga. – Top Sales Volume Single Store Retailer
Crest Foods, Edmond, Okla. – Top Retail Average Volume Per Store – Less than 10 stores
DeMoulas Market Basket, Tewksbury, Mass. – Top Retail Average Volume Per Store, More than 10 stores
Amigos Foods – Chicago, Chicago, Ill. – Top Sales Volume Retail Distributor
TOPCO Associates, Elk Grove Village, Ill. – Top Sales Volume Cooperative