Consumers crave beef.
Through the struggles of this year, that one thing remains clear.
In record time, meat companies changed how they do business due to COVID-19, in countless unexpected ways. Their focus always on feeding people.
"A lot has been learned and we continue to learn," says Clint Walenciak, Certified Angus Beef ® director of packing. "Our packing partners established a new baseline and are getting back into the mode of innovation moving forward."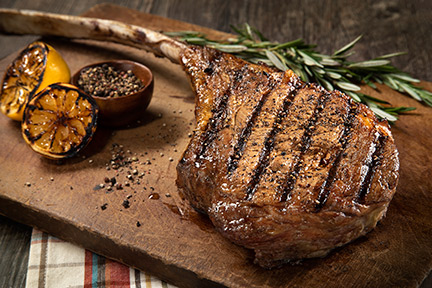 Since plant closures in April, the number of beef carcasses achieving the brand's standards increased 5%. That's due in part to large numbers of high-quality Angus cattle entering the market, and consumer demand for restaurant-quality at home.
Momentum shifted well before the brand announced specification changes in September. An option was added for beef carcasses meeting the brand's specifications with a ribeye area up to 19-square inches. Only certain cuts can be included in beef boxes with the brand's logo—tenderloins, sirloins, briskets, thin meats, roasts and items used for ground beef.
Processors Add Value
Advancements also came with packers introducing case-ready cuts and ground beef.
"Consumers shop the meat case for easy mealtime solutions," says Brett Erickson, the brand's director of value-added products. "Case-ready and convenient items are essential and help retailers keep their cases fully stocked all day."
Meat processors quickly transitioned their convenient, versatile beef items from foodservice to retail, as restaurants closed and turned to takeout, delivery and eventually limited-dine in service.
Shaved steak, cooked short rib and marinated meats make meals easier. They also offer restaurants labor-saving options for takeout.
"Labor challenges at foodservice are real," Erickson says. "Our added-value items limit labor costs, fit a variety of menu applications and hold well for carryout or delivery."
Exporters Continue to Provide
On a global scale, the lines between foodservice and retail narrowed. Exporters worked to continue delivering premium beef across borders.
"Innovation has encouraged survival and hope," says Cody Jones, the brand's vice president of international. "Certified Angus Beef ® licensees just keep finding ways to reach customers and consumers. In some cases ecommerce sites launched overnight."
Social marketing, online cooking demonstrations and influencers talking about beef added to the conversation, especially in Latin America. There's also momentum in Asia, and committed partners in 50 countries outside the U.S. borders.
"We've seen absolute commitment to quality in the face of adversity," Jones says.
That's good news for businesses and beef-loving consumers everywhere, worthy of recognition.
To award their commitment to quality, the company recently honored packers, processors and exporters for sales and marketing at the brand's virtual Annual Conference held Sept 23-24.
Marketing
DemKota Ranch Beef, Aberdeen, S.D., received the Golden Box Award for achieving precise product specifications in workmanship, attention to detail at plant level, packaging and product performance to ensure the best possible experience for distributors, chefs, grocers and consumers.
National Beef Packing Company, Kansas City, Mo., received the Fabricator Proficiency Award for merchandising the most beef from each carcass meeting the brand's standards.
JBS, Greeley, Colo. – Packer Marketer of the Year
Cargill Meat Solutions, Wichita, Kan. – Packer Brand Extension Marketer of the Year for leadership in marketing Certified Angus Beef ® brand Prime
Bertolino Foods, Boston, Mass. – Value-added Products Processor of the Year
Sales
National Beef Packing Company, Dodge City, Kan. – Top Sales Volume Fabricator
Cargill Meat Solutions, Wichita, Kan. – Top Sales Volume International Packer
Wolverine Packing Company, Detroit, Mich. – Top Sales Volume Ground Beef Processor
Golden West Food Group, Vernon, Calif. – Top Sales Volume Processor
Quirch Foods Co., Miami – Top Sales Volume Exporter
Four companies received Million Head Certified awards for cumulative number of carcasses certified for the brand: National Beef Packing, Liberal, Kan., 6 million; Tyson Fresh Meats, Holcomb, Kan., 3 million; JBS, Hyrum, Utah, 1 million; and JBS, Souderton, Pa., 1 million.