Make meals for Mom that are easy to prepare, and hard to forget
WOOSTER, Ohio, May 1, 2019 – Around the world, mothers are celebrated as the foundation of their families – and that's certainly true among Mexican and Mexican-American families.
"Showing mothers our sincere love and respect, especially on Mother's Day, is an important part of our culture," notes Ana Luisa Verba, Assistant Director of Marketing, Latin America, for the Certified Angus Beef ® brand. "It's so important to give them the very best."
In addition to the traditional serenade, gifts of flowers or candy, or other gestures of appreciation, gathering for a special meal with the guest of honor is a must. Despite the meal's significance, planning and preparing one filled with love and mouthwatering flavors doesn't need to be daunting.
One tip: start with the best quality ingredients. When it comes to beef, that means a bright, cherry-red color, with lots of marbling. That's the little white flecks within the lean red meat, which melts as it cooks and delivers quality beef's signature flavor and juiciness. The Certified Angus Beef ® brand, recognized by its distinctive logo, is an assurance that it's the best Angus beef because it meets 10 standards – including, most importantly, generous marbling.
Timesaving tools can also make it quicker and easier to prepare traditional favorites, without sacrificing flavor. Tender beef tamales can be prepared in a fraction of the time using an Instant Pot, and succulent, shredded barbacoa can be braised in a slow cooker.
If your family loves to gather around the grill – always a quick and easy way to cook – consider making flavorful Beef Tortas Al Pastor, or Michelada-Marinated Grilled Short Ribs.
Less time spent in the kitchen means more time to spend with loved ones, notes Verba.
"Mother's Day is all about connection – and often, the best way to do that is to gather around the table," she says. "Those are the times that make our cherished memories."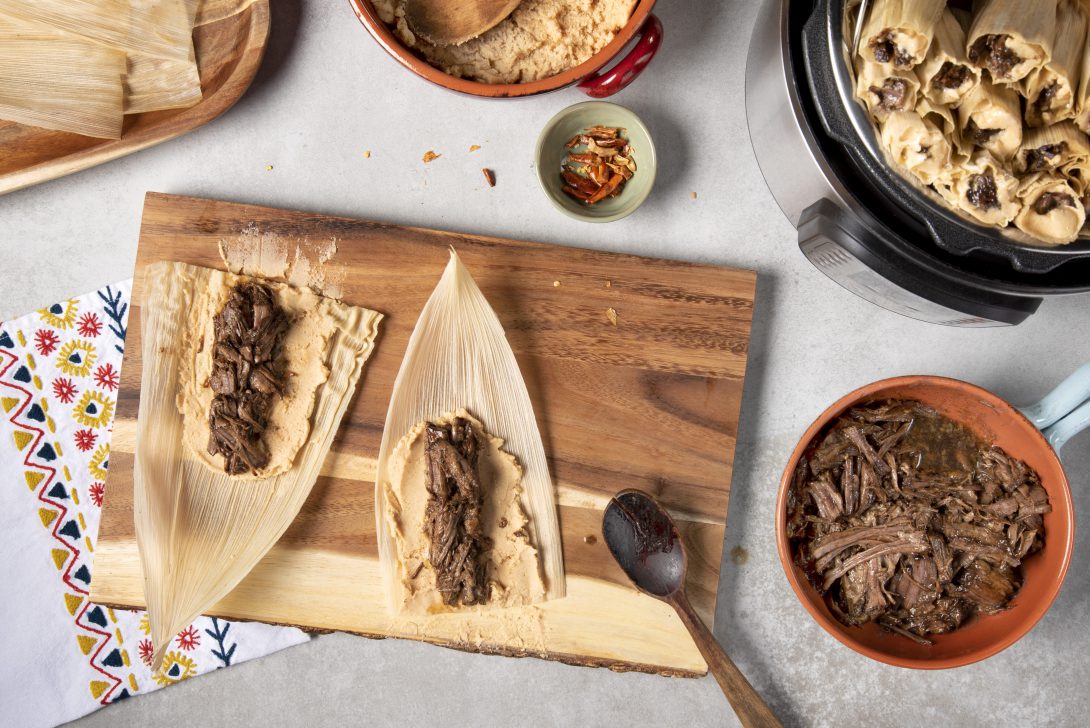 Ingredients
2 1/2 – 3 pounds Certified Angus Beef ® boneless chuck roast, cut into 2-inch cubes
16 corn husks
3 teaspoons adobo seasoning
1 teaspoon canola oil
4 dried guajillo chilies, seeded, stems removed and torn apart
2 bay leaves
1 cinnamon stick
2 teaspoons coco powder
2 teaspoons coffee
2 teaspoons dried oregano
1 teaspoon garlic powder
1 teaspoon onion powder
1 cup beef stock
3 cups masa
2 teaspoons chili powder
1 1/2 teaspoons baking powder
2 teaspoons kosher salt
2 sticks butter or 1 cup shortening, room temperature
2 1/2 cups warm water
Salsa verde (optional)
Instructions
In a stockpot or deep pan, soak cornhusks in warm water for at least 1 hour.
Preheat Instant Pot on Sauté setting. Season chuck cubes with adobo seasoning, add canola oil to pot and sear beef, working in three batches; reserve to a clean plate.
Add chilies, bay leaf and cinnamon stick to toast one minute. Stir in coco powder, coffee, oregano, garlic powder, onion powder and beef stock. Bring to a boil.
Return beef to pot, close and lock lid. Set to Pressure Cook High for 40 minutes. Allow Instant Pot to naturally depressurize for 20 minutes.
While beef is cooking make masa mixture. In a small mixing bowl combine masa, chili powder, baking powder and salt. Add butter (or shortening) and mix with a wooden spoon or rubber spatula until butter is well incorporated into masa. Stir in warm water, cover with plastic wrap and set aside.
Remove bay leaves and cinnamon stick from pot. Shred beef with two forks and reserve to a pan. Mix in one cup of the braising liquid and set aside.
Drain cornhusks and pat dry. Spread about 1/4-cup masa mixture starting from the wide end of the husk towards the narrow end creating a rectangle roughly 4 1/2-inches long from wide end to narrow end of husk and about 4 inches wide. There should be at least a 1-inch border of exposed cornhusk on the sides and about 3-inches from the narrow tip. Spoon a scant three tablespoons of the beef filling in a line down the center of the dough from wide end to narrow end. Fold long sides of cornhusk around filling then fold the narrow end toward the open end. Repeat with remaining husks.
Insert the steam tray in the bottom of the Instant Pot and add enough water to just barely touch the bottom of the tray without submerging in water.
 Stand tamales in Instant Pot on folded end, mostly vertically. Close lid and Pressure Cook on High for 15 minutes. Allow to naturally depressurize for 20 minutes.
Remove from pressure cooker and cool for at least 10 minutes. Serve with salsa verde or your favorite salsa.
Makes 20 tamales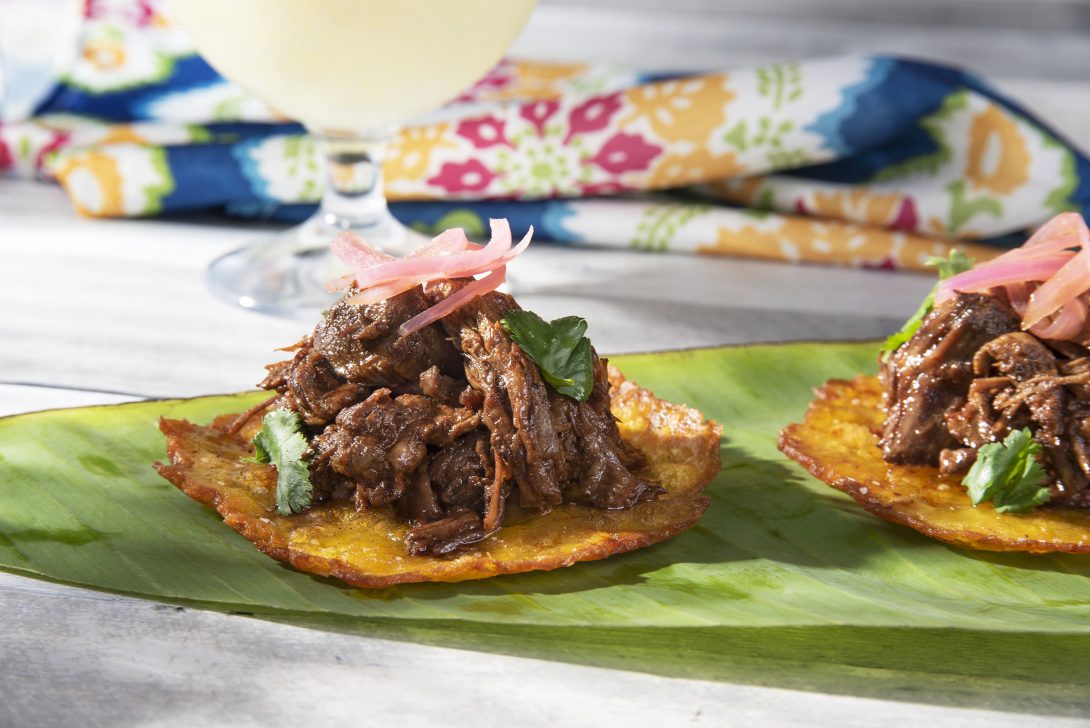 Ingredients
3 pounds Certified Angus Beef ® shoulder clod roast, cut into 2-inch pieces
1 Mexican cinnamon stick (or one regular)
1 teaspoon allspice berries
1 tablespoon cumin seeds
2 teaspoons Mexican oregano (or Italian)
2 teaspoons ground coffee
2 tablespoons salt
4 dried ancho chili peppers, stems and seeds removed
3 cups beef stock
1 onion, chopped
6 cloves fresh garlic, chopped
1 (6-ounce) can tomato paste
1/4 cup red wine vinegar
12 tostada shells or tostones
2 limes, cut into wedges
Optional toppings: sour cream, finely shredded cheddar, julienne radishes, chopped fresh cilantro, sliced avocado, pico de gallo or pickled red onion.
Instructions
In a heavy skillet, toast cinnamon, allspice, cumin, oregano and coffee over medium heat until fragrant, about 1 minute. Cool, add salt and grind in a spice grinder to a fine powder.
Season beef evenly with spice blend. Cover tightly with plastic wrap or put in a zippered plastic bag; refrigerate overnight.
Put dried ancho chiles in a pot with beef stock over medium-high heat. Bring to a boil, cook 5 minutes, turn off heat and cover with lid.
In slow cooker, combine beef, onion, garlic, tomato paste, vinegar and ancho chiles with stock. Cover and cook on high 1 hour, then on low for 6 hours until beef is fork-tender.
When beef is cool enough to handle, shred by hand. Put cooking liquid and vegetable mixture in a food processor or blender and puree until smooth; combine with shredded beef. Serve with tostada shells or tostones, lime wedges and optional ingredients.
Serves 6-8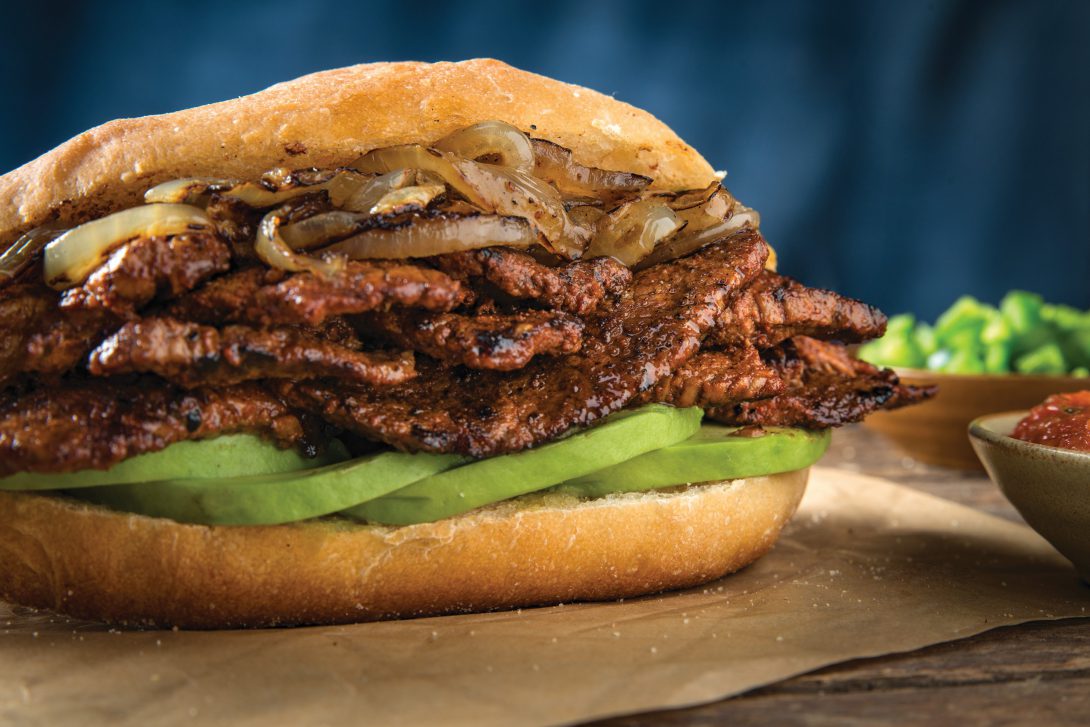 Ingredients
1-1 1/2 pounds Certified Angus Beef ® top sirloin steak, thinly sliced (1/8 – 1/4-inch)
2 chipotles in adobo, seeds removed and chopped
1 teaspoon dried oregano
1 cup orange juice
1 cup pineapple juice
1 tablespoon canola oil
5 garlic cloves, minced
1 small yellow onion, finely chopped
2 teaspoons ancho chili powder
2 teaspoons annatto powder (also known as achiote powder)
1 teaspoon paprika (double if annatto/achiote isn't available)
2 teaspoons cumin
2 teaspoons salt
1 avocado, sliced
1 yellow onion, sliced in rounds
4 bolillo rolls (or French rolls)
Instructions
Mix chipotles, oregano and fruit juices together in a mixing bowl; refrigerate.
Heat oil in a large frying pan over medium-low heat; add garlic, onion, ancho, achiote, paprika, cumin and salt. Simmer for 3-4 minutes until onion is transparent; set aside to cool. Add to juice mixture to create a marinade.
Place beef strips and marinade in a zipper-locking bag. Allow to marinate 2 – 4 hours refrigerated.
Preheat grill to high. Remove steak strips from marinade, discard marinade and place beef on a sheet pan lined with paper towels. Char onion slices over medium-high heat on the grill, about 3 – 5 minutes per side. Sear steak strips quickly over high heat, transfer to plate and lightly cover with foil.
Construct sandwich with charred onion, steak and avocado on the rolls.
Serves 4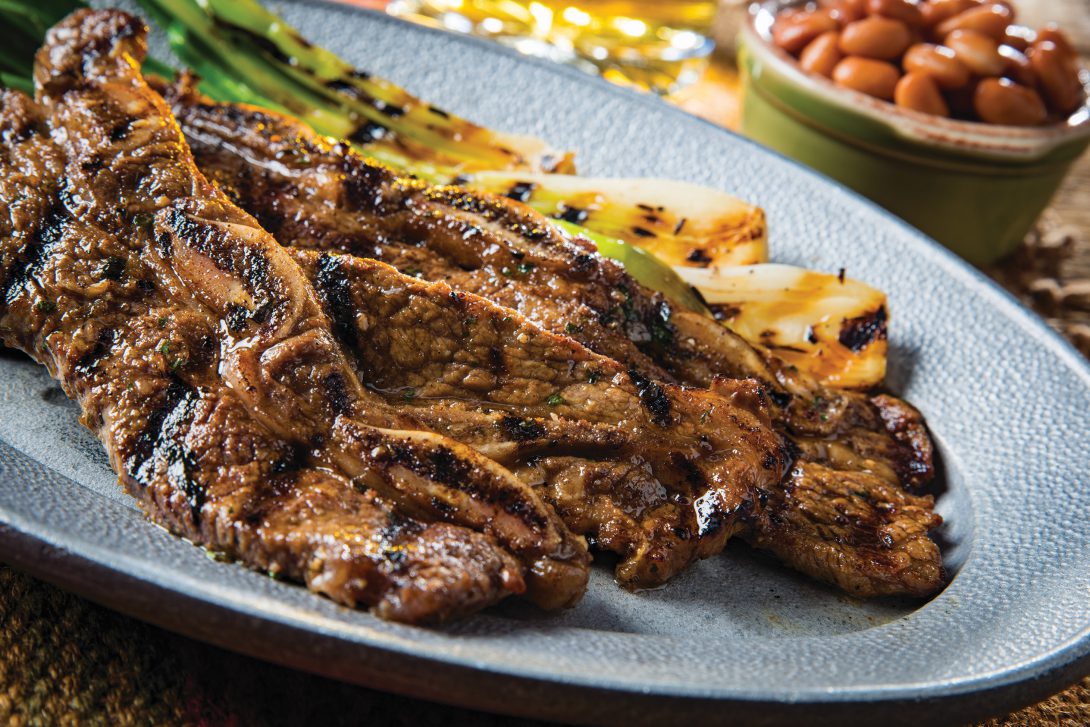 Beer and Lime Marinated Grilled Short Ribs
Ingredients
1 1/2 pounds Certified Angus Beef ® flanken-style short ribs (about 1/4-inch thick)
2 tablespoons light olive oil
1 small yellow onion, diced
5 garlic cloves, sliced
2 jalapeños, sliced
1 tablespoon salt
1 tablespoon ancho powder
1 tablespoon ground cumin
1/2 cup chopped cilantro
2 limes, zest and juice
1 Mexican lager, chilled
Instructions
Heat olive oil in a skillet over medium-low heat; add onion, garlic, jalapenos and salt. Sauté the mixture, stirring occasionally 3-5 minutes until onions are transparent while avoiding browning. Stir in ancho and cumin and toast until fragrant. Remove from heat and add lime juice and lime zest. Transfer to a mixing bowl, add beer and cilantro and allow the marinade to cool in refrigerator (about 30 minutes).
Put beer marinade in a gallon zipper bag with short ribs. Marinate refrigerated for 3-12 hours, depending on how strong you prefer the marinade flavors.
Preheat grill to a high heat. Remove short ribs from marinade, discarding excess marinade. Pat dry with paper towels and sear each side over high heat for about 3 minutes per side. Transfer ribs to a platter, loosely cover with foil and allow to rest 5 minutes before serving.
Serves 4
Recipes provided by the Certified Angus Beef ® brand
About the Certified Angus Beef ® brand
World renowned for its exceptional quality and generous marbling, the Certified Angus Beef ® brand is the original brand of premium beef. It was created in 1978, and is still owned today by family ranchers who are determined to bring the best Angus beef to the table. Ten exacting standards ensure superior taste and tenderness in every bite. For more information, visit CertifiedAngusBeef.com or follow the brand on Facebook, Twitter, Instagram, Pinterest and LinkedIn.