Meet More of Our Heroes
Feeding the community's children healthful, delicious meals is the central mission of Greenville County Schools' Nutrition Services Director Joe Urban and his team—a mission that has become perhaps even more meaningful when normal in-school operations were interrupted indefinitely in March.
"We found out on a Sunday evening that everything would be closing the next morning and we would need to implement phase 1 of our emergency feeding plan the next day," Chef Urban recalled. "It was extremely challenging. We started by serving 1,200 meals the first day, then scaled up to 25,000 meals per day and increased our feeding locations from 15 to over 80 less than a week later."
Urban, along with the district's leaders, have always known school meals are critical, particularly in a district where many students are at-risk.
"For many of the over 77,000 students in our district, the meals they receive during school represent the only substantive nutrition they ever receive. For these students, being out of school and not having access to these meals is devastating," Urban said. "This emergency feeding program has made a huge difference. For some, not having to pay for meals when money is tight is extremely beneficial; for others, just knowing that they are able to get food at all has been life changing. We all know there is poverty in our communities, but most have no clue as to how severe that actually is for some families."
As always, Urban places a priority on getting the best possible ingredients, regardless of circumstance. He admits the challenge of meeting USDA regulations during the pandemic has been an additional challenge. But, as the saying goes, it takes a village.
"While they have always been behind us and supportive in our efforts to reinvent school food, the greater Greenville community has been outstanding during this event. Multiple organizations have stepped up to offer assistance in many different ways," Urban said. "This community understands that it takes the collective efforts of all to make our little corner of the state one of the best places to live in America."
The program's success is also due to extensive support and collaboration within the school district. Nurses are screening the nutrition services staff daily to ensure their health and safety while at work, while drivers and buses play a crucial role in delivering food to additional 70 sites across the county, drastically expanding the program's reach.
"From day one, when everyone else in the district was scheduled to work remotely from home, leadership committed any and all resources I needed. Without the support of the building services staff, transportation staff and district nurses, we would not have been able to be as successful as we have been," Urban explained. "This has been the greatest collective emergency feeding effort I have ever been a part of in my life.
"In a time when the president, the governor and local officials recommended that everyone remain in their homes for their safety, these selfless individuals chose to leave the relative safety of their homes to work so that all children in their community would have access to high quality nutrition. They could have remained home and never missed a paycheck," he added.
"These 450 people are heroes and I am extremely proud to be a part of this team," Urban said. "The biggest reward is knowing that the more than 1 million meals we have served to children in our community since the start of this COVID-19-related school closure have met their very real needs."
The Power of Food to Connect
Like Urban and his team, those who are called to the kitchen know the power good food can have. It's nourishment not only for the body, but  also for the soul: both for the cook, and the guest. In fact, food's power to build bonds among families, neighbors, friends and the community are at the heart of why those who cook do so.
Even—perhaps especially—in recent weeks, when physical distancing has changed the way people are eating, the power of food to build connections is on full display. It's possible through the efforts of creative, caring folks like these who continue to reach out and strengthen person-to-person bonds, one meal at a time.
Los Tanitos (Miami, Fla.)
Travel restrictions around the globe related to the pandemic have stranded some visitors away from their homes, including a group of Argentinian nationals at the Miami airport. Enter Chef Carla DiLorenzo of Los Tanitos, the city's renowned Argentinian restaurant known for its empanadas and its premium beef. DiLorenzo is serving the travelers a taste of home: churrasco style sirloin flap, rice and beans. In addition to those 200 meals a week, she shared the same spread with 250 workers at the city's Baptist Hospital in appreciation for their work.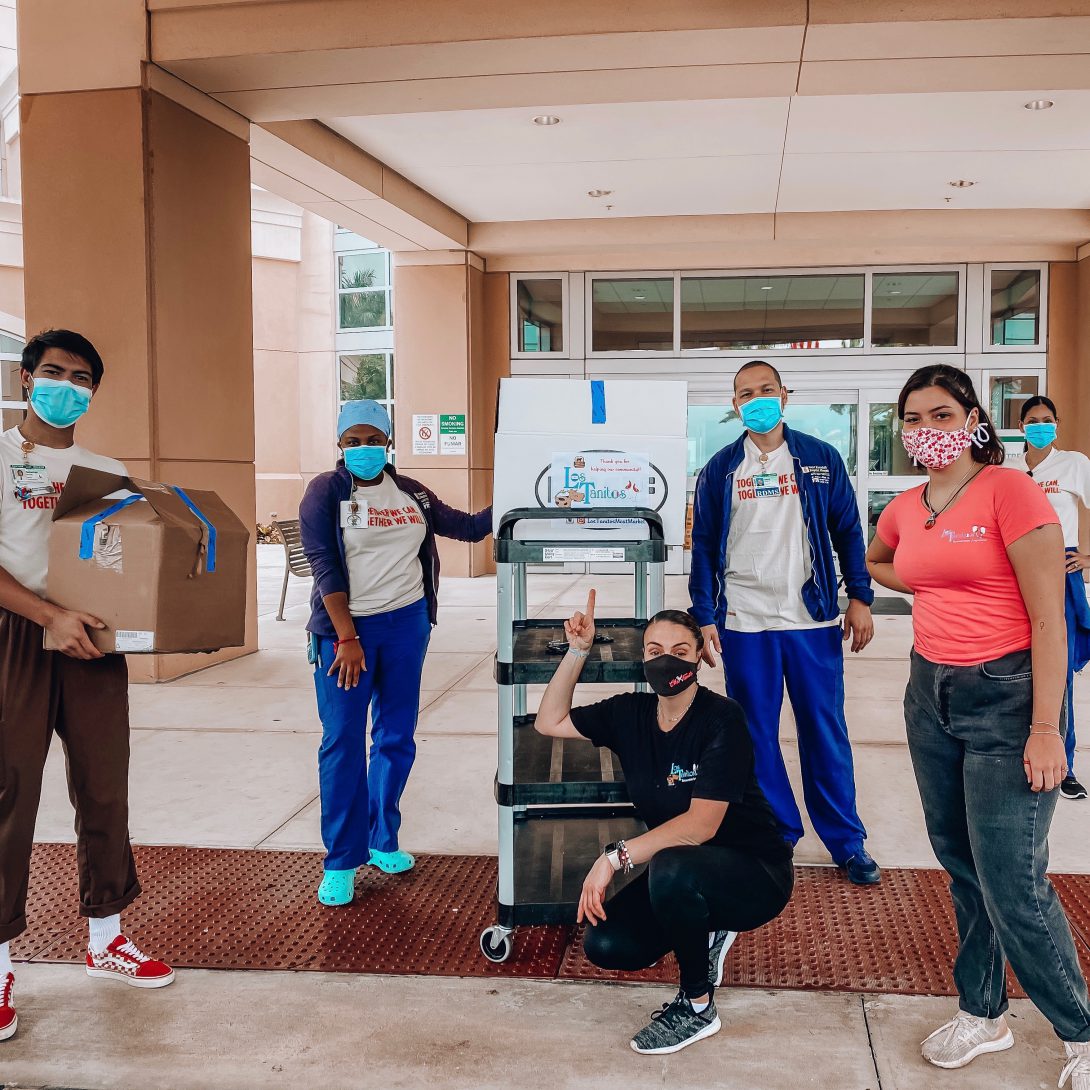 RED, The Steakhouse (Miami, Fla.)
As a city built on the hospitality industry, Miami's restaurant scene has been hit hard by the COVID-19 pandemic. To support the medical workers on the front line, a coalition of the city's most notable restaurants, including RED, the Steakhouse, Joe's Stone Crab, Yardbird, Stubborn Seed and Thierry Isambert, joined together for "Meals for Heroes Miami," which reaches out to hospitals and testing centers and delivers up to 500 meals daily to each facility.
To date, recipients include Jackson Memorial Hospital, Miami Baptist Hospital, Miami Baptist Miami Beach, and the Miami Beach Fire Department. Meals are funded by donations, which may be made at MealsforHeroesMiami.org.
"Meals for Heroes has brought a needed respite for our frontline nurses and staff at our emergency rooms and ICUs," said Joe Arriola of Jackson Memorial Hospital. "We all truly appreciate this show of support by our community by donating dinners for our healthcare professionals, who are putting their own health on the line to support and comfort their patients. It's clear proof that we are all in this together."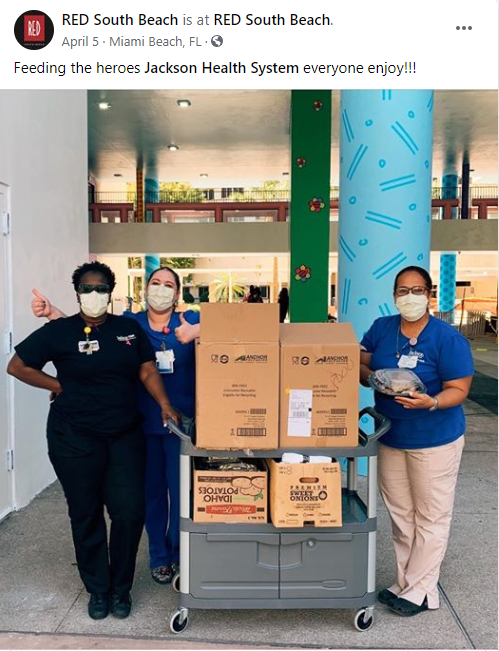 Summer House (Cleveland, Ohio)
In mid-March, Chef Vinnie Cimino celebrated a blockbuster opening of his new restaurant Summer House. Just days later, the state of Ohio limited all restaurants to curbside, carry-out or drive-through business only. An unanticipated challenge, to be sure. But, the spirit of hospitality prevailed, and Cimino—joined by fellow Cleveland Chef Matt Spinner of Ushabu—made lemonade out of lemons, turning his brand-new restaurant into a community kitchen supporting restaurant industry workers who had been laid off because of the pandemic.
"Hospitality is what defines our industry, so that's what we did," Cimino explained.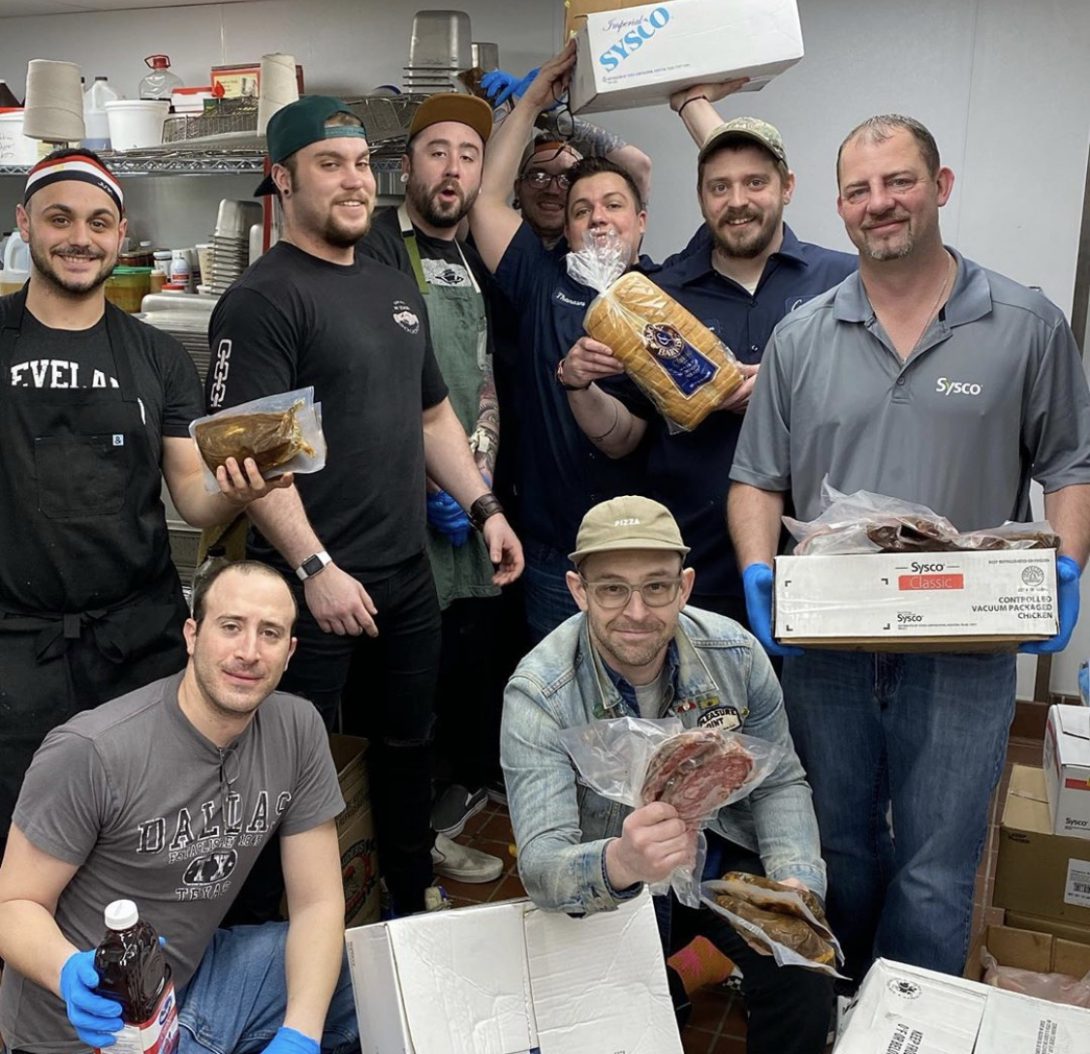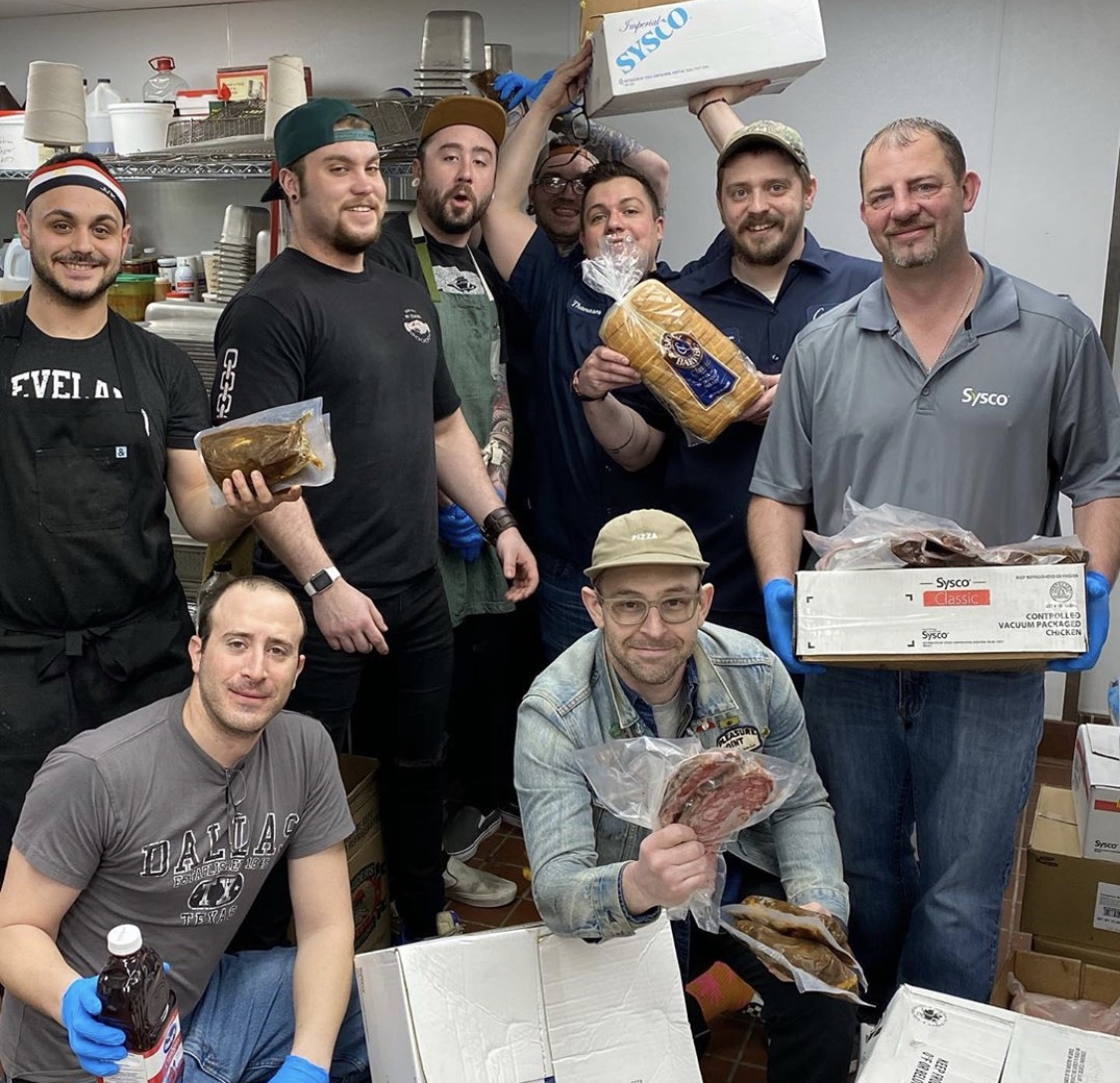 Reasor's (Tahlequah, Okla.)
Across its 17 Oklahoma stores, Reasor's is hosting its first Spring for Meals Fund and Food Drive, benefiting the Community Food Bank of Eastern Oklahoma and its network of 350 partner organizations that serve the community. From April 15 through May 5, Reasor's customers were invited to use donation cards at the register or online to add $1, $5 or $10 to their order, or to purchase pre-packed $15 bags of nutritious groceries. The food bank's website, okfoodbank.org, also accepted donations directly.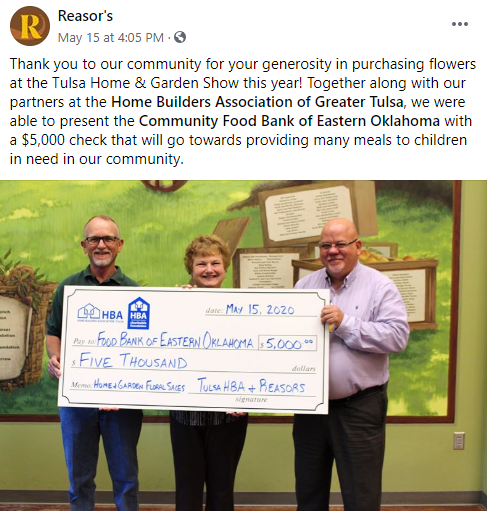 Chef Govind Armstrong (Los Angeles, Calif.)
When Santa Monica's acclaimed The Lobster Restaurant shut its doors in response to the COVID-19 pandemic, its chef, Govind Armstrong, made it a personal mission to help the staff. Once a week, he plans and prepares a meal for employees affected by the closure and their families, supplemented in part by donations from partners, like Newport Meat Co.
Okeechobee Steakhouse (West Palm Beach, Fla.)
It's the heart and soul of every restaurateur to serve, and the Okeechobee Steakhouse is doing just that during the pandemic. Since March, the oldest steakhouse in Florida has fed more than 2,000 frontline volunteers and 1,500 members of the local Boys and Girls Club. In addition, they're providing meals to 50 Intensive Care Unit hospital workers daily.
Chicago Culinary Kitchen (Palatine, Ill.)
Creativity and craftsmanship takes all forms with Greg and Kristina Gaardbo. You see it in the barbecue they serve, complete with craft beer and wine pairings, at their restaurant with a rock-and-roll vibe. And, it's apparent at the couple's sister company, Shockwaves Apparel, which is known for its custom and creative designs. Today, Shockwaves is making facemasks for those in need and accepting orders featuring any photo or artwork.
Schnucks (St. Louis, Mo.)
With deep roots in the St. Louis community, the grocer donated more than a half-million dollars to support those in the region affected by the pandemic. It also launched a Round Up at the Register campaign, inviting shoppers to pay it forward through their donations to the local United Way April 3 through 19.
Note: this is Part 2 in an ongoing series. To read more, see Part 1.