From the ranch to the table, the brand brings together many communities
It was an April blizzard, not long after cleaning up from the last one, which struck South Dakota with the force of a Category 2 hurricane. When rancher Troy Hadrick described the challenge of caring for his cows and their calves born during that storm, his voice wavered and eyes welled up with tears. Between the stress on his cattle and the stress on his wife and three teenagers, it was an emotionally and physically exhausting experience.
Even six months later, the feelings were raw.
"It was a tough winter, but I tell you what, those kids never quit and my wife never quit. We didn't save them all, but we did pretty good," he recalled. "You've got this unwritten, unspoken contract with your cows, that you'll take care of them. In turn, they'll take care of you. And we did the best we could."
Hadrick shared those struggles and emotions with a cross section of brand partners, and there wasn't a dry eye in sight. Salespersons, restaurateurs, retailers: they bowed their heads or grabbed a handkerchief with deep respect for the grit and love it takes to raise Angus cattle, no matter what hand Mother Nature deals.
Meanwhile, Hadrick's fellow ranchers nodded in empathy, as they remembered their own hardships over the years: the fires, floods, tornadoes and droughts. The list continues. But it's not just these difficulties that bring ranching families together. It's their traditions, values and passion that hold them close despite the miles of rolling hills, green pastures, mountain ranges, prairies or deserts that separate their homesteads.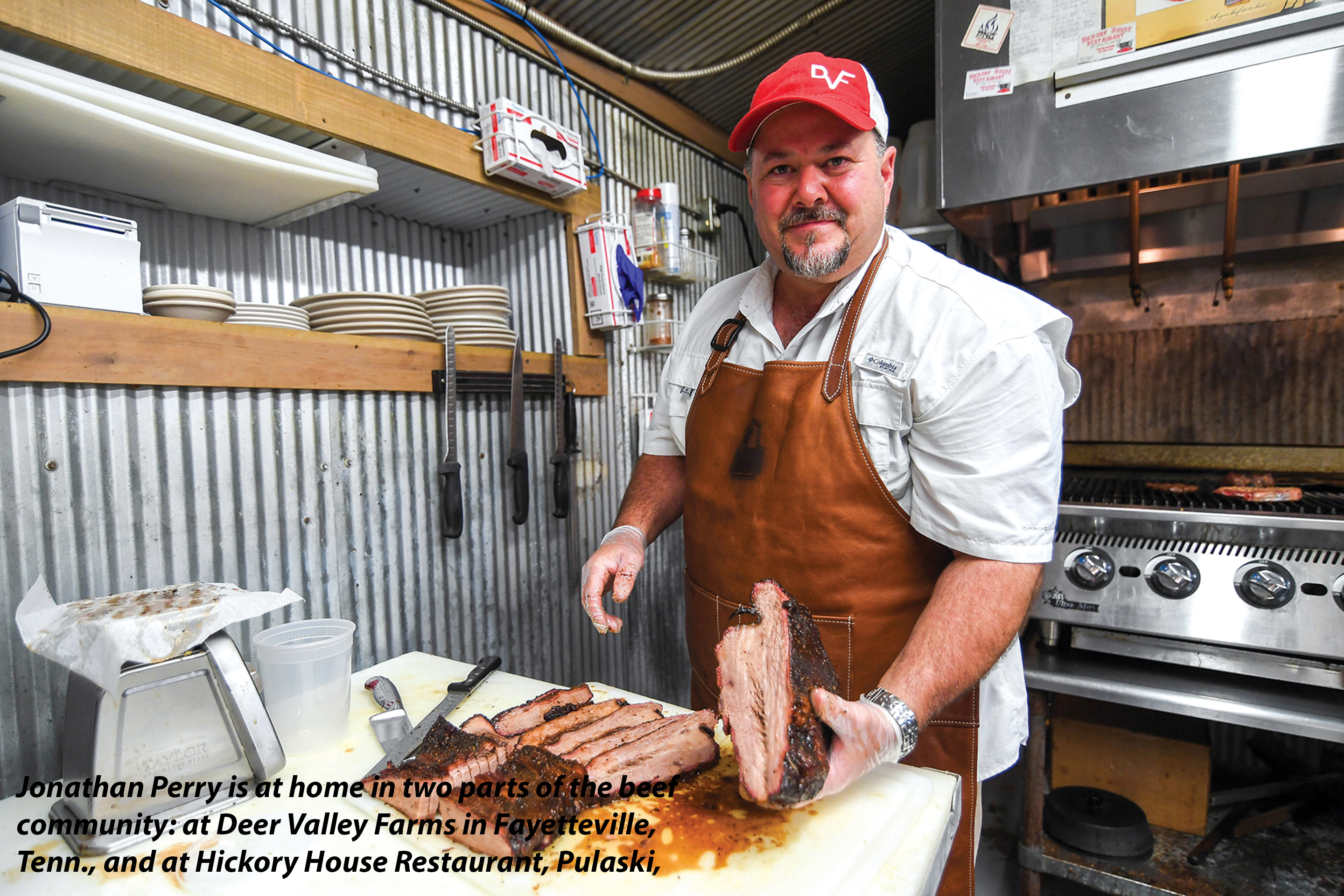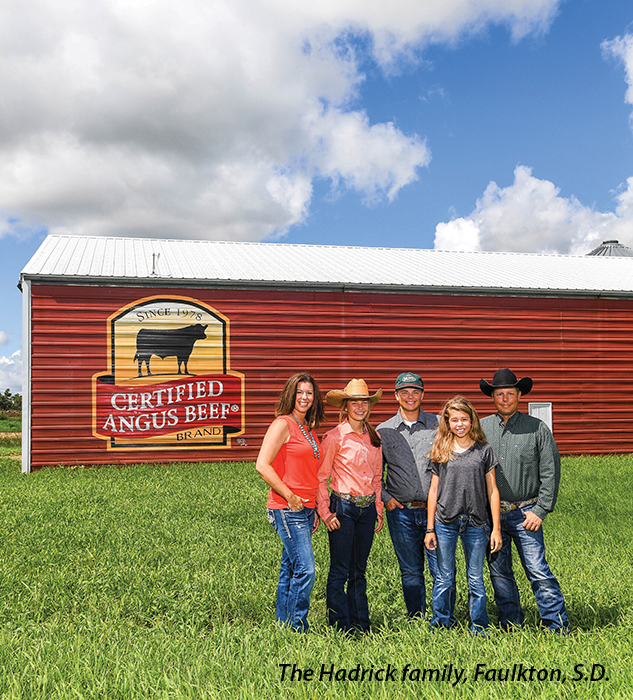 While helping write a new coffee table book, "Sheltering Generations—The American Barn," Miranda Reiman, the brand's director of producer communications, witnessed the ranching community's neighborly love and similarities firsthand.
"Bringing all their stories together in one book highlights the diversity of families who raise cattle in varied environments and business climates," she says. "Yet, it showed the way they're all the same: they believe in this brand."
The book specifically features the 40 families who were a part of the brand's 40th anniversary Brand the Barn logo-painting journey. Like Hadrick, most of this group also attended Annual Conference, where they intermingled with attendees. That let those new to the beef community learn about the people responsible for the product they sell or cook.
The ranchers' appearance, along with Hadrick's presentation, inspired members across the brand community to purchase the book; 100% of sales benefit the brand's new Rural Relief Fund, established to aid farm and ranch communities when disaster strikes.
"Though we all try to help each other when we can, you can't always make it to a neighbor's place during a blizzard. But, we can help them in the aftermath, and I think that's what the Rural Relief Fund can do. It's another way for us to come together to help our neighbors and friends," Hadrick shared.
Whether it's at brand events, industry events like the Angus or National Cattlemen's Beef Association conventions, bull sales or cattle shows, they are sure to run into a friendly face, a familiar handshake and a question about how the family, and cattle, are doing back home.
This dedicated group of people backs the Certified Angus Beef ® brand and supplies the very best Angus beef in the world while also working together to ensure the land and resources are in good shape for future generations. Without them, there'd be no guarantee of beef to sell or eat, no beautiful barns to admire in the glow of a sunset, and no guarantee this special way of life could be possible for their children.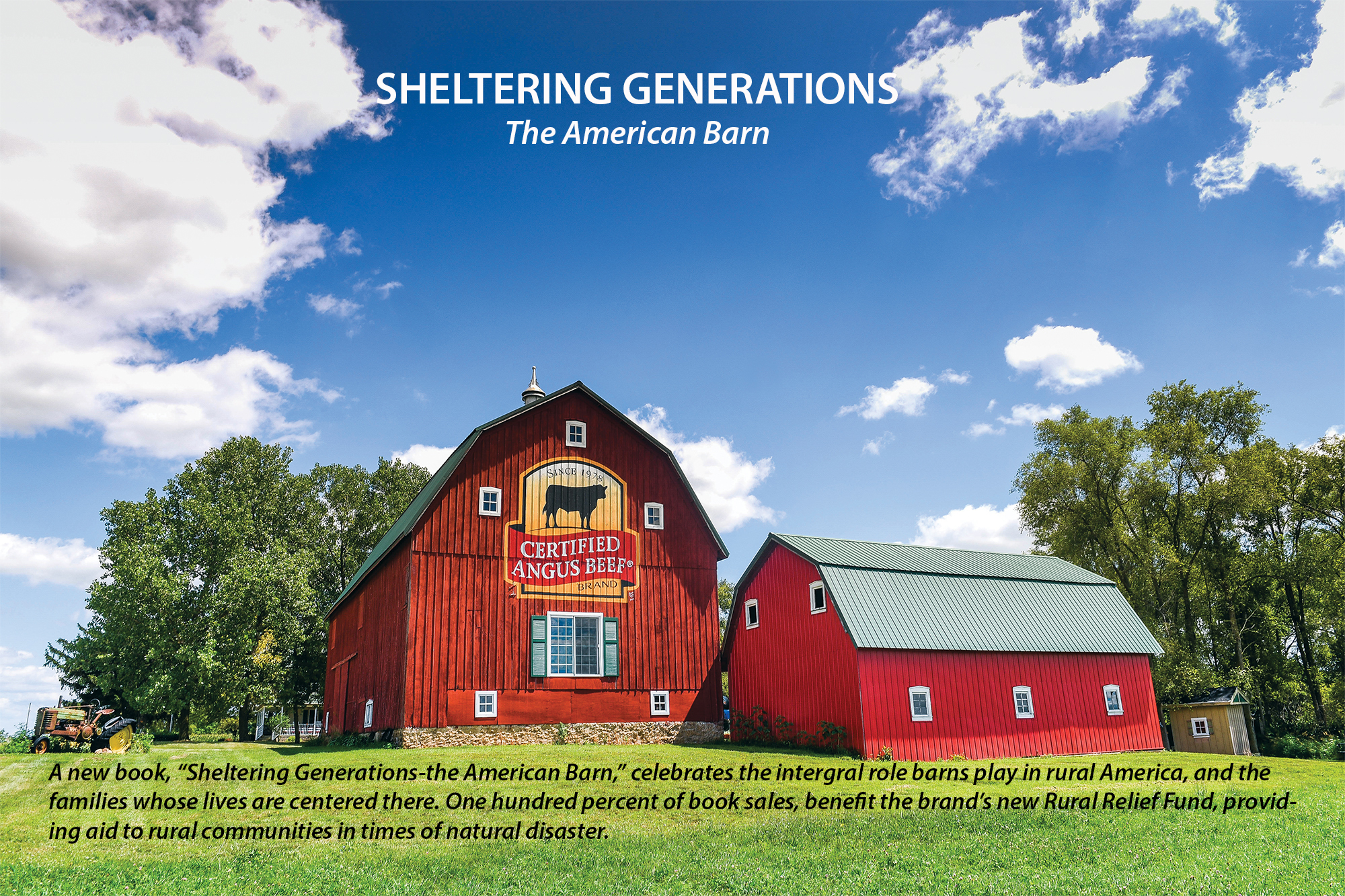 At the Table
While the bond among Angus farmers and ranchers is special, it's not the only one facilitated by being a part of the larger brand community. At each link in the chain, relationships have taken root and camaraderie, collaboration, support and mutual success have blossomed as a result.
It's easy to list each subdivision of the brand, starting from the beginning with the ranchers who established it more than 40 years ago. But these groups of people are connected in more ways than one.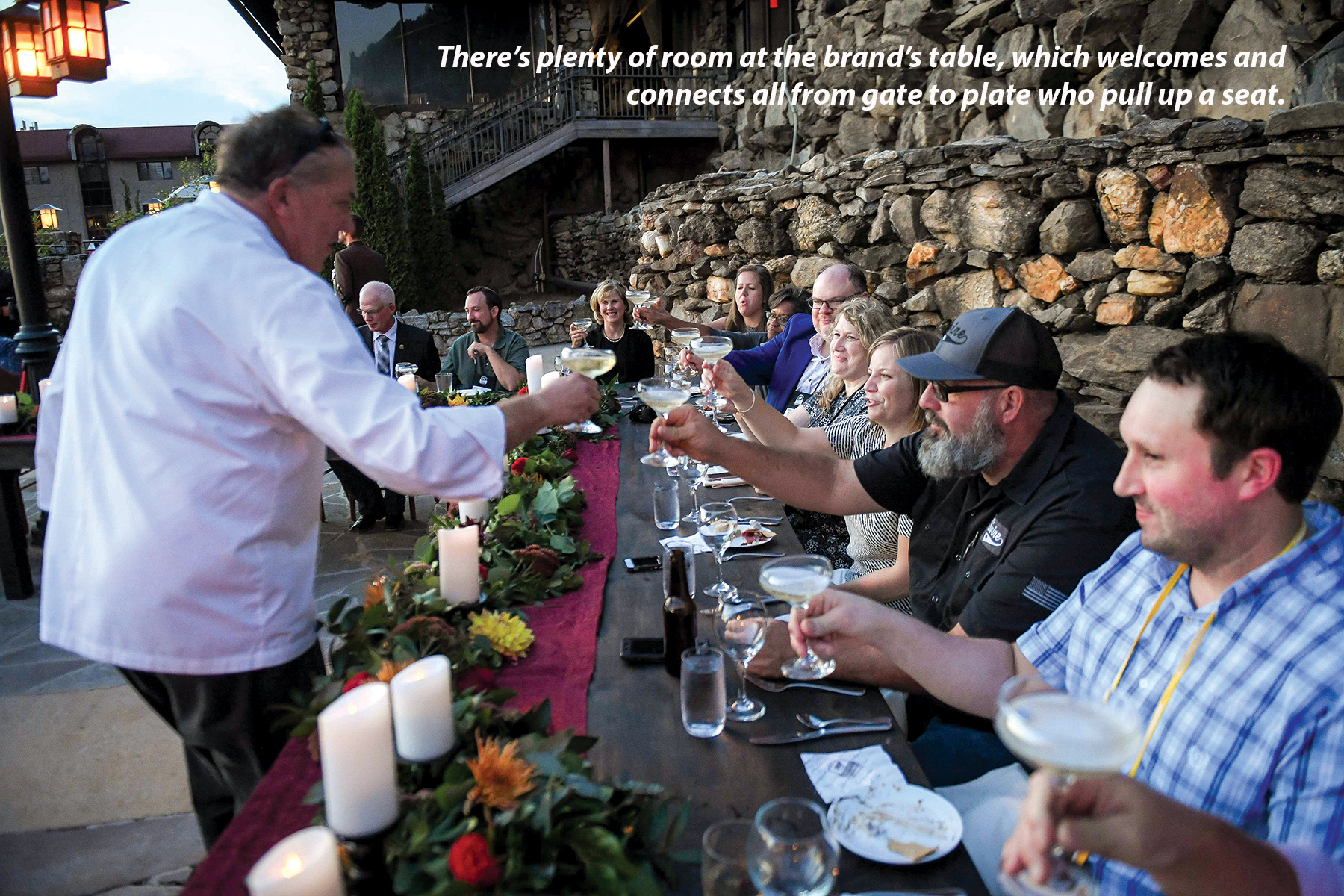 With a welcoming gesture, they grab a chair and take a seat at the brand table—sandwiched between a meat scientist and a grocer, clinking glasses with the chef across the way. The table has definitely grown to fit all those who join, but it hasn't really changed.
The people surrounding it still bow their heads before they eat, praying for their family and community. They hope for rain or increased market prices or sales, however they measure success. They do their life's work with honor and focus. They still thrive in the others' presence, sharing ideas and support. When they hear the call, they're quick to extend a helping hand. And, they're always ready to pull up a chair for someone new.
They do this because the Certified Angus Beef ® brand is more than a name or a logo. It's a family with a mission to engage and serve with passion and integrity. These stories are just a few examples.
Past the Barn Doors
At The Culinary Center, in meat labs across the country, and in conference rooms in buildings of all shapes and sizes one group you'll find is independent meat company leaders and salespersons enjoying the company of their peers and discussing how they can help increase sales, which in turn drives demand for the beef ranchers produce.
They are just as passionate about helping one another as they are about filling plates with top-quality steaks, roasts and burgers. That's why they take every opportunity available to work together for a cause much greater than themselves.
The camaraderie among this group was evident in 2017, when a group of 16 companies pooled funds to donate $65,000 to a relief fund for ranchers in Kansas, Texas, Oklahoma and Colorado who lost farms and livestock in devastating prairie fires. It's just one example of how the group is invested in others' success, from the farm to the streets.
Duncan Macgregor Jr., president of Macgregor's Meat and Seafood in Toronto, credits the group for its help as the 70-year-old company worked to re-establish a dry-aging program.
"We hadn't dry-aged since the late '50s, and I think my father probably thought we were a little bit nuts going back to it," Macgregor said, adding he believed the time was right. It would both elevate and differentiate the business in today's market.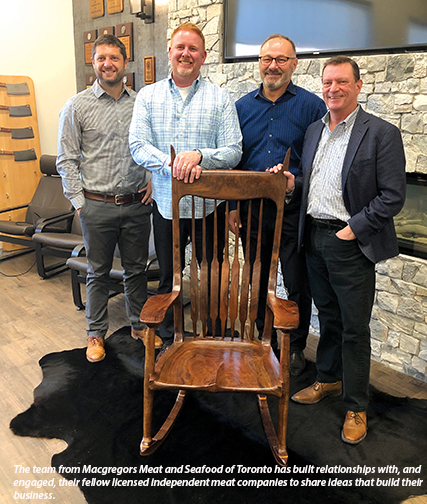 "We reached out to other independents in the Certified Angus Beef ® brand community, and I'm very thankful we had some tremendous help from some of those partners within the brand. We couldn't have gotten to where we are today, even though it's on a small scale, without their help," Macgregor noted.
Each independent's business, opportunities and challenges may be unique, but the goodwill makes their similarities much more relevant. Whether it's programs at The Culinary Center or the annual independents' gathering hosted by one of the group's members, it's an opportunity to learn and share ideas.
You may also find them on a ranch, sliding feed through their hands for the first time, taking selfies with a nearby heifer or shaking hands with the young cowboy who hopes to be just like his dad when he grows up. Their interest in the industry goes far beyond their office walls, and that, in turn, helps link the pieces and parts of beef's journey together.
ON THE PLATE
Within the culinary world, there's a particular group that's truly a society unto itself. Members of the fun-loving barbecue community spend a lot of time filling smokers and slicing big hunks of beef. While it draws from all walks of culinary life—from classically trained chefs to award-winning competitors to self-taught fans who've pulled up their own seat at the table—its shared passion for low-and-slow-cooked 'cue holds the collection together.
"The barbecue community has a 'no secrets, we're all in this together' mindset," says Michael Ollier, senior corporate chef for the Certified Angus Beef ® brand and certified barbecue judge. "These folks make you feel welcome no matter where you come from in the barbecue circuit. The genuine nature of these folks is right in line with our brand."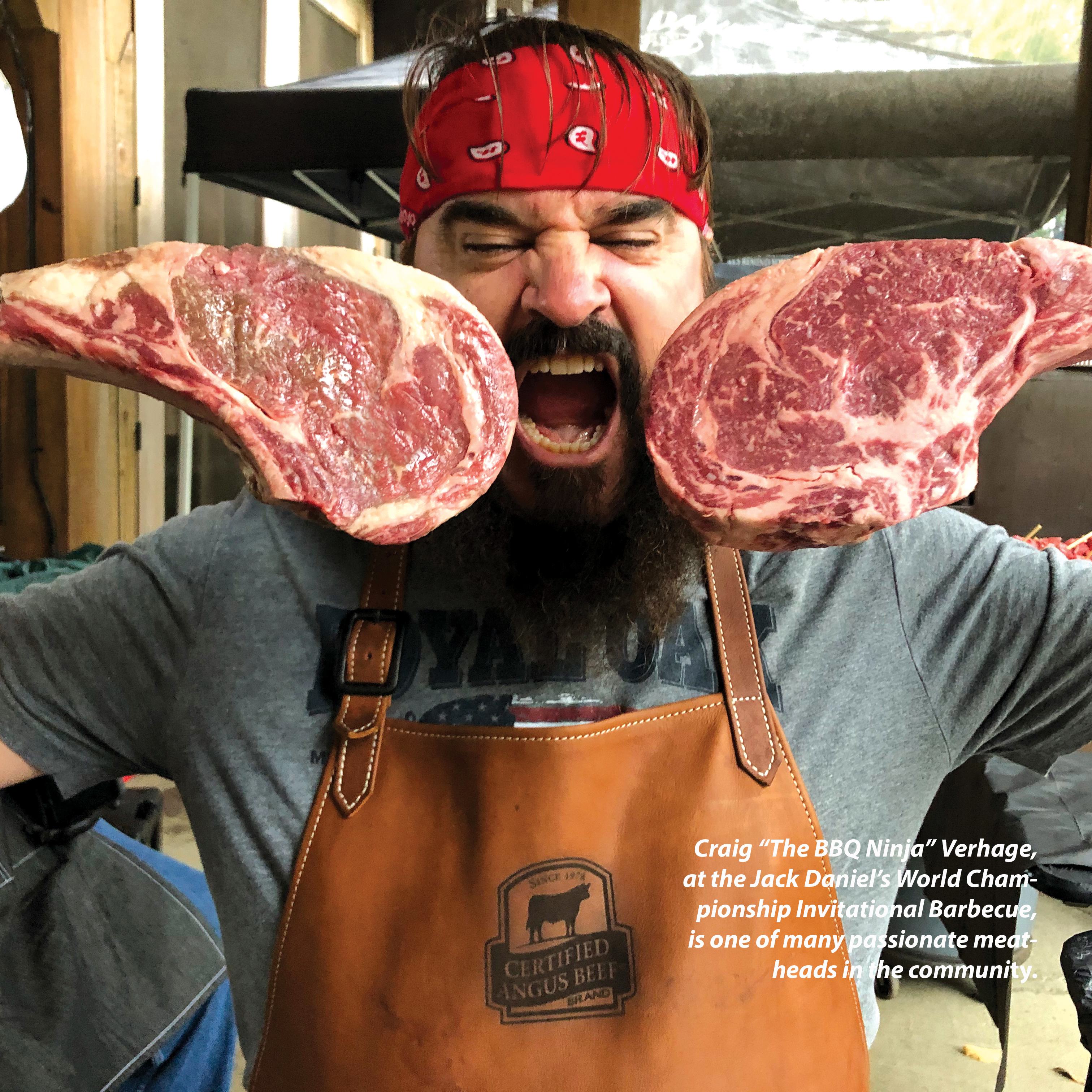 The community's welcoming nature shone bright during the brand's BBQ Summit, which gathers many of the nation's best pitmasters in Wooster, Ohio, for a few days of collaboration, fabrication and education—plus plenty of fun and great eats, of course.
The barbecue community also comes together for initiatives like Operation BBQ Relief. The relief fund started after the 2011 Joplin, Mo., tornado and remains dedicated to providing meals to emergency personnel and those displaced during times of natural disasters. It's backed by a large number of volunteers, most of whom are military veterans or retired first responders who share a love of barbecue.
The organization's efforts have found a soft spot in Ollier's heart, as he continues to engage the brand in the effort at a higher level.
"The volunteers respond to such disasters because they can roll in onsite with a pit and cook for people without electricity," he says. "It's become more formalized over the years, and served more than 3 million meals across the country."
Most recently, volunteers have traveled outside of the U.S. borders to feed those in the Bahamas who were harmed or displaced by Hurricane Dorian.
In addition to these meals at disaster sites (aka deployments), Operation BBQ Relief began The Always Serving Project, an extension of the original fund that serves military members and first responders and fights hunger; the Breaking Bread Tour, to bring awareness to hunger across the country; and BBQ Basics, where attendees learn how to barbecue.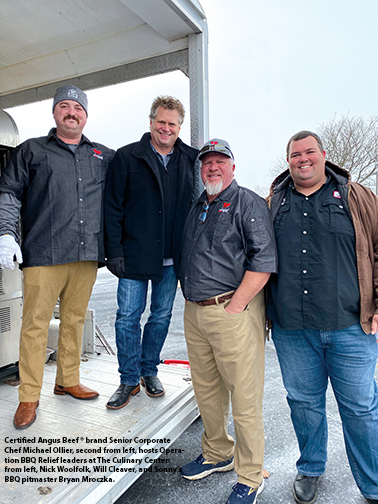 The barbecue crew's efforts are proof of what good can come from joining forces with others, even if they prefer to smoke meat with a different type of wood or use sauces instead of rubs. It's something many notice while attending some of the best barbecue festivals, like the Jack Daniel's World Championship Barbecue Invitational or Memphis in May, where they seek connection and camaraderie.
It's the spirit that's evident from one end of the table to the other.