Global network of brand partners achieve 13th consecutive year of record sales
Total sales: 1.25 billion lbs. (up 3.1%)
13th consecutive record year
Year-over-year growth since 2004
For a mature brand, sales growth, particularly over several consecutive years, is far from guaranteed. Sure, having a high quality product helps. But sustained success takes intention, a focus on shared goals, and commitment from the entire community behind the brand, said John Stika, president of Certified Angus Beef LLC.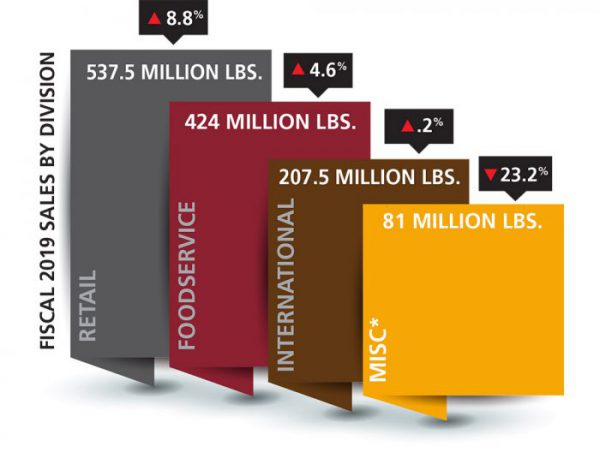 It's a recipe for achievement that succeeded once again for the Certified Angus Beef ® brand in fiscal 2019. For the 13th year in a row, the brand saw record global sales. It was also the 15th consecutive year of sales growth.
The brand's global network of nearly 19,000 licensed processor, foodservice and retail partners marketed 1.25 billion pounds of product, a 3.1% increase—or an additional 38 million pounds—over the previous year.
It starts, Stika said, with "an entire community of Angus farmers, ranchers and feeders being extremely intentional over several years in the way they breed, raise and care for their cattle with a focus on quality."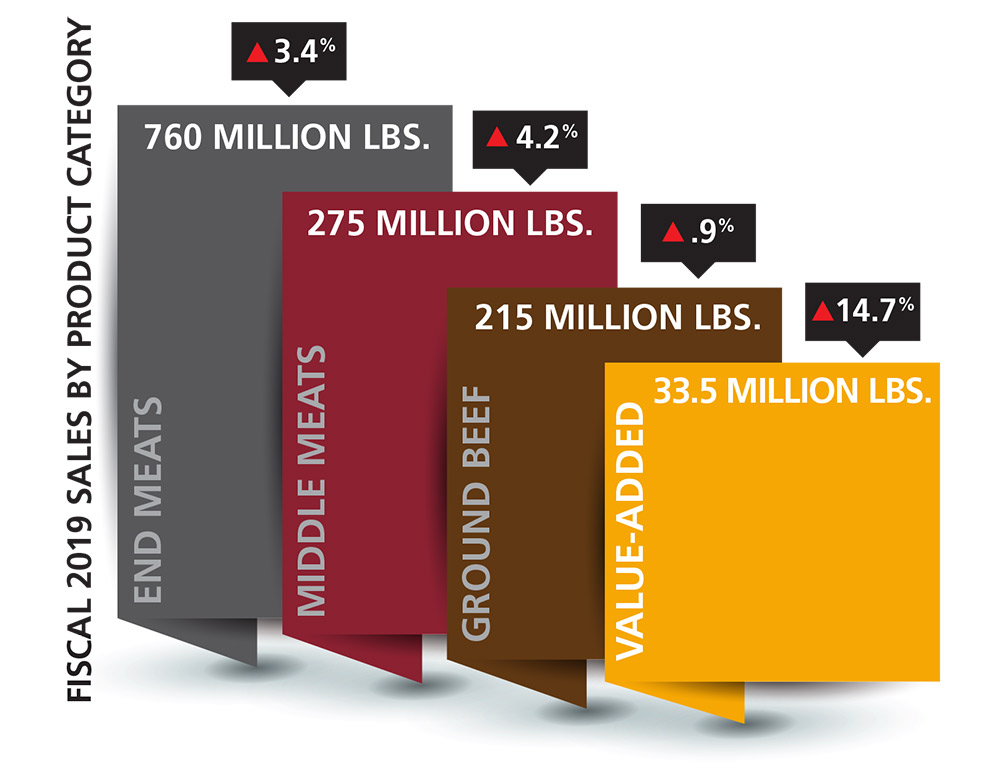 But, Stika added, all those from farm to plate who bring product to consumers must be credited as well.
"It takes a great number of people filling different yet connected roles," he noted. "Fortunately, there is a lot of room at the brand's table, where integrity, a passion for quality and a desire to lead are shared by everyone who pulls up a chair."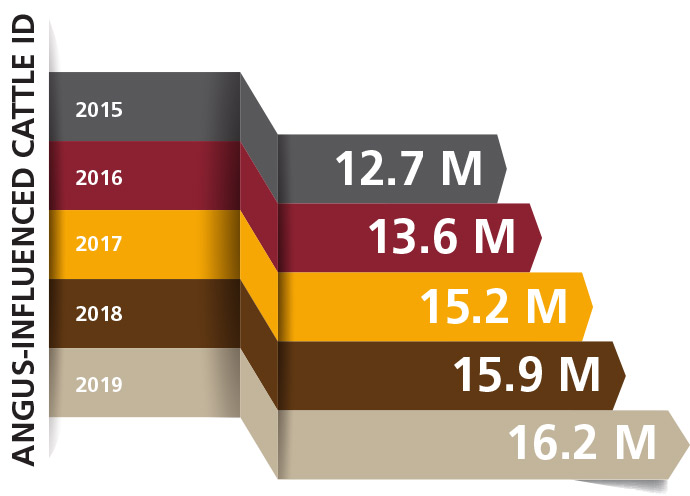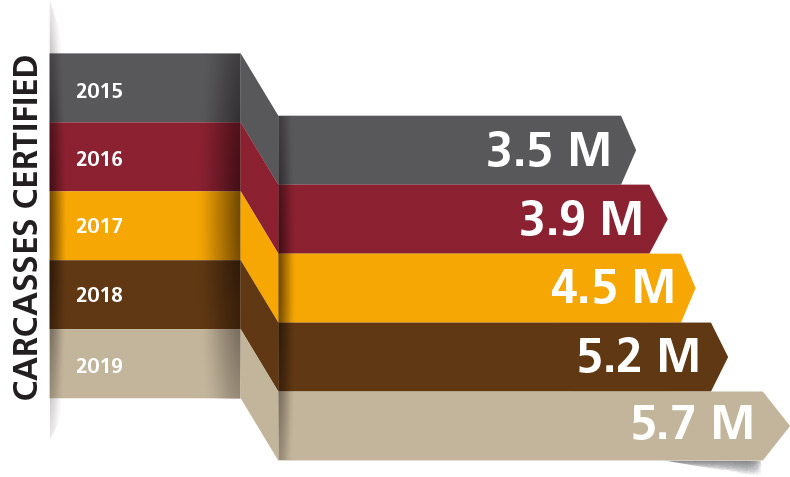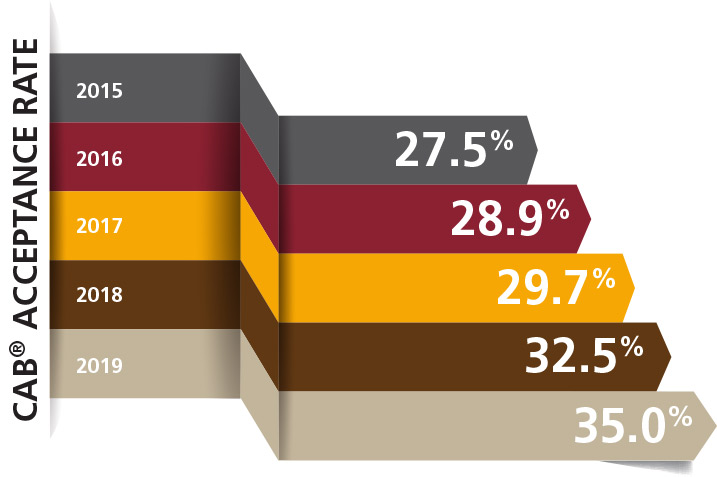 Monthly sales records and category growth
Records were set in all but 3 months of fiscal 2019; 6 months ranked among the top 10 sales months in the brand's 41-year history. Powered by strong consumer demand and relatively steady market prices, sales records spanned product categories.
Sales of premium steaks (middle meats), a perennial engine, grew by 4.2%. End meats were up 3.4%, and ground beef sales, boosted by the better burger movement, grew by 2 million pounds.
Historically high availability of the most highly marbled product propelled sales of the Certified Angus Beef ® brand Prime product extension by 36.6%. Once marketed almost exclusively by foodservice partners, retailers from coast to coast took advantage of the opportunity to enhance their offerings and appeal to their most discerning customers. Consumer choice also drove sales of the brand's Natural product line, raised on a completely vegetarian diet with no added hormones or antibiotics.
Divisional success
Global sales outside U.S. borders reached an all-time high of 207.5 million pounds, demonstrating the universal appeal of top-quality beef among diverse cultures and markets. Leading the way in growth was Japan, followed by Taiwan, Colombia and the Dominican Republic.
Representing 43% of total brand sales, the retail division grew for the fourth consecutive year: up 8.8% to achieve an all-time record of 537.5 million pounds. In addition to Prime product driving sales, retailers increasingly chose to feature the brand rather than a lower-priced protein option on the front page of their circulars. Creative seasonal promotions focusing on summer grilling, tailgating and holiday roasting also captured consumers' attention.
Marking a decade of continuous, consistent growth was the foodservice division, which achieved a 4.6% increase. Upscale fine dining and steakhouse business, along with the gourmet burger and barbecue categories, drove this growth. Led largely by the efforts of licensed distributors, restaurants that actively promoted the brand on their menus increased sales by an average 10% over the previous year.
Also for the 10th consecutive year, sales of branded value-added products set a new record, exceeding 33 million pounds. The jump was driven by processors responding to increasing consumer demand for high-quality convenience items. Eighteen of 21 product categories experienced growth, led by foodservice accounts purchasing marinated thin meats and smoked brisket, while retailers drove sales of marinated end meats.
Family farmers' focus on quality boosts demand, beef community
The family farmers and ranchers at the heart of the Certified Angus Beef ® brand continued to build on a years-long focus on quality, raising more cattle that met the brand's 10 exacting standards. The rate of Angus cattle eligible to earn the brand rose to a record 35%, a collective improvement that translated into increased supply of 470,000 head.
"That increase is significant because it doesn't happen by random chance," said Stika. "It represents an entire community focused on quality, which came about directly through the economic signals generated by the additional demand for the Certified Angus Beef ® brand among consumers."
To put that trend in context, Stika noted that since 1998, when beef demand was at an all-time low, the entire beef industry has experienced a $60 billion increase in annual consumer expenditures.
"Quality improved, and demand followed suit," he explained. "Certified Angus Beef ® brand, through the efforts of its partners, has been a meaningful part of that success. Through their commitment, they've helped direct the entire industry, drawing it closer to the consumer. As they do so, they're providing a more sustainable future for all."