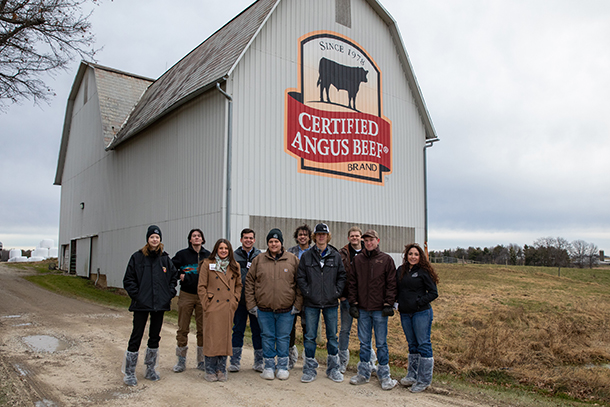 Many hands have a role in getting a steak from pasture to plate. It's not often though that the hand that helps bring the calf into the world gets to meet with the last hand before the steak is enjoyed in a restaurant.
"We wanted to create an opportunity to bring the young generation of ranchers and the young generation of culinarians together in one space to have conversations about the how, why, what and 'How can we do this better?' of both raising cattle and serving beef in a restaurant," says Ashley Breneman, Certified Angus Beef executive chef. "This also gave these students the chance to establish lifelong relationships at opposite ends of the beef supply chain."
The inaugural Certified Angus Beef Connecting the Culinarian and Rancher event included five Johnson & Wales culinary students alongside five young Angus ranchers. Studying everything from sustainable food systems to livestock genetics, these 10 students brought unique perspectives to the table from around the country.
"Even though we come from different backgrounds and totally different ends of the country, we all end up having the same end goal," says Mia Encinias, West Texas A&M animal science student. "As ranchers, our goal is to create the best product possible, but the chefs' is to serve it. Without one another, we wouldn't be able to do what we do."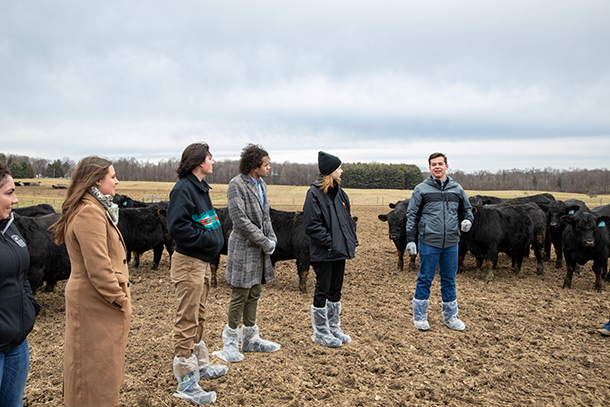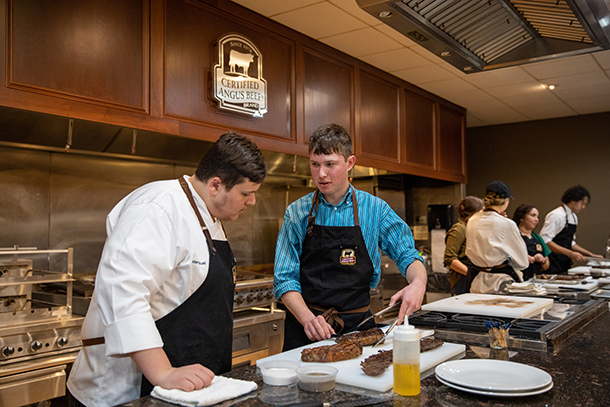 Johnson & Wales University students attending were Elijah Smith (Rhode Island), Ben Morris (Rhode Island), Aidan Kincaid (New Jersey), Lydon Olivares (California) and Aroura Hammond (North Carolina). Ranchers at the event were Jace Dickerson (Kansas), Mia Encinias (New Mexico), Lauren Gilbert (Missouri), Colter Pohlman (Texas) and Garrett Ulmer (South Carolina).
The immersive, two-day program allowed students to share their expertise, learn from each other, and find similarities in their efforts to produce and serve the highest quality beef.
The students started their experience at Chippewa Valley Angus Farm, where the young ranchers each discussed topics related to raising cattle. Animal nutrition, Angus breed characteristics and genetic selections, animal care and handling, sustainability and live-cattle marketing gave the culinary students insight to what it takes to produce a high-quality steak.
Back at the Certified Angus Beef Culinary Center, the culinary students teamed up with the ranchers to put their grilling skills to the test.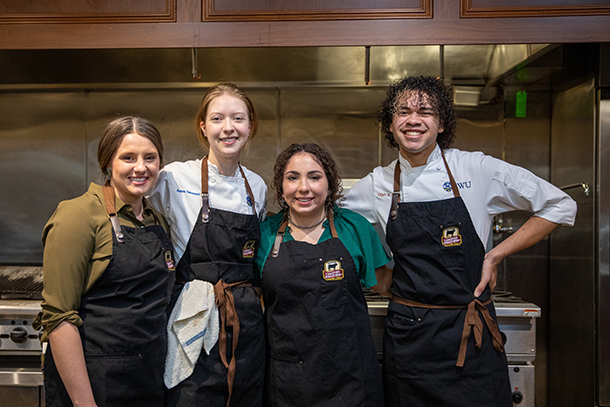 "I was paired up with a rancher and we cooked our steaks together," says Aroura Hammond, culinary student. "I used techniques that I've learned in culinary school, and it was really cool because at the ranch, I didn't really know anything. Behind the grill and countertop, they didn't really know anything. The script was flipped." 
Hammond, a bachelor's culinary student at Johnson & Wales University, had never spent any time on a cattle farm before visiting Certified Angus Beef and Chippewa Valley Angus in Wooster, Ohio. After spending a day with peers who've grown up on farms and ranches across the country, she was astounded by the similarities between being a farmer and a chef.
"From what I've learned so far, and I've just barely scraped the surface, ranchers work long hours and they truly care about the product they are producing," she says. "They're not the ones cooking it, but it's years and years of hard work, genetic development and care for these cattle that leads to the production of this dish and these steaks that we serve."
She went on to share how long hours in the kitchen and years of hard work to develop the skill necessary to take a great product that guests desire and keep coming back for is challenging, yet that's her goal.
"I think that there are a lot of similarities between us, and the shared passion and love for the product has been really cool to experience," Hammond says.
Leaving the event with new friends and fresh perspectives, the students took their experiences back to their campuses and family ranches with nimble hands, open minds, big ideas and a newfound responsibility to consider the opposite end of the supply chain when making business decisions down the road.
More importantly, these students learned they will always have a seat at each other's tables no matter where life takes them.