Modern folklore states there are three types of individuals who are not to be trusted: those who drive habitually in the left-hand lane, those who do not like dogs and, perhaps, most importantly, those who openly share that they do not like hamburgers.
On the surface, the humble hamburger represents balance: a delicious feng shui of meat and bread and fat and acid all residing peaceably within the same tasty cul de sac of the culinary world.
And although their individual parts may vary, burgers, like snow flakes, John Mayer albums and red wines, are the proof that beauty can come in all shapes, sizes and tastes.
Fat Matters
In the burger world, it's important to know that, while there are no wrong answers, there are answers that are more right than others. This pertains specifically to the meat itself.
In a lot of burgers, the meat is simply the vehicle on which flavor creations are strapped in for the ride. Whether adorned with standard pickles and cheese, or something a touch more outlandish (see below), the biggest misstep burger builders take is underestimating the importance of quality meat, even in a ground beef product.
While it's widely understood that fat matters, a lot of people don't understand that fat isn't necessarily always equal. This is especially true in burgers, and can make all the difference in how they taste.
For instance, in your basic 80/20 blend (80 percent lean beef, 20 percent fat), understanding exactly what has gone into that 20 percent is crucial. That's because, scientifically speaking, intramuscular fat, or marbling, is more desirable to the human palate because it contains more monounsaturated fatty acids—specifically, oleic acid. It's much more akin to the fats found in avocados, olive oils and sun flower seeds. In easier terms: it's a tastier fat.
A lot of ground beef blends have back fat, or fat from trim, in them, which, although meets the requirement for fat content, doesn't add a whole lot in terms of flavor.
Simply put: if your burger of choice is being made from a high-quality, well-marbled starting point, like the Certified Angus Beef ® brand or other upper Choice or Prime grades, a greater amount of that 20 percent is going to be comprised of tastier fats.
Lean and Mean
While fat is going to drive a lot of that flavor, the content of the lean product is also going to allow for additional flavor and texture differences.
If you're rifling through the meat department of your favorite grocery store, you'll likely notice that there are four basic types of ground product: ground chuck (typically the fattiest), ground sirloin (Jan Brady), ground round (leanest) and ground beef (mixture of all the above comprised of various trim).
While the lean-to-fat ratios can vary, the chuck, sirloin and round have been staples of burger makers for many decades.
But lately, folks have been tinkering with grinding other cuts, and some of the results have been magical.
The most en vogue blend on the market today is a brisket-chuck-short rib blend that seems to hit all the high notes for beefy, burger goodness. Others are pushing the boundaries to larger degrees, realizing that some of the less-tender, whole-muscle cuts, like beef navel, are actually very delicious in a ground format.
The Swill Burger
Chef Lamar Moore
The Swill Inn, Chicago
Chef Lamar Moore's burger features two thinly smashed patties, house-made pimento cheese and pickles on a brioche bun.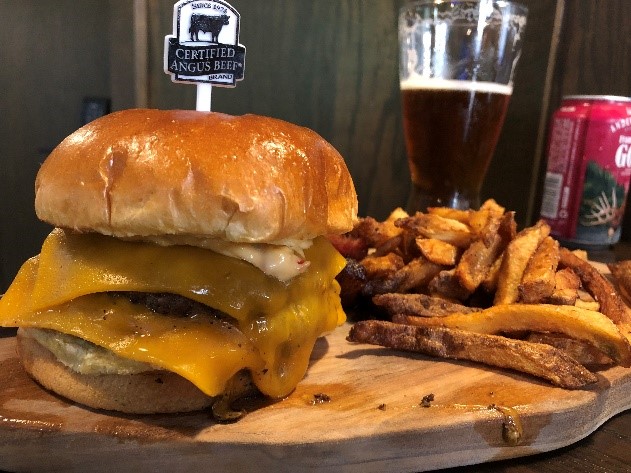 The Good Boi
Chef Brett Sawyer
Good Company, Cleveland
Sawyer's beef navel-sirloin blend with griddled onions, white American cheese, lavender pickles, shredded lettuce and "company sauce" on a poppyseed milk bun has been an instant hit on the shores of Lake Erie.
Heimburger
Travis and Emma Heim
Heim Barbecue, Fort Worth
Though they've built a reputation for excellence with their highly sought-after barbecue, Travis and Emma Heim's burger is no joke. Two quarter-pound patties with American cheese, Prime brisket and bacon-burnt end jam on a sweet sourdough bun.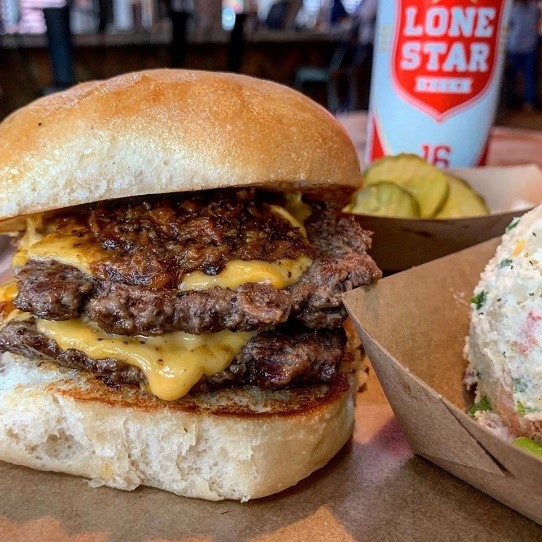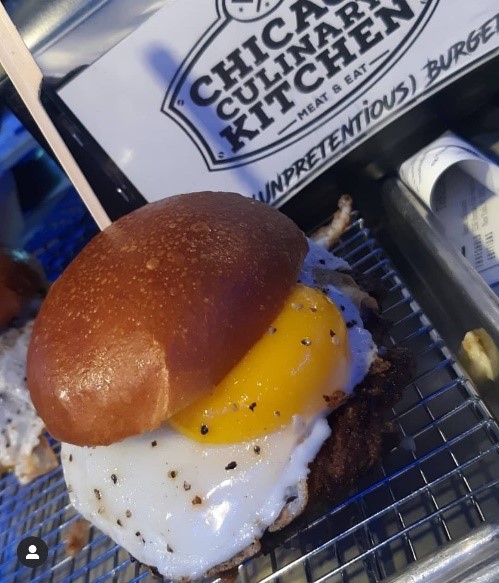 The Unpretentious Burger
Greg and Kristina Gaardbo
Chicago Culinary Kitchen, Chicago
Two four-ounce patties with Tillamook aged cheddar, Dubliner white cheese, "tallownaise", McClure pickes, bacon-onion jam on a bottom-up toasted bun, served from the side of their black and hot pink, fire-spitting food truck.
The SJM Burger
Chef Mike Midgley
Midgley's Public House, Stockton, Calif.
Top chef alum goes big with an eight-ounce patty topped with five ounces of barrel-roasted prime rib, bacon, pepper jack and American cheeses, pickles, onion straws, Bruno's peppers with a horseradish cream and mayo on a brioche bun.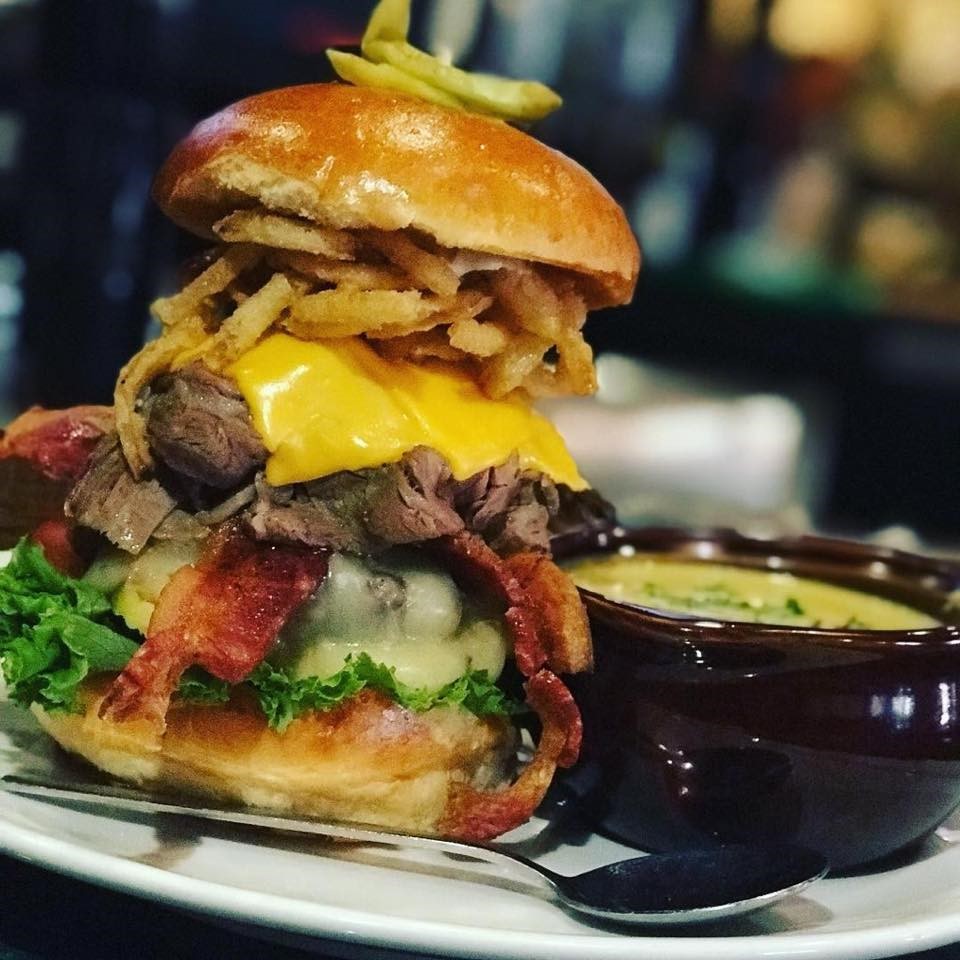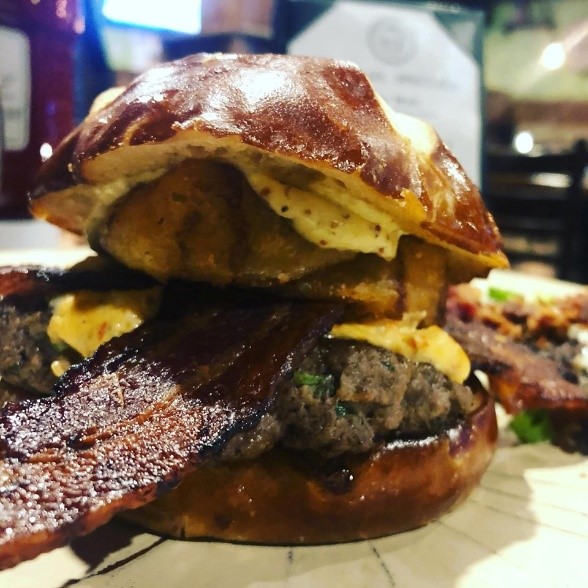 FC Cincinnati Burger
Chef Shawn Heine
Street City Pub, Cincinnati
The away match home of the Major League Soccer club's fan Irish Briogaid paid homage to the team with this herb-blended burger topped with Irish cheddar, shredded lettuce, bacon and onion ring with mustard-mayo on a brioche bun.
Blackberry Brie Burger
Chef KC Gulbro
Foxfire, Geneva, Ill.
The combination of blackberry jam and melted brie with the heat of pickled jalapeño on a pretzel roll puts this burger from Northern Illinois over the top.