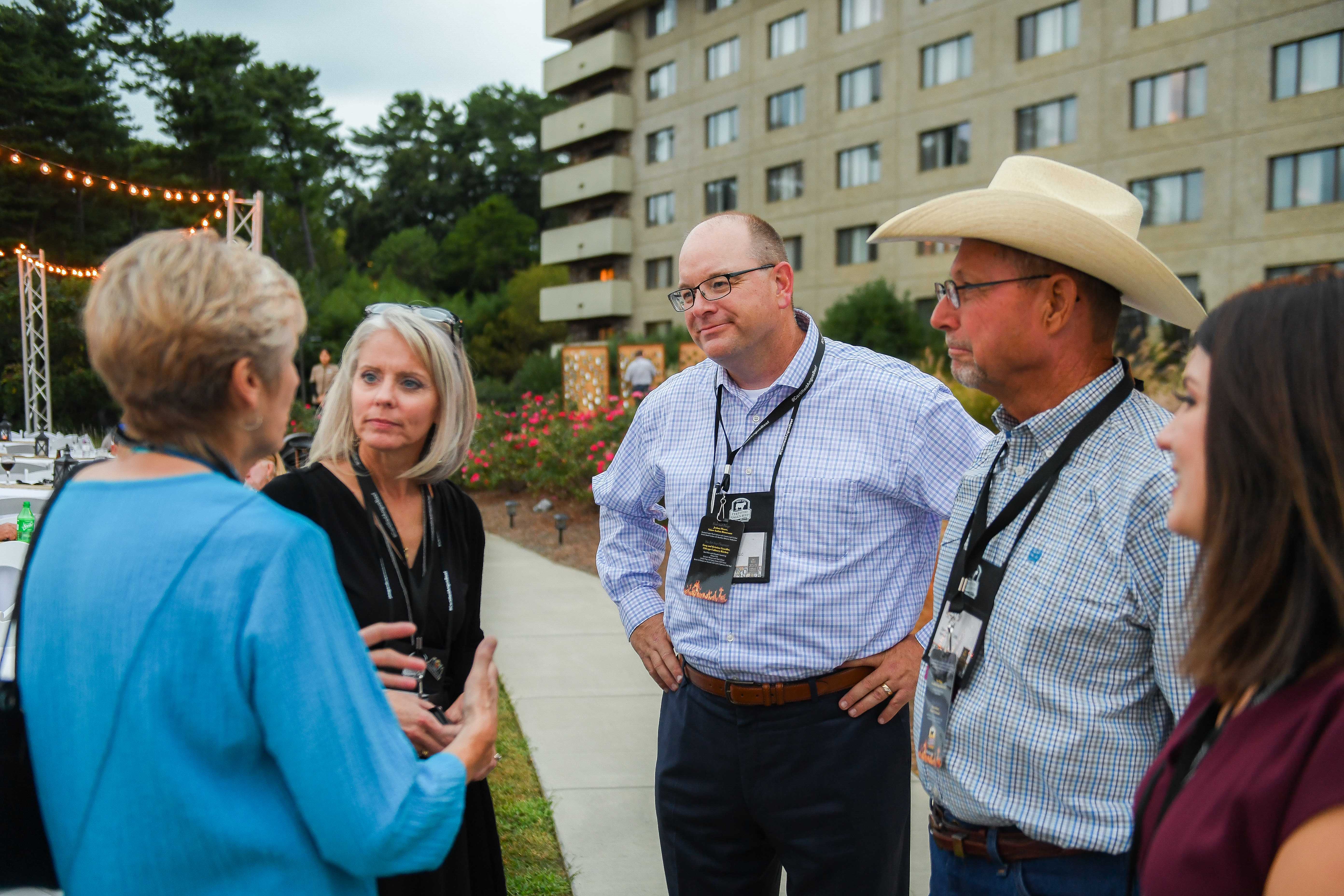 Asheville, N.C. – Sept. 30, 2019 – For more than 40 years, the world's first premium brand of Angus beef, the Certified Angus Beef ® brand, has been improving diners' eating experiences one steak at a time while ensuring the sustainability of family-owned Angus farms. Angus farmers and ranchers, cattle feeders, meat processors, foodservice distributors, restaurateurs and retailers fulfill the brand's mission by working to produce and prepare the top-quality beef. And once a year, they gather to discuss what they've accomplished and to plan future aspirations.
The brand's team has gathered its community of dedicated partners from gate to plate for its Annual Conference for the past 35 years. This year's event took place at the Omni Grove Park Inn, Asheville, N.C. A total of 751 attendees representing 15 countries embarked upon the Blue Ridge Mountains for three days of camaraderie, beef education, leadership training and, of course, chef-inspired meals featuring the flavorful beef.
"This event is far more than just a mere celebration of marbling and great-tasting steak. It's a celebration of the people and the relationships that have allowed this brand to become one of impact," shared John Stika, Ph.D., the president of the Certified Angus Beef ® brand, during his opening speech.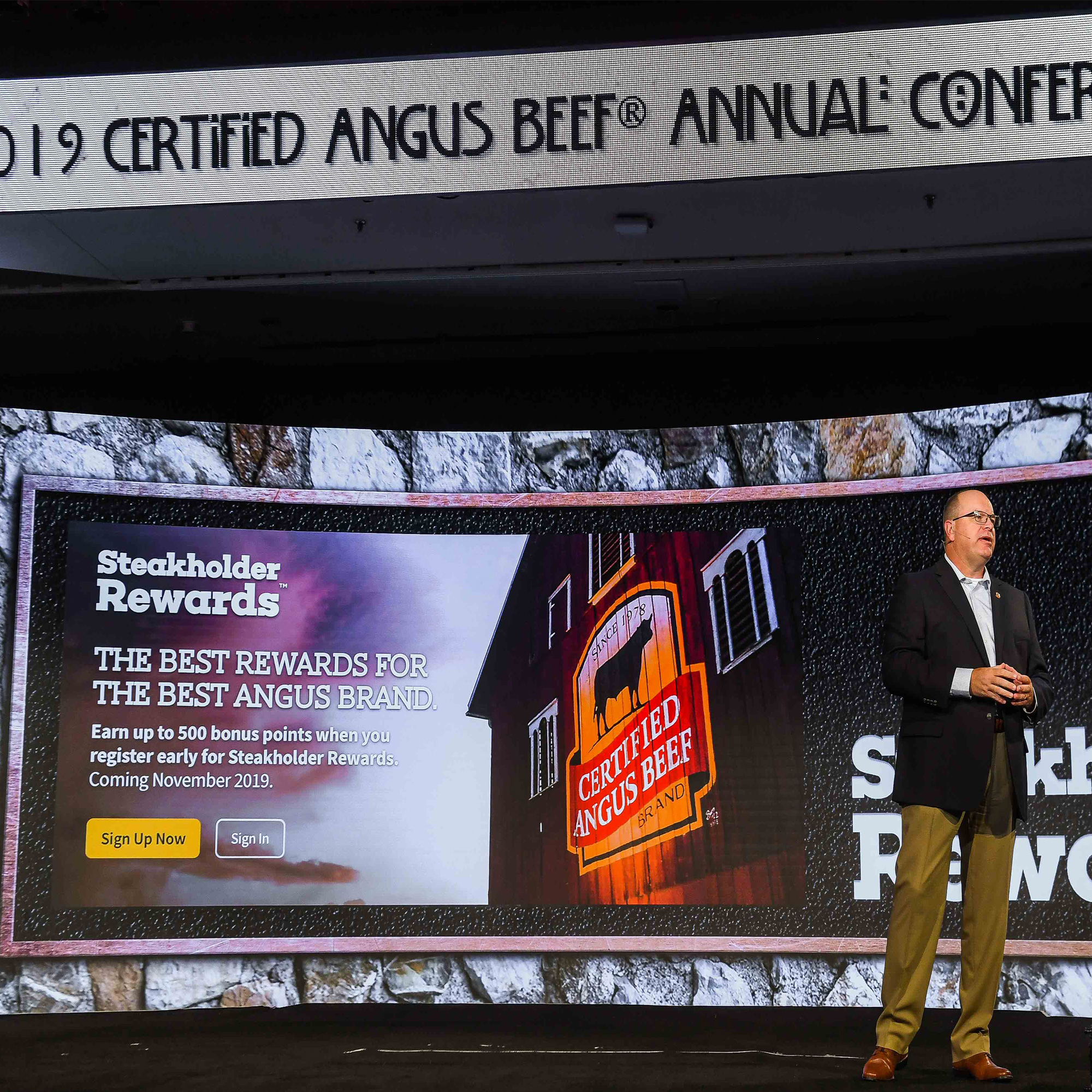 There was plenty to celebrate, as Stika announced another record year of sales, with 2019 being the 15th consecutive year of growth and the 13th record sales year in a row—all thanks to the loyal partners who put forth exceptional cattle, marketing, sales, trainings and more. The increases went beyond the United States' borders, with international sales growing in substantial amounts, especially in the top-volume destination of Japan, followed by markets including Taiwan, Colombia and the Dominican Republic.
Stika also shared that in attendance was the largest group of Angus farmers, ranchers and feeders the event had ever seen. In that group were more than 30 of the 40 barn owners who participated in the brand's 40th anniversary Brand the Barn campaign, in which an artist painted the brand's well-known logo on 40 barns across the county. The campaign, which ended October of 2018, honored the roots of not only the brand, but also the traditions of the families who dedicate their lives to feeding the growing human population.
With so many beef community members in attendance, it was only appropriate for the staff members to announce the Certified Angus Beef ® brand's soon-to-be-released coffee table book: "Sheltering Generations—The American Barn." Attendees were able to pre-order the book on-site at the Black Hide Collection™ pop-up shop or online. All sales will benefit the Rural Relief Fund, established to aid farm and ranch communities when disaster strikes.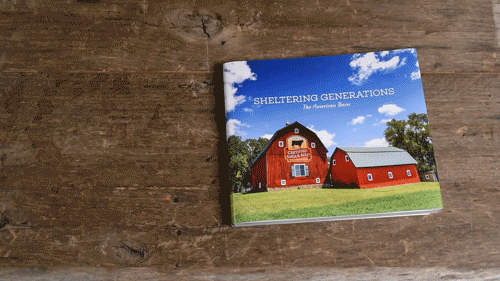 A live auction held on the final evening also helped support the Rural Relief Fund. Cargill Protein purchased two barn canvasses, totaling $10,000. That, combined with the $1,000 John Foley, a retired solo pilot for the Blue Angels and guest speaker at the conference, donated, helped launch the fund.
Other items were auctioned and a golf outing was held to support the brand's long-time standing initiative: the Colvin Scholarship Fund. Companies who participated in the events raised $92,290 for the scholarships, which support young professionals in agriculture in honor of Louis M. "Mick" Colvin who led the brand its first 22 years. Five undergraduate students and one graduate student received scholarships this year, coming to just under $34,000.
Items auctioned included the title sponsorship of the 2020 Mick Colvin Scholarship Classic in Las Vegas, purchased by Sysco Corporation; football memorabilia autographed by NFL Hall of Fame Kicker Morten Andersen, Sysco Jacksonville; hand-crafted chair made by Angus rancher Bill Borror, Macgregors Meat & Seafood, and; a three-night, four-day vacation package donated by Moon Palace Resorts, National Beef Packing.
"There is a lot of room at the brand's table, and it's a table where integrity, a passion for quality, a desire to lead, are shared by the people who pull up a chair," Stika said.
Those in need in the Asheville community, as well as conference guests, were able to pull up a chair to their tables and enjoy the delicious beef prepared by professional culinarians. Staff donated any extra food to Food Connection and WNC Rescue Ministries, two groups dedicated to relieving hunger in the area, in addition to reducing waste and helping people in crisis.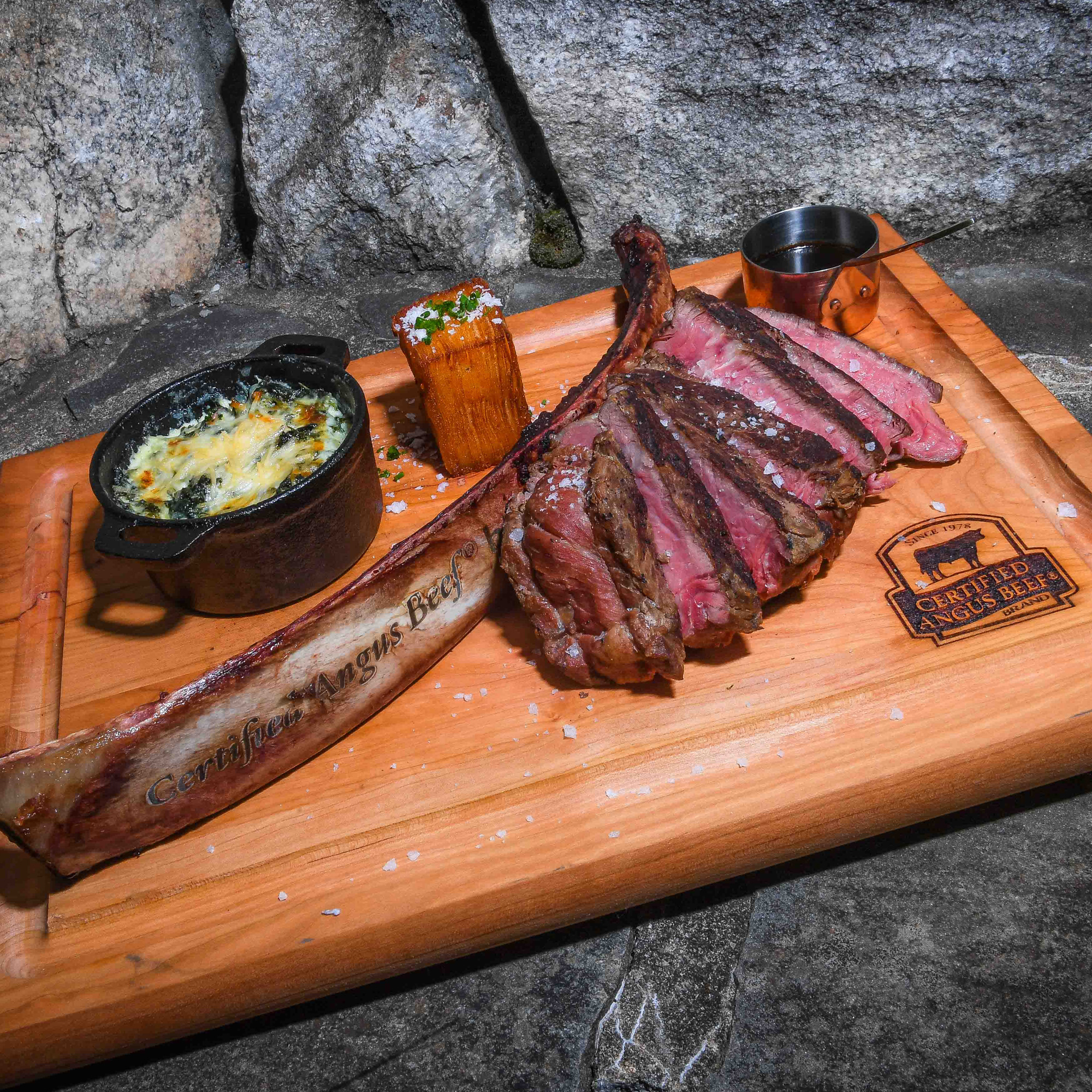 Menus included everything from sous vide Certified Angus Beef ® brand Prime strip steak, bone-in ribeyes on swords, jerk-style chuck roll tacos—just to name a few dishes—plus charcuterie from Cleveland's best delicatessen, Larder, created by brand ambassador Chef Jeremy Umansky.
Guest chefs Josh Moore of Volare Italian Ristorante, Shawn Heine of Prime Cincinnati, and Greg and Kristina Gaardbo of Chicago Culinary Chicago joined brand chefs Tony Biggs, Michael Ollier, Peter Rosenberg and Gavin Pinto to prepare the finest cuisine. The talented Omni culinary team also helped execute each meal.
By the end of the event, much more had been shared besides delicious food. Guests flew or drove home with new ideas, goals and relationships—ready to take on another year supporting the original brand of Angus beef, with Stika's final words to serve as motivation. "If this brand is considered successful, it's because we've had the best players," Stika said. "We have the best licensees, the best breeders of Angus cattle, and we have the best staff of people in the office."
About the Certified Angus Beef ® brand
World renowned for its exceptional quality and generous marbling, the Certified Angus Beef ® brand is the original brand of premium beef. It was created in 1978, and is still owned today by family ranchers who are determined to bring the best Angus beef to the table through a gate-to-plate network that also includes meat companies, retailers and chefs. Ten exacting standards ensure the beef's superior taste and tenderness in every bite. For more information, visit CertifiedAngusBeef.com or follow the brand on Facebook, Twitter, Instagram, Pinterest and LinkedIn.