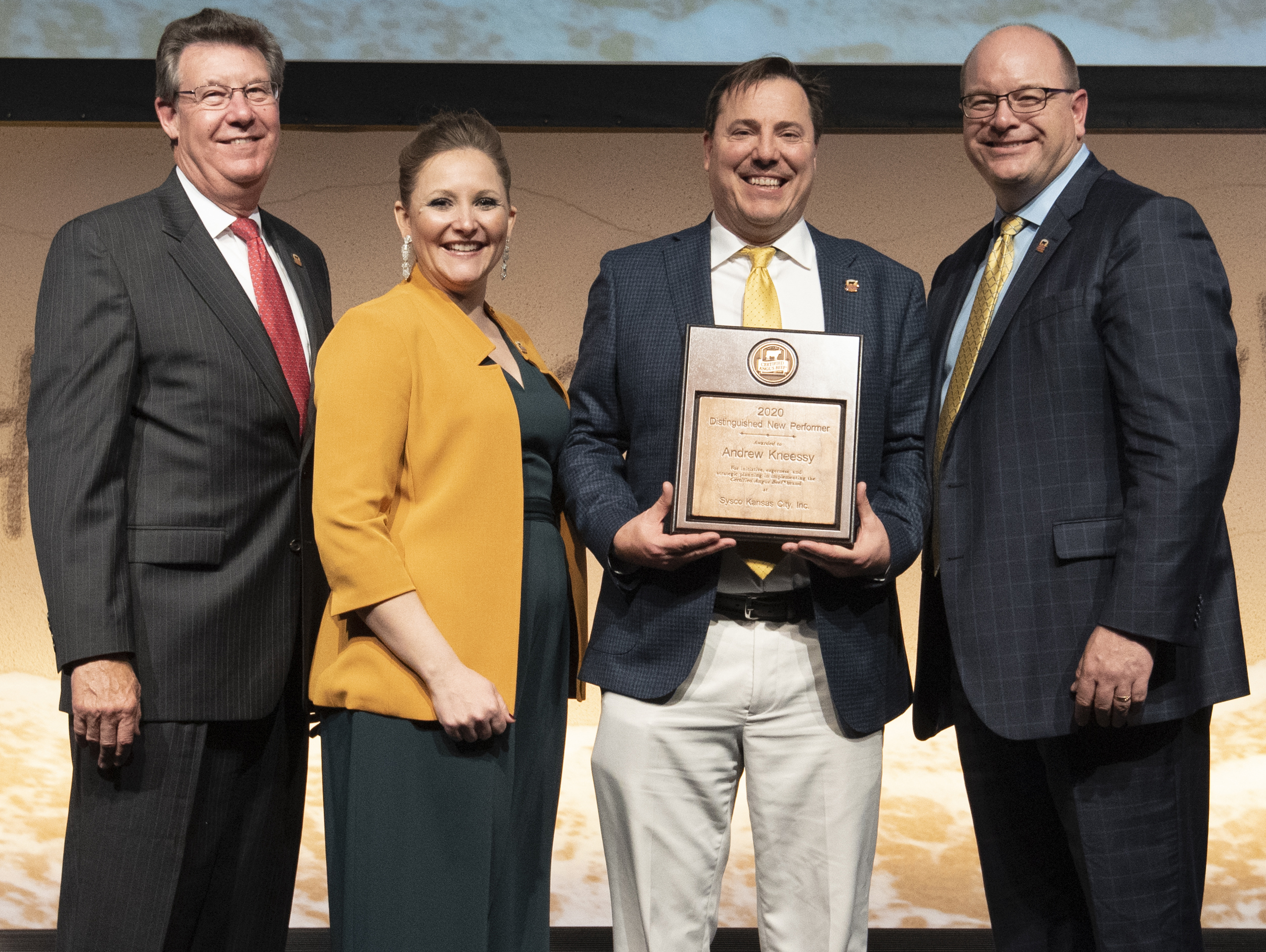 Serving the finest meal sometimes starts with the finished plate in mind. That's how Andrew Kneessy, from Sysco Kansas City, approaches his role in consulting chefs about center-of-the-plate menu items, and a reason he was named this year's Newcomer of the Year by the Certified Angus Beef ® brand. Kneessy has more than 20 years of experience as an executive chef and knows the importance of serving the finest beef cuts.
"Andrew has a unique ability to challenge our conventional ways of thinking and to consider ideas and suggestions well outside the box," says Nick Ebert, vice president of sales at Sysco Kansas City. "He has a passion for the success of our total team and our customers. He would never consider suggesting an idea or cut unless he knows it will drive profitable growth and quality for the operation."
Kneessy's leadership in just two years as the Certified Angus Beef ® brand Specialist at Sysco Kansas City has elevated the skills of his team and the success of restaurant customers, helping to earn the New Performer recognition. The award was presented in February when foodservice specialists from across the U.S. and international markets gathered in Amelia Island, Fla., for beef menu ideation, training and marketing solutions at the Foodservice Leaders Summit.
A graduate of the Culinary Institute of America, Kneessy draws on experience that began as an intern at Windows on the World in the World Trade Center and then at Hyatt Hotels in Atlanta and Washington DC. His work in the Capital City led him to opportunities at the Canadian Embassy, Blair House, and the White House, where he cooked for Presidents George Bush and Bill Clinton. His culinary journey took him to Belgium and the Netherlands, before returning stateside to the historic George Town Club and the Kansas City Country Club before joining the Sysco team.
In his role with Sysco Kansas City, Chef Kneessy uses his culinary know-how to help his team and customers understand the factors that ensure great-tasting beef. He has also shared with them the beef expertise he gained from the Certified Angus Beef ® Culinary Center in meat fabrication and versatile cuts for the menu. He visits with customers regularly, helping chefs and waitstaff bring their best to each dish and each guest.
"Andrew is one of those rare finds who has the skillset to talk proteins with the most-high end of steakhouses to someone who has very basic needs, but is still looking for quality," Ebert adds. "The fact that he can cross every discipline that we see within our operators, which also applies to how he can teach our frontline sales team, makes Andrew the perfect individual to drive our premium protein business with Certified Angus Beef ® brand."
In Kansas City, Chef Kneessy has taken steps to improve access to prime quality and dry-aged beef cuts, as well as time-saving solutions, such as country-fried steak and smoked brisket. He also works closely with his team and restaurateurs to ensure the branded beef is properly identified on menus, an important step to ensure its genuine quality for consumers.