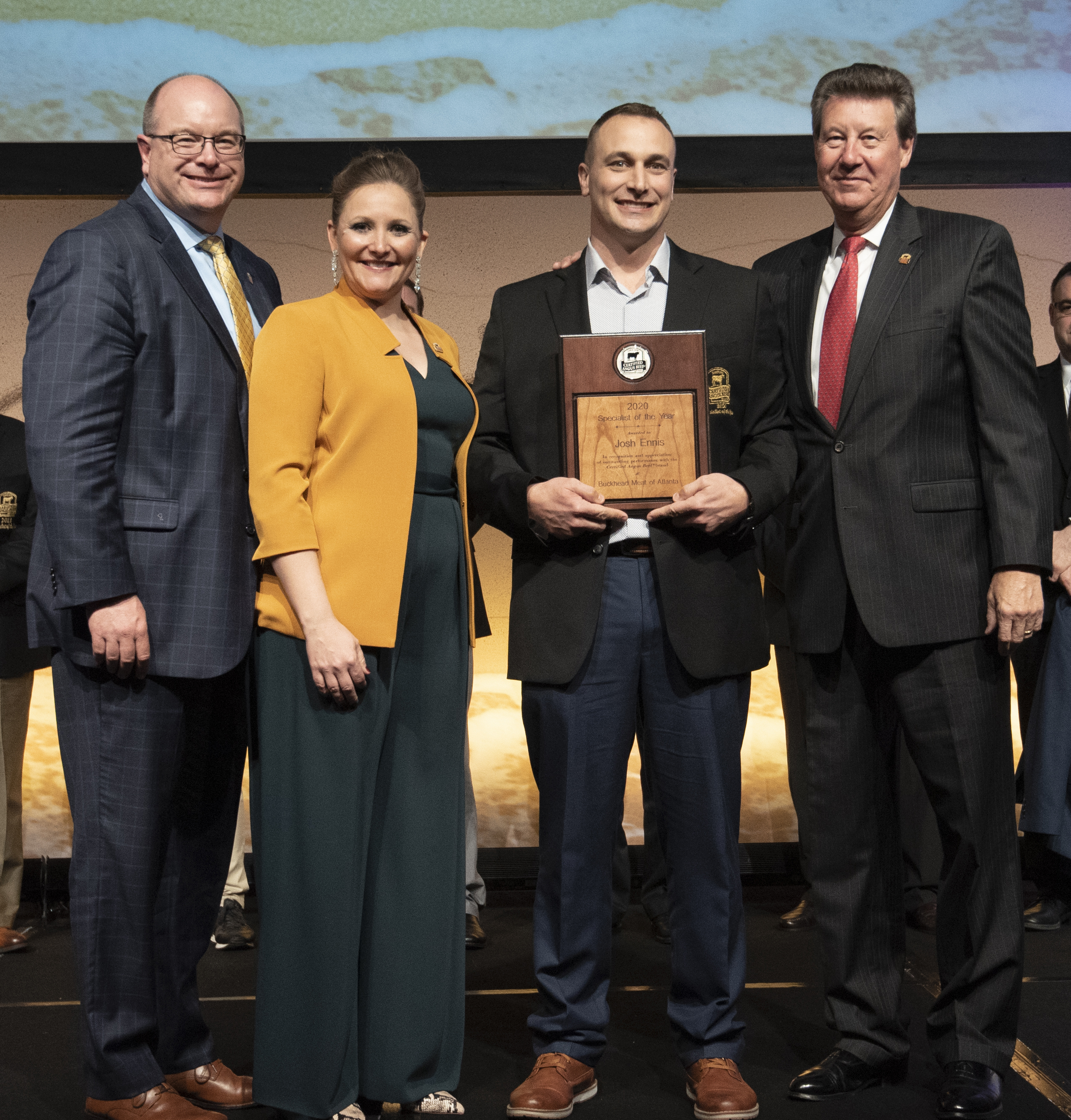 From days growing up around farming to working his way up the ranks in restaurants, Chef Josh Ennis has a passion for bringing premium-quality beef to the table. The corporate chef and Certified Angus Beef ® brand specialist for Buckhead Meat in Atlanta was recently recognized for his knowledge, passion for quality and customer service as the beef brand's Specialist of the Year.
"Josh is a leader in consulting our clients," says Scott Gasparini, vice president of sales for Buckhead Meat of Atlanta. "He is driven by passion and the desire to make each of our clients successful."
Through more than 20 years, Ennis has gained experience in the restaurant industry. He has worked at a resort on St. John Island, and as executive chef at Palmetto Bluff Inn and Westminster School. Each of the past three years, he has been invited to be the lead chef at the Player's Clubhouse at the Master's at Augusta National.
At Buckhead Atlanta, he has been the corporate chef since 2015 and has since expanded his beef expertise as the company's Certified Angus Beef ® brand specialist, too. This role allows Ennis to stay engaged in the beef community, connecting his passion for farm families with his beef and restaurant knowledge.
He hosts customers for tours and leads quality control evaluations and meat cuttings for these chefs and restaurateurs to help them choose the best items for their menus. With more than 200 plant tours each year, Chef Ennis focuses on featuring the brand's quality, helping some of the top establishments to serve the beef on their menus.
"Josh elevates our center-of-the-plate sales with his continued involvement in customer visits," Gasparini says. "He overwhelms the customer experience by introducing new products and ideas for their menu development."
This ongoing focus on elevating customer success led Ennis to receive the Specialist of the Year honor. The award was presented in February when foodservice specialists from across the U.S. and international markets gathered in Amelia Island, Fla., for beef menu ideation, training and marketing solutions at the Foodservice Leaders Summit. His leadership also led Buckhead to earn the brand's Marketer of the Year honor in 2019.
"Josh always leads with the Certified Angus Beef ® brand and includes us in any and all ideas," says Blake Dickson, executive account manager for the beef brand in the Southeast. "It's honestly hard keeping up with everything he wants to accomplish, but it's a pleasure working with him. He keeps us on our toes and raises our game a notch, trying to outdo what has been accomplished before."
One of nearly 200 foodservice specialists for the beef brand who take the time to truly understand every aspect from gate to plate, Ennis spearheads meat labs to discuss beef quality and profitable cuts with staff and customers. He enriches the Certified Angus Beef ®  brand's presence at regional food shows and supports both the Buckhead team and Sysco locations in the southeast region. He also guides staff and customers to ensure the brand is identified on menus and in promotions properly.
"Josh shares his years of culinary experience with our clients, showing them time-saving methods to reduce labor, use superior products to add exciting menu items, and always makes himself available to take calls from our customers to assist in any need they may have," Gasparini adds.
Chef Ennis also enjoys cultivating relationships through customer events and community support, providing opportunities to experience those relationships in unique settings. For example, he has led the company's involvement in a fundraising event for Special Teams for Special Ops. A county-fair themed event brought customers together to see the beef brand's logo painted on the company's building, and multiple opportunities have allowed restaurant customers to visit with family ranchers.
"Josh enhances our team's expertise by sharing his beef knowledge and its application to sales," Gasparini says. "He regularly presents at sales meetings about what is happening in the beef world."