Embracing opportunities leads to creativity and greater returns
Step into The Plum, a hip restaurant serving creative fare on Cleveland's west side, and you're likely to see at least a couple of beef items on the menu, among the seasonal options that change weekly (or more often). But that wasn't part of the original vision.
"My partners and I wanted to open a restaurant our chef friends could come to more regularly," owner and chef Brett Sawyer explains. "So we wanted to make sure things were affordable, but prepared at the level of the higher-end places that maybe you couldn't afford to go to all the time."
Big-ticket, popular steaks like porterhouses or filet mignons are pricey—and they don't always offer the opportunity for creativity Sawyer craves. At the same time, product quality, whether you're talking beef or beets, is non-negotiable.
The equation just didn't seem to balance in favor of beef. However, that all changed when the Plum team was introduced to some alternatives at the Certified Angus Beef ® Culinary Center. There, Sawyer took to the Meat Lab and proceeded to break down subprimals in new ways, exploring and sampling different options that would work for their ever-changing menu.
"There are all these other beef cuts out there that are being underutilized, that you can get good value for your restaurant, and therefore good value for your customers, and everybody wins," he explains.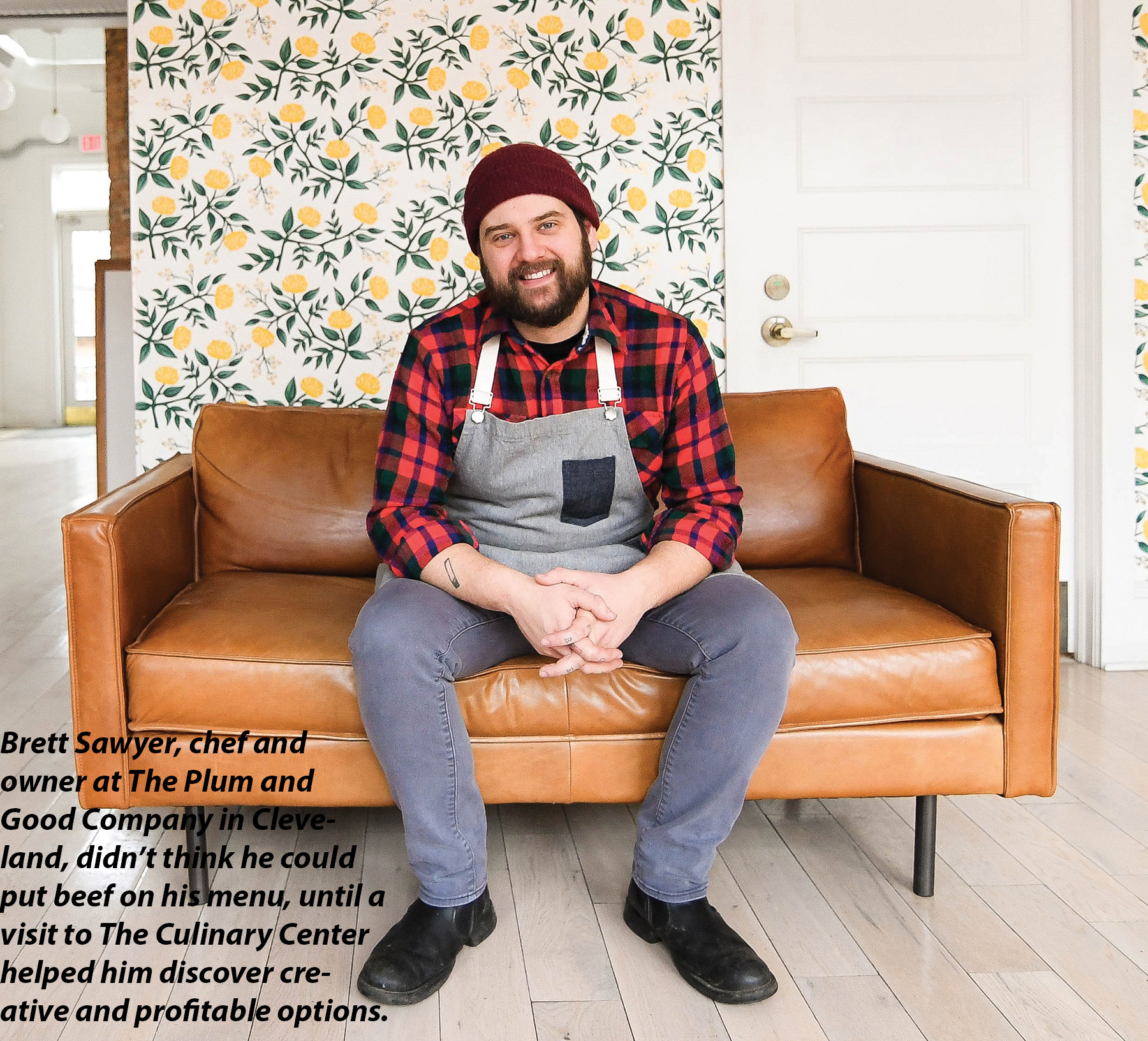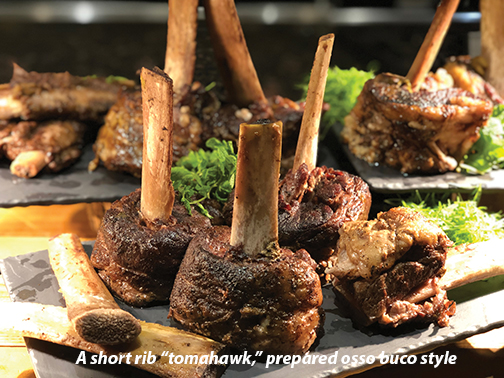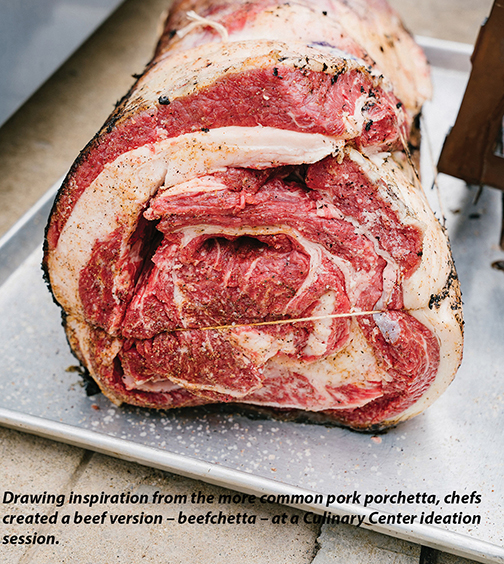 The result: dishes like The Plum's beef belly, which comes as close to anything the restaurant will ever have to a menu mainstay. It has appeared on the menu in multiple hyper-seasonal iterations, served with a fresh berry and Worcestershire sauce in the summer, or with potato puree and red eye gravy in the winter, or cured like pastrami with a horseradish cream sauce.
As the name implies, beef belly is akin to the more common pork belly. Both feature rich ribbons of unctuous fat in between the umami-rich meat. But the beef belly, or navel, is something "people don't really understand, or know," says Sawyer. "You don't just go to the grocery store and buy beef navel. That's why we want to be the ones to introduce them to it."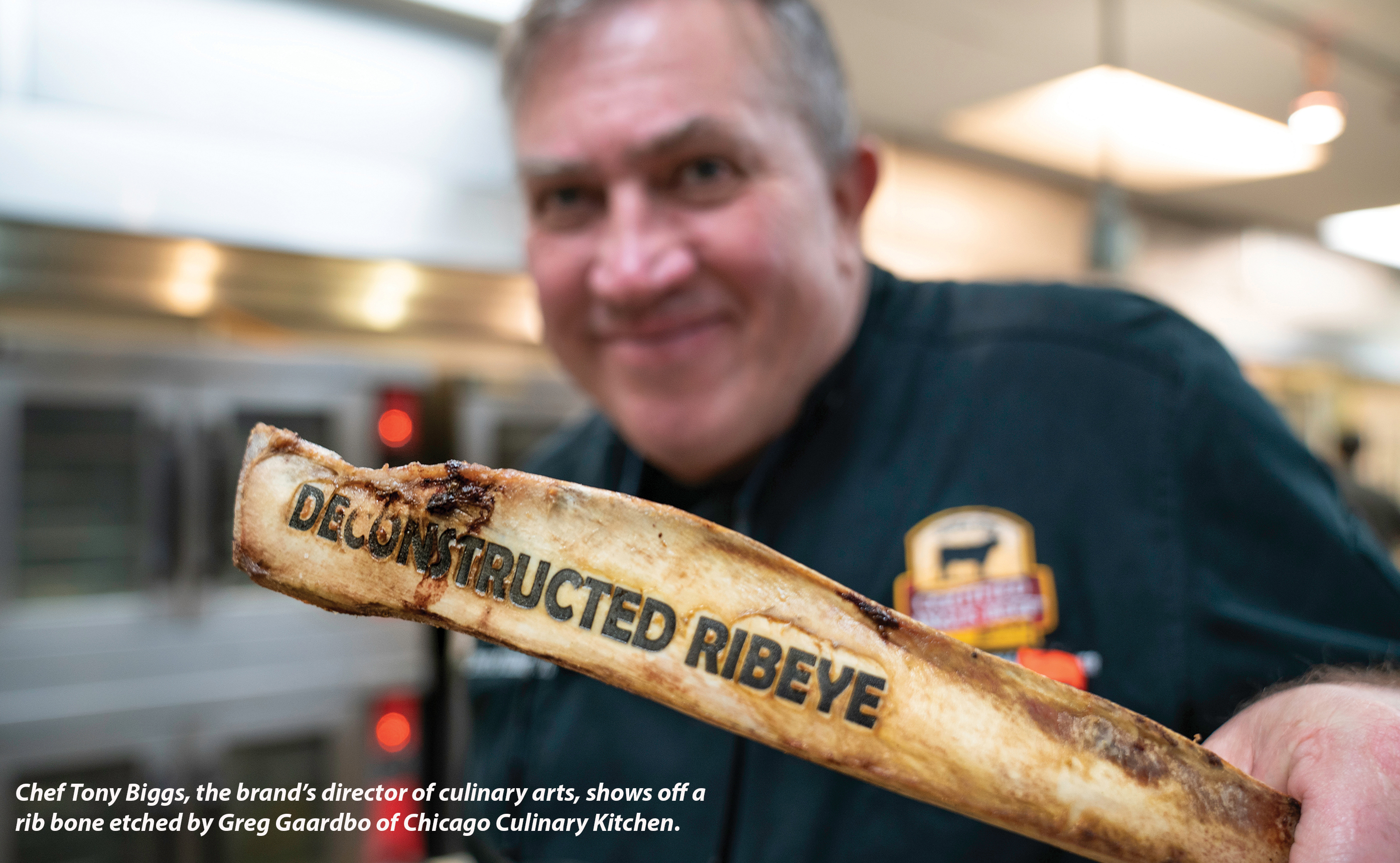 "We wouldn't ever have used navel if it weren't for them showing it to us at The Culinary Center," Sawyer recalls. "What we learn in the Meat Lab, we apply it regularly here. I don't think we're ever without a Certified Angus Beef ® brand item on the menu now."
Today, Sawyer and his team are also using a unique and proprietary blend of beef cuts developed and tested at The Culinary Center for the signature dish, the Good Boi burger, at his second restaurant, Good Company.
"The relationship we've developed with the Certified Angus Beef ® brand is really what makes dishes like these possible," Sawyer says. "They work directly with us to find unique ideas that work for us. We're always looking for something new, and the relationship we've built has been essential to that creativity."
Discovering applications and driving sales
While restaurateurs like Sawyer benefit from the affordability and are inspired by the potential for lesser-known cuts, they just as importantly bring real value back to farmers and ranchers. Higher utilization of the entire carcass—not just the relatively few pounds of middle meats that have traditionally been prized—increases profitability and sustainability for cattle operations, too.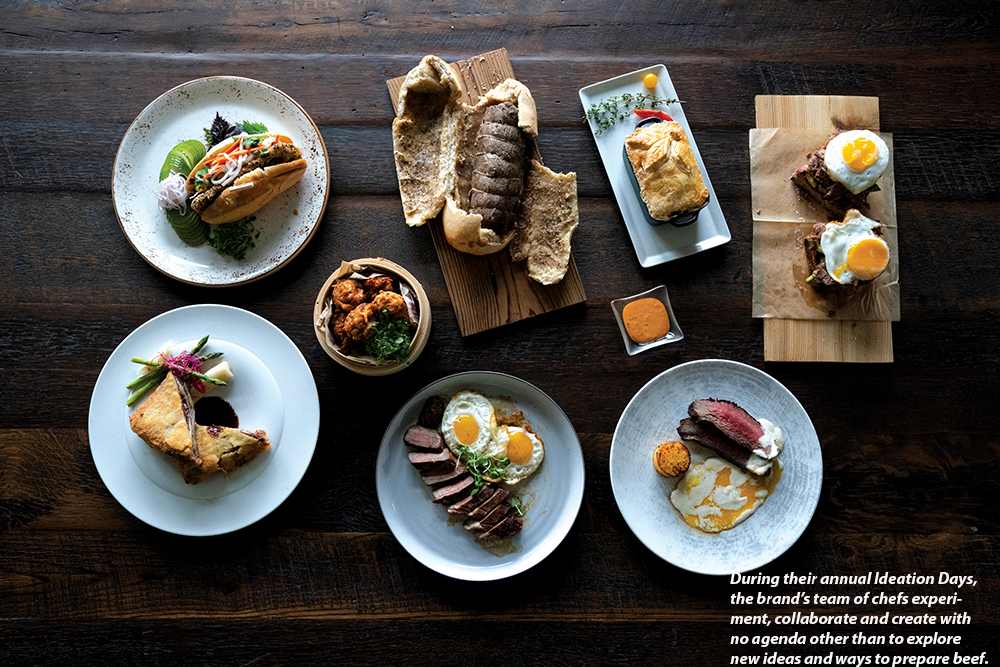 It's a movement that is taking root not just among chefs, but increasingly across the entire brand community. Since day one, retailers have been the primary driver of end meats, like chuck pot roasts, London broil or top rounds. But now, the brand's team is helping expose Culinary Center guests, often from the foodservice world, to the potential of these flavorful options that may just need a little extra love.
It starts with ideation among the center's culinary team. Each year, they take a few days away from their normal daily responsibilities to literally play around in the kitchen. Each chef cooks simply for the sake of being creative, trying new things and sharing ideas, says Deanna Walenciak, the brand's director of education.
In December 2017, Walenciak challenged the team with a straightforward request: "Make us love the round."
"We wanted to get out of that mentality that most people just grind it anyway," she explains. "The general feeling in the culinary world is that it's a tougher and less flavorful cut."
The chefs rose to the challenge, trying new cooking techniques and flavor combinations. They came up with a series of dishes that moved the general feeling from "meh, the round…" to "wow, that's the round?"
Armed with those positive insights, the team started to talk about the round more with Culinary Center visitors. They also featured the round at the Foodservice Leaders Summit a few months later, talking about product availability, opportunities, sales tips and of course, those menu ideas.
"The chefs threw some fuel on what we were starting to kindle," says Walenciak. "That's how we can help move the needle: we heighten awareness."
And move the needle it did. From Fiscal 2017 to 2018, sales of the round jumped nearly 12%, second only to the brisket. Each time a less popular item moves up in popularity, that's a positive signal that gets carried all the way back to the ranch.
Last year's culinary innovation days put the top sirloin and the short rib in the spotlight. In fact, the short rib was the brand's No. 1 growth item for 2019, increasing by 12% or 5 million pounds. Sales of the top sirloin cap, or coulotte, grew by 36% (1.3 million pounds), primarily among foodservice customers. Many factors influence sales, but it's clear the intentional focus makes an impact.
Delivering flavor and quality while solving kitchen challenges
Of course, not every kitchen is equipped to give these lesser-known cuts the time and attention they need to perform on the plate. Labor is, for many restaurateurs, their biggest challenge in today's market: finding it, training it, retaining it—and affording it. Time is quite literally money, and striking the right balance without sacrificing quality, guest satisfaction and reputation can be a delicate balance.
One solution: Value-added Certified Angus Beef ® brand products. Since 1985, an ever-increasing number of items crafted by skilled processors offer pre-cooked, pre-marinated, portioned or frozen options that deliver the brand's proven consistent quality while solving back-of-the-house challenges.
And while these products meet the needs of those who purchase them, they offer processors the opportunity to innovate and find creative inspiration, too.
"Flavor is what I do best," says Daniel Vargas, executive corporate chef for Golden West Food Group. "That's my favorite part, creating recipes, knowing that someone is going to be eating them."
Working with the brand offers him the consistency that's necessary for recipe development on a large scale, he notes.
"I go through hundreds, if not thousands, of pounds on a weekly basis. It's always very uniform; it follows a tight spec," Vargas says. "The products always taste the same and you have to have that."
Visiting The Culinary Center offered the Golden West team opportunities to learn more about the brand, experiment with different cuts and flavor profiles and ultimately settle on products that perform, cost effectively. Today, the processor offers 30 options, primarily to retail customers, ranging from marinated tri-tips to uncured beef brisket and fresh patties co-branded with Wahlburgers. The team is also behind the Beeftisserie®, which offers retailers a beef option in prepared-foods sections to compete with the omnipresent grab-and-go rotisserie chickens.
"We have many products that go well beyond basic cuts of meat, and we've really prided ourselves on innovation," says Tony Cimolino, Golden West Food Group's chief marketing officer. "We don't make value products, we make premium products, and we're constantly trying to look for new ways to take the brand to the consumers in ways you may not have thought of before."
Global food culture fuels experimentation
Sometimes finding the right audience is the last piece of the utilization puzzle to click into place. Different cultures have traditionally enjoyed different types of cuts, a fact that's driven the beef export business for decades.
Recently, that momentum has been building, as more types of consumers both domestically and globally are exposed to different types of beef cuts and dishes—and a realization that there are a lot of delicious cuts and applications they may not have known or appreciated before. Plus, consumers and chefs alike are increasingly drawn to a "nose to tail" approach to cuisine: respecting the animal, and the effort and resources that go into raising it, by consuming more of it.
Food culture has been a large driver of these changes. For example, it has helped open domestic beef lovers' eyes to new ideas, often started in other cultures. While short ribs in U.S. kitchens are often braised, a new generation of American cooks are grilling thin-sliced, flanken-cut short ribs—a style popularized by Koreans. Similarly, dishes that were once considered less common in the U.S. have become mainstream. While some American households will always make tacos with ground beef, an increasing number look for skirt steak or flap meat—common in Mexico and Latin America—to grill and chop instead.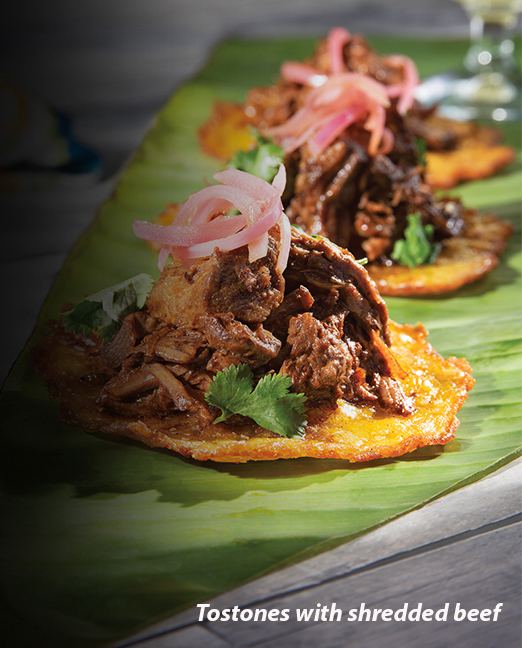 The influence of global food culture is a reality in other markets, too. One example is Japan, where demand for high-quality beef has grown from the upscale, white-tablecloth market to now include the middle class, with options like rice bowls and bento boxes: a reality that's reflected in the more diverse base of licensed Certified Angus Beef ® brand restaurant partners in the market.
As demographic and cultural shifts across the globe have brought these influences into the mainstream, it's providing opportunities for more cuts across the carcass to become more appreciated, more in demand—and more profitable for those selling, producing and raising them.