It was the third Sunday of March. Chef Vinnie Cimino was prepping for the sixth day of service at his brand new Cleveland restaurant, Summer House. He didn't know it yet but the doors would not open again for months.
"As far as restaurant openings go, we crushed it," said Cimino, whose culinary resume includes famous eateries and James Beard Award winners. "We were busy, just six days in and getting a lot of positive feedback. I've never seen an opening go so well."
Later that Sunday, the word went out. Restaurants across Ohio would close in the early ripples of a tidal wave of COVID-19 ordinances that spread across the country. The brunt of those decisions fell on chefs and restaurateurs everywhere — no business in the foodservice supply chain would go unscathed.
The year of such promise and vision had taken a very sudden turn for the worse.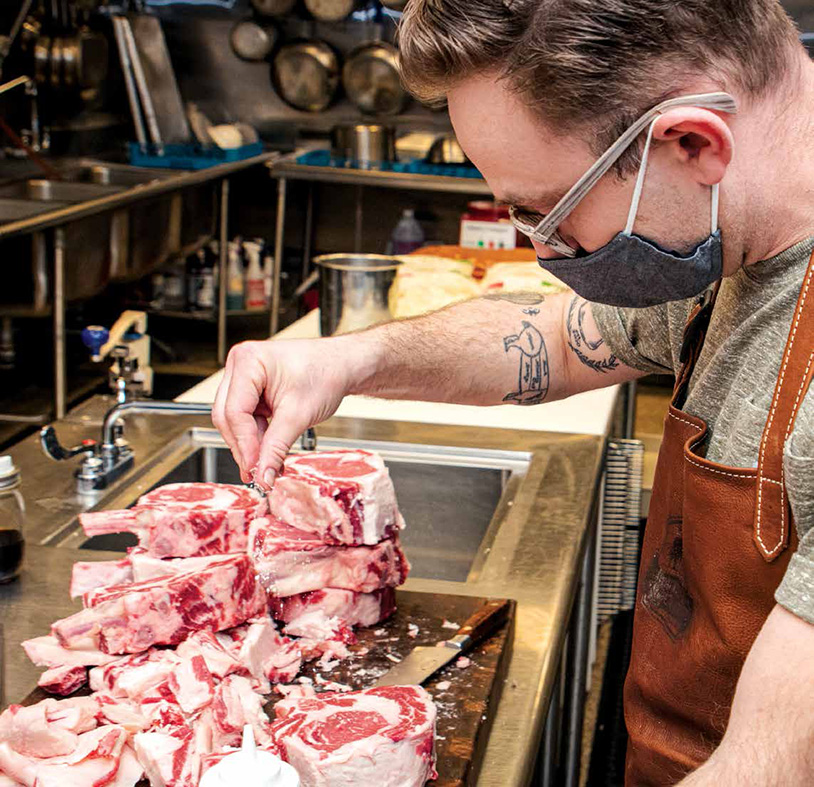 "This has certainly been the most challenging thing I've ever faced," said Greg Janssen, Vice President at Del Monte Meats, a San Francisco resource for chefs since 1926. "Even the guys who've been in my network much longer say there's never been anything like it."
But the food industry, from waitstaff all the way up the chain to farmers and ranchers, is built on resilient people. Cimino, Janssen and colleagues everywhere rose to the challenge.
Chefs Keep Cooking
In what would have been his second week open, Cimino launched Cleveland Family Meal behind those doors, where he and his kitchen crew teamed up with other prominent chefs, including Certified Angus Beef ® brand partners Matt Spinner and Dave Kocab from Ushabu, to provide both cooked and raw foods for other restaurant workers who were suddenly unemployed. The project began with food in the pantry, but donations from purveyors and friends quickly rolled in to where it became a movement.
"Hospitality is what defines our industry, so that's what we did," said Cimino. "Be hospitable, show hospitality and cook. This has been what I do to occupy my time, and to focus on the good rather than dwelling on the bad. We'll keep feeding people until we can't anymore."
In Omaha, local restaurant icon Glenn Wheeler of Spencer's for Steaks and Chops found himself with a walk-in cooler filled with perishables. With the help of friends and other chefs in the city, Wheeler put together a robust plan to address growing needs in the community.
"Hospitality is what defines our industry, so that's what we did. We'll keep feeding people until we can't anymore."
– Chef Vinnie Cimino
"The order came down that Omaha restaurants had to be closed to no more than 10 people, and our operation didn't fit the to-go order model," said the Omaha Hospitality Hall of Famer. "I knew I had food I needed to use, and once we took care of staff, I decided to put it out on social media that I would provide meals for out-of-school children who needed help and any elderly whose health might be compromised."
Intended as an on-time solution to ensure the food went to good use, donations of both product and their talents kept the initiative alive.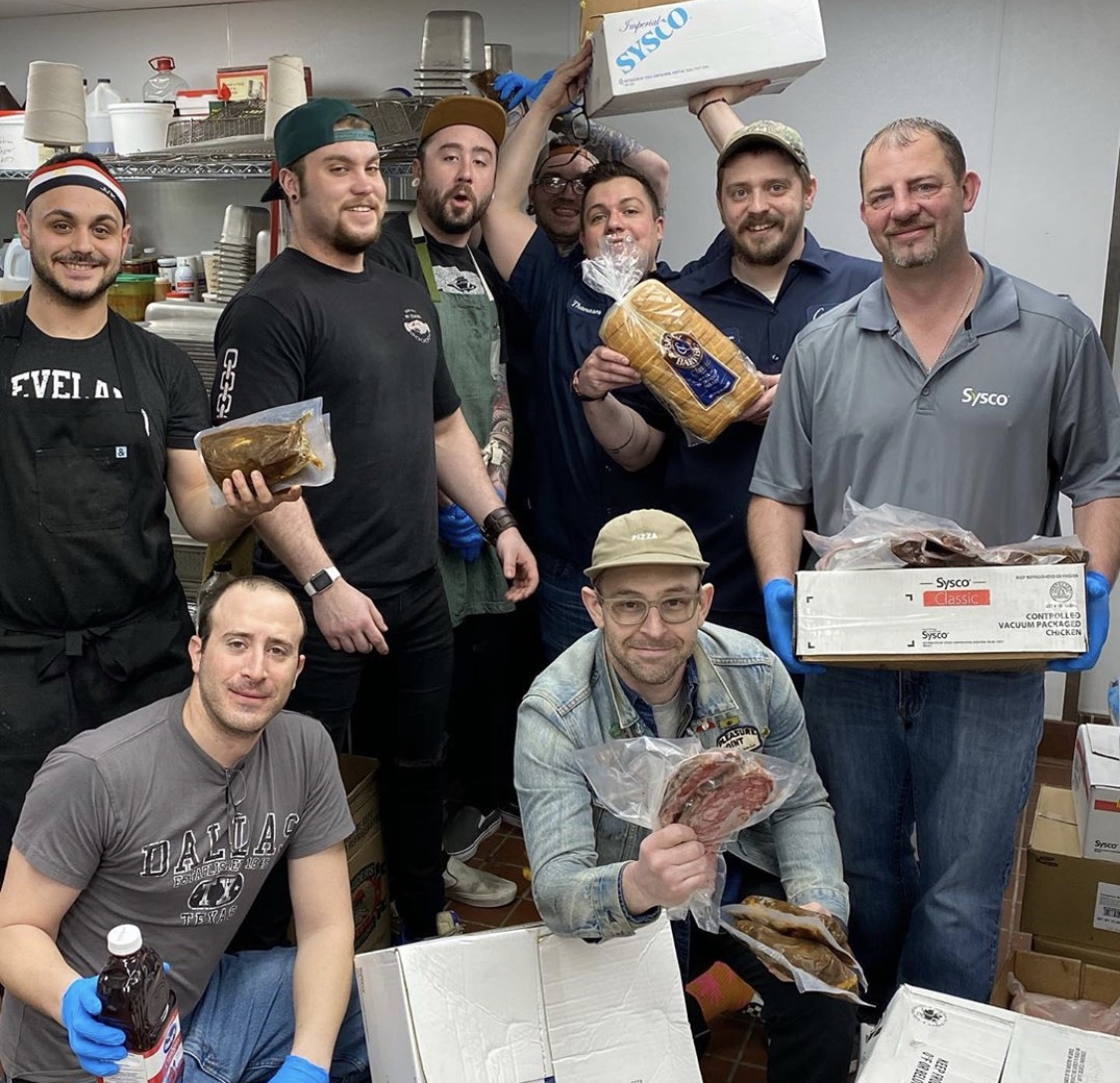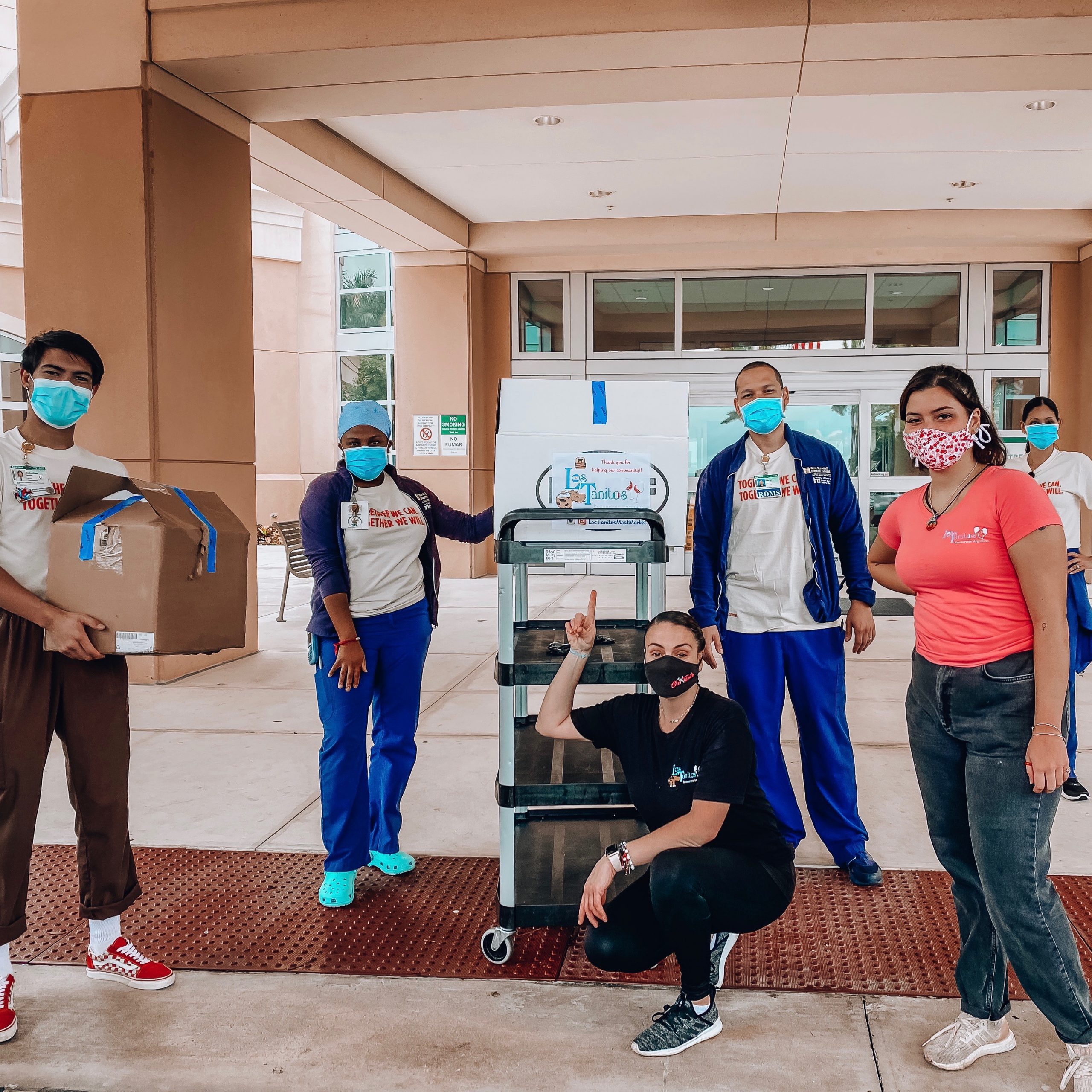 "We acquired a lot of proteins and other products from other chefs who didn't want their food to go to waste," Wheeler said. "So we started cooking and serving the homeless and out-of-work restaurant folks and, quite frankly, anybody who was in need of a meal in these times. I had Dan Watts from Sysco Lincoln smoking slabs of ribs, Blaine Hunter from Porky Butts BBQ smoked pork shoulders and Jacobson Fish donated 30 pounds of yellowfin tuna that I transformed into tuna sandwiches. A lot of really great people were involved."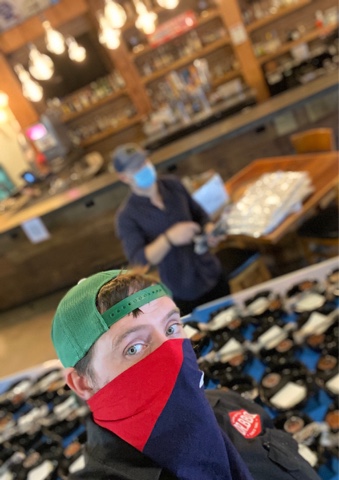 In Miami, Fla., Chef Peter Vauthy from RED, The Steakhouse, Carla DiLorenzo from Los Tanitos and the crew at Okeechobee Steakhouse kept their kitchens running in part by cooking for first responders and healthcare workers.
In Houston, Taste of Texas, Republic Grille and Sysco Houston all went to great lengths to feed hospital staff, police and fire personnel working round the clock. Texas icons Tom and Lisa Perini from Perini Ranch in Buffalo Gap donated thousands of dollars in steaks to their local food pantry to help with an evergrowing need.
Charleston, S.C., Pitmaster Anthony DiBernardo from Swig & Swine committed thousands of dollars in local grocery-store gift cards to his out-of-work employees, while his business shifted to takeout only.
Across the state, his friend Joe Urban, who oversees Nutrition Services at Greenville County Schools, continued to push out 25,000 meals per day for students in his school district, even though in-person classes had been suspended.
"For many of the 77,000 students in our district, the meals they receive during school are the only substantive nutrition," Urban said. It helped many families, not having to pay for meals when money is tight; for others, just knowing they could get food at all was life preserving.
"We all know there is poverty in our communities, but most have no clue as to how severe that actually is for some families," Urban said.
Foodservice Fights for Restaurant Survival
Restaurants closing or adapting to lower-volume alternatives left foodservice distributors in a difficult place, much of their customer base diminished or gone without warning.
Many could sell inventories to retailers facing heavy demand, but then the distributors looked for ways to keep their staff employed.
Buckhead and its parent company Sysco helped restaurants across the country transform into "pop-up shops," or corner stores with all the foodstuffs and paper products that quarantined people might need. North of the border, Gordon Food Services Canada launched a website in partnership with Restaurant Canada as a one-stop resource for restaurants trying to shift their business models and stay afloat.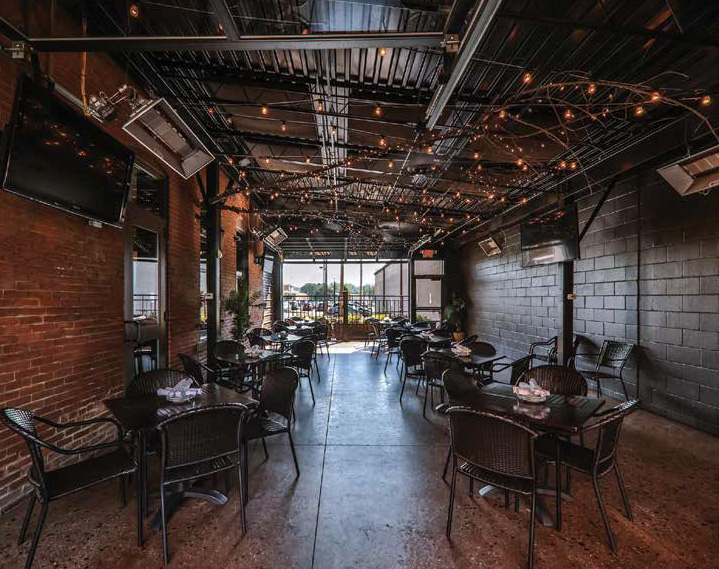 Independently owned meat shops also worked with restaurant customers to help their businesses during the transition to carryout and catering options.
"Once it started hitting the fan, we needed to figure out how we were going to react," said Edward Hall of Lone Star Meats in Austin. "We found some homes for product at retail, and then we figured out which of our restaurant partners were staying open. A lot of our restaurants have very loyal followings, so we started making pre-made care packages at different price levels for them to sell on."
Lone Star joined in the growing trend of creating direct-to-consumer websites that helped stabilize revenues and kept people on the payroll.
"Fortunately, we jumped on pretty quick, got some systems in place and got everyone going," said Addam Evans of Evans Meats in Birmingham, Ala., and donated a percentage of all direct-to-consumer revenue to independent restaurant partners affected by COVID-19. "There are a lot of people out there scrapping, and it kept some revenue coming in."
Evans initially started a curbside program for pickup at his company's warehouse; as it evolved, he sent five trucks around the city to set up as more accessible, mobile curbside units.
Retailers Respond
Grocery stores and employees were deemed essential to the public well-being, a mixed blessing that soon inundated the sector with panic-driven demand from consumers making long-term plans.
Pushed to work round the clock just to try keeping their shelves stocked, retail food employees were on the front lines as much as any emergency personnel.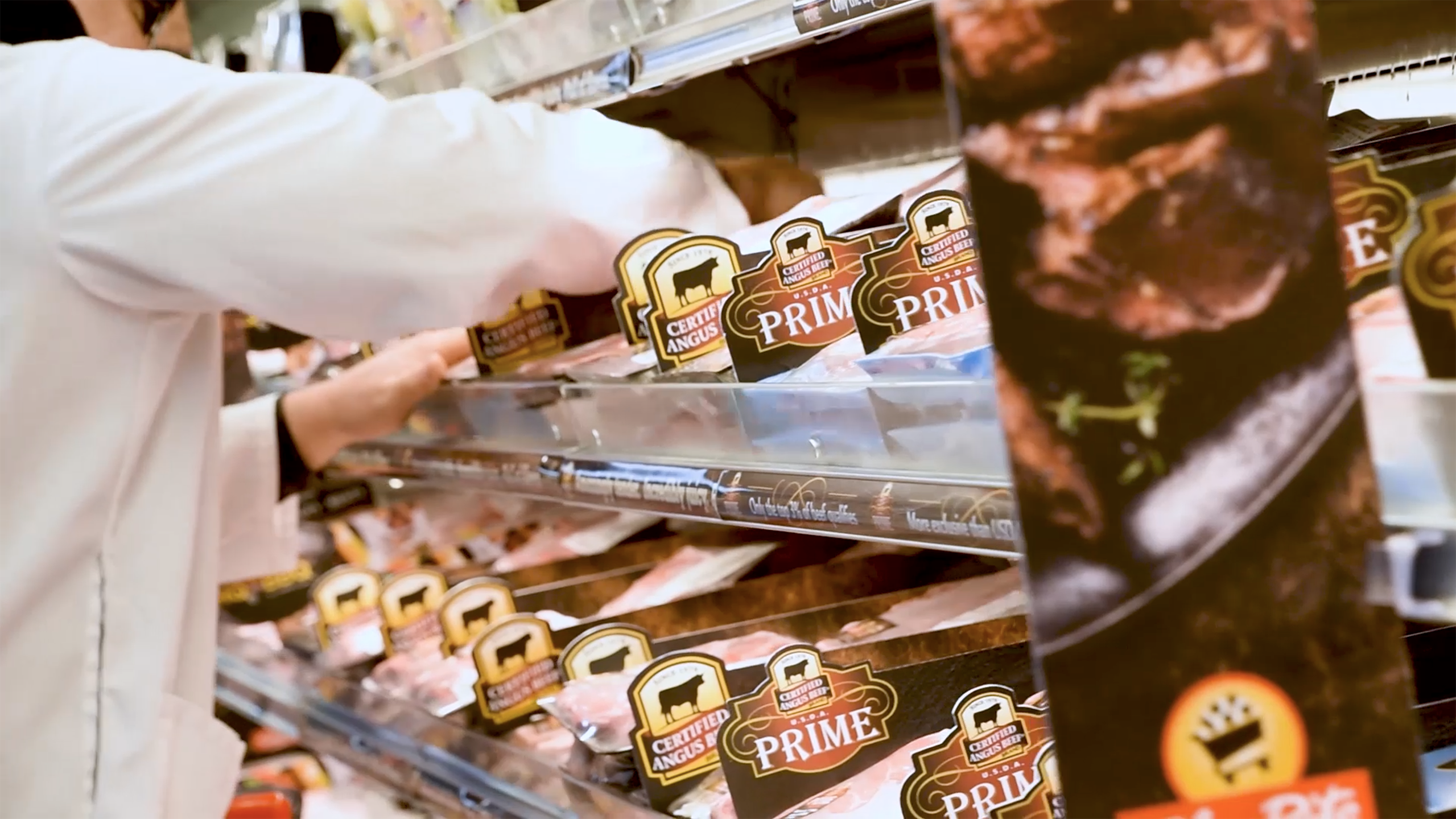 Meijer stores across several Midwestern states expanded its efforts to give back and support local communities. The retail giant's signature Simply Give program, which generated more than $50 million since 2008 for local food pantries, donated an additional $2.2 million in 2020.
Price Chopper stores in Kansas City took a creative approach to maintaining stocked shelves, such as working "across the aisle" with those who typically source products for foodservice customers. The chain also returned $250,000 to its community through a donation to Harvesters Community Food Network, helping those most affected by the pandemic.
It's not every day that a major Hollywood filmmaker and actor picks up the tab for groceries. But for a group of seniors and high-risk shoppers at 29 Louisiana Winn-Dixie stores, that's exactly what happened when Tyler Perry decided to spread some kindness.
Inspired by his example, Winn-Dixie's parent company, Southeastern Grocers, elected to pay it forward by paying for the groceries of thousands of healthcare professionals and first responders shopping in stores across seven states.
"As a community, we are stronger together and will win together with kindness," said Anthony Hucker, president and CEO. "Southeastern Grocers is dedicated to being there for the community when they need us the most, and we believe there is no better time than now."
In Oklahoma, Reasor's hosted a Spring for Meals Fund and Food Drive, as a benefit for the Community Food Bank of Eastern Oklahoma and its network of 350 partner organizations, while St. Louis bastion Schnucks donated more than $500,000 to support those in the region affected by the pandemic. It also launched a Round Up at the Register campaign, inviting shoppers to pay it forward through their donations to the local United Way.
There may be no greater testament to the goodness of humanity, in a year that could be measured against history for all the wrong reasons, than the seemingly endless examples of people helping people. The Certified Angus Beef ® brand salutes these and the countless others who have made this world a better place in extremely challenging times.