March 17, 2020, was the hardest day in the restaurant's 25-year history.
"We had to let 40 of our 48-person staff go," said Russ Loub of Little Apple Brewing Company in Manhattan, Kan. "It was so hard to say goodbye, but we knew it was the right thing to do. It was the only way to get our people the help they needed."
COVID-19 protection ordinances shut down the restaurant business nationwide. The hard days aren't over, but while many restaurants still sit dark, the magic from within lives on.
That awful day was one Russ and Kelly Loub will never forget; in fact, he calls it the worst day of his life. In the fray of parting with their staff, they didn't dwell in the pain, but channeled it into action. The first step, a GoFundMe page to help provide their workers financial aid, quickly raised $12,000. Then, they ceased carryout orders to create care packages, emptying their freezers to feed the team that normally serves Little Apple Brewing Co. diners.
The restaurant, an award-winning beef industry partner and longtime Certified Angus Beef â brand partner, celebrated its 25th anniversary with a silent dining room.
"I just hope we can survive this," Loub said.
They've shifted their business, creating LABCo Market, playing off the restaurant's acronym. Having launched a self-built website, they continue to serve up quality proteins, offering a curbside experience.
"Retail meats were always something we wanted to do," said Russ, even though this wasn't how he'd planned on getting it done. Nevertheless, the man who calls sausage making "therapy" keeps searching for ways to get his team back in business and selling the best Angus beef.
Heroism isn't a word any of these foodservice innovators would use to define their acts of service. In the hospitality industry, serving others is simply the creed. Taking care of people through the power of a good meal—it's just what you do.
Each is proof that even in times of crisis, restaurants still bustle with activity filled with quality beef and great people, if you just know where to look.
BlackBarn (New York, N.Y.)
Those with experience in the restaurant world know each one relies on two types of staff: one in the front of the house—servers, hosts, bartenders—and one in the back of the house—prep and line cooks, barbacks and dishwashers. Most guests know those with public roles, but those behind the scenes can be overlooked. It's true when things are running well, and it's perhaps even more true during times of trouble.
When restaurants shuttered or scaled back during the pandemic, loyal patrons were often quick to think about those they'd come to know during their visits: the host who guides them to their table, the servers who guide them through every step of the meal, the bartenders who craft special cocktails to their liking. Had these familiar faces lost their jobs? Could they continue to provide for their families? Would they someday all be able to return and enjoy their friendly interaction as they'd done so many times before?
At the same time, there's the dishwasher, who doesn't just keep plates and silverware ready for guests, but also spreads laughter among the staff during a busy dinner service. The prep cook, who doesn't just prep, fill and fold ravioli, but does so with a level of care that sets the standard for his kitchen peers. The baker, who mixes the dough, shapes the loaves and bakes the restaurant's signature sourdough bread. The barback, who is often one of the last people to leave every night, after stocking the fridges and prepares the Bloody Mary mix so coveted during brunch service.
"It's all of our teammates who have no source of income," shared Chef John Doherty of New York City's renowned BlackBarn restaurant. "Our prep cooks and our line cooks, who make every component of every meal possible. Our porters, who clean our restaurant from top to bottom every day. Our back waiters and food runners, who effortlessly move between tables to make sure our guests have everything they need."
That's the inspiration of a GoFundMe campaign Doherty set up for his furloughed staff, where 100 percent of funds are returned to the entire team.
"It helps every team member—it's our BlackBarn family," he said. "Our lights are dim, our chairs are empty, and our event spaces are quiet, but our hearts are full."
The spirit of community extends to the larger BlackBarn—and New York City—family. By mid-May, the BlackBarn team, with Frontline Foods NYC, had prepared and delivered over 2,000 meals to those on the frontline at the U.S. epicenter of the pandemic: healthcare workers at many of the city's hospitals, including Bellevue Hospital, Metropolitan Hospital Center and SUNY Downstate Medical Center.
"It's always best to take action than it is to bear the discomfort of doing nothing," Doherty said. "When we serve others, we ourselves are cared for in return."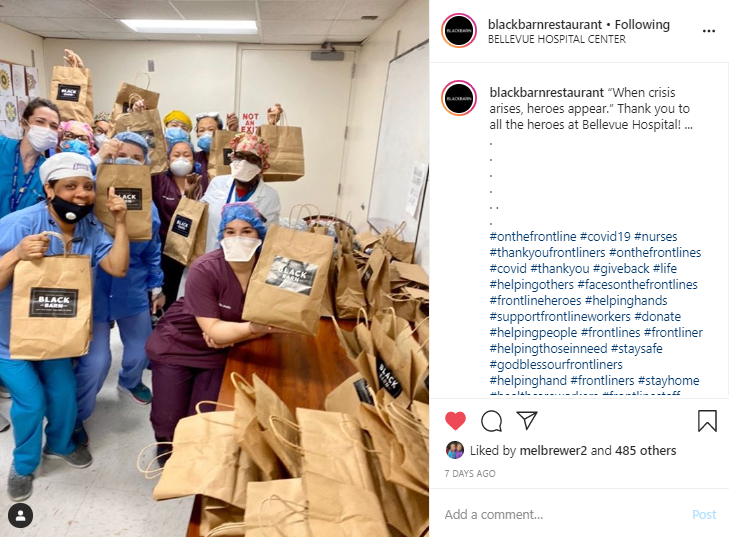 John Soules Foods (Tyler, Texas)
In the wake of pandemic-related business shutdowns and layoffs, the need has been keenly felt at the nation's food banks. Protein-rich foods are always welcome, but perhaps never more so than now.
That's where John Soules Foods saw their opportunity to make a positive impact on their community. The processor donated 168,000 pounds of prepared chicken and beef items to the East Texas Food Bank near Dallas, and an additional 37,400 pounds to the Montgomery County Food Bank near Houston. An additional 20,000 pounds were donated to charities in Atlanta on behalf of the company's facility in nearby Gainesville.
Total, the donations represented more than 890,000 servings of protein for families in need.
"We feel there is a real need right now and we want to lend a helping hand to our neighbors," said John Soules, Jr., president and co-CEO of John Soules Foods. "Our hope is that providing protein-rich foods to local food banks will ease the burden many are facing at this time."  
Said East Texas Food Bank CEO, Dennis Cullinane: "We are so grateful for John Soules Foods' amazing generosity, just when we needed it the most."
Allison Hulett, president and CEO of Montgomery County Food Bank, concurred. "This is a true example of how Texans are uniting to fight hunger during this unprecedented time of crisis," she said.
Datz Restaurant Group (Tampa, Fla.)
Having a sense of humor is important: in good times, and perhaps especially in bad. Along with a reputation for next-level comfort food, that's a hallmark of the Datz Restaurant Group. And despite the challenges the restaurant's faced, its team has committed to serving the community—and spreading smiles, too.
"Stay away from me!" Not what you'd usually expect to hear from those in the hospitality business, but when it's on T-shirts designed by Datz team members having as much fun as they can with social distancing, that's a different story. So, too, are the freshly baked cookies decorated with the same message that have become popular among the area's healthcare workers.
To further support its community and local frontline workers, Datz invited customers to donate a meal, which it matched to double the impact. Meals are delivered each Friday to those working at Tampa General Hospital, Palms of Pasadena Hospital, Advent Health Carrollwood, Johns Hopkins All Children's Foundation, local firefighters and more.
"We're glad we could bring some smiles to our local healthcare workers," Datz representatives said. "Thanks for all you are doing on the frontline and thank you to everyone who has donated meals to help feed these super kind souls! It is very much appreciated."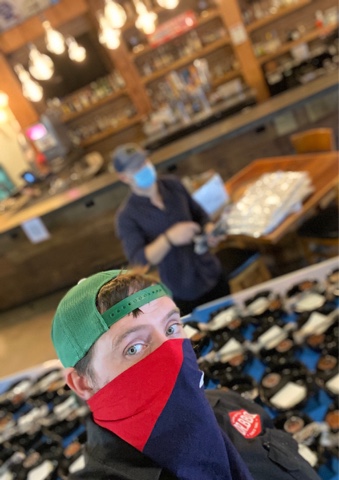 Lucille's Smokehouse Bar-B-Que (Long Beach, Calif.)
First responders and the military are always serving, always ready for the call to help protect. But especially in times of crisis and uncertainty, their role is paramount.
When the U.S. Naval Ship Mercy came to the Port of Los Angeles, ready to help regional hospitals cope with the COVID-19 pandemic, it also brought a crew of front-liners and security forces. That's when Lucille's Smokehouse delivered its best: a dose of local hospitality (aka tri-tip sandwich lunches) as a welcome and gesture of thanks. Lucille's also shared the tri-tip sandwiches with the Los Angeles Port Police in honor of National Police Week.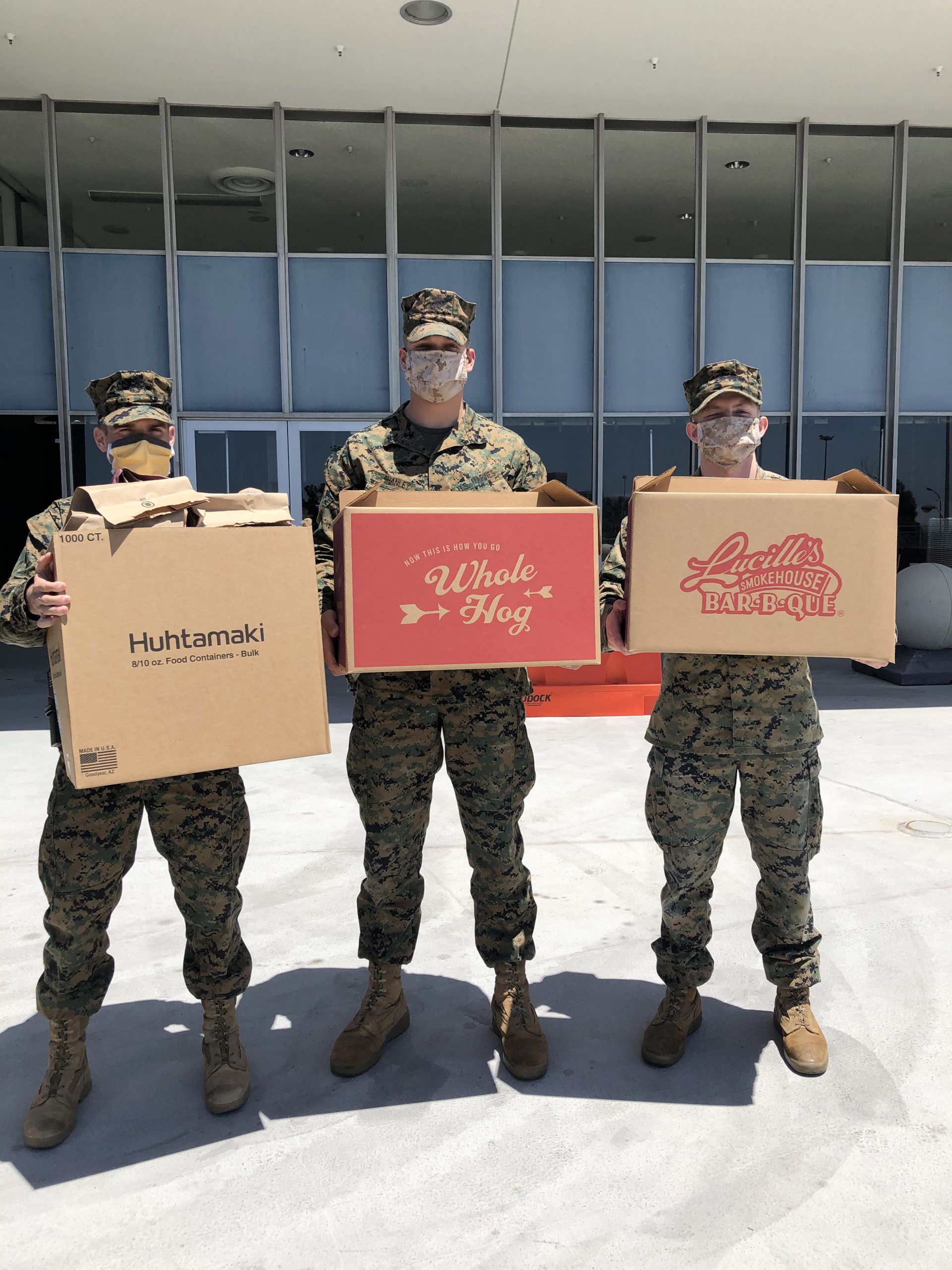 MOOYAH Burgers, Fries and Shakes (Plano, Texas)
At more than 70 locally owned and operated locations across the United States, MOOYAH Burgers, Fries and Shakes isn't just a place to eat, but a part of the community. While the face of daily operations changed during the pandemic, that commitment never wavered. Among those reaching out and sharing a great meal with healthcare workers were:
The Gonzales, La., restaurant owned by Chad Calongne, which donated 300 meals;
The Northborough, Mass., restaurant owned by Patrick Guay and Phil Howells, which donated 50 meals;
The Orlando, Fla., restaurant owned by Angel and Sheb Flores, which donated 100 meals; and
The Richardson, Texas, restaurant owned by Aaron and Amy White, which donated 1,500 meals.
Wings and Burgers Factory (Atlanta, Ga.)
To support Giving Kitchen, a local organization dedicated to providing financial assistance to foodservice workers, the 32-unit Wings and Burgers Factory partnered with Sysco Atlanta, H&F Bread Co. and the Certified Angus Beef â brand. The chain ran a promotion where $1 would be donated for every double-patty burger purchased, and 50 cents for every single patty burger. 
"We want to help give back to our community and friends in the industry who need our help," said Robert Bales, vice president and chief operating officer of PK Restaurant Group, Wings and Burgers' parent.