Give family and friends the gift of good taste this holiday season: prepare a mouthwatering prime rib roast. Prime rib is an epic cut ideal for holiday feasts and special occasions. Whether you're serving a few friends or celebrating with many guests, prime rib is the perfect way to savor the flavors of the season.
Never fear, Roast Perfect is here!
Prime rib can be daunting: it's an expensive cut of beef and the pressure for perfection is high. Don't worry—we have you covered. The best prime rib recipes are simple, and a few familiar herbs and spices easily complement the roast's robust beef flavor. There is a free cooking app to take you through the roasting process, step by step.
Download the Roast Perfect app here, and bookmark this website, so you can return for cooking tips, recipes and more.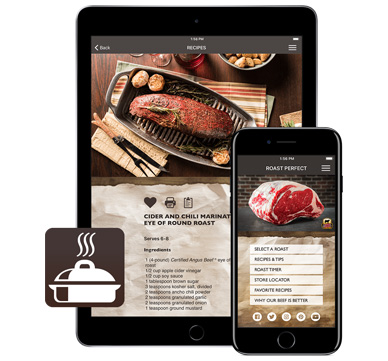 Look for the logo
The Certified Angus Beef ® brand logo ensures tasty, tender, juicy beef every time. Look for it in your grocer's meat case. Find grocery stores near you. Don't see what you're looking for? Ask the butcher for help. Meat department staff are eager to help you choose the best cut for a delicious dinner. You can do this, beef lover. With the Roast Perfect app on your favorite mobile device, you'll soon be serving the season's eatings!