Enjoy recipes inspired by Morten Andersen and Evander Holyfield at your Big Game celebration
A big celebration for the Big Game calls for big flavor—and what's better than some big steaks served up by two of the biggest legends in sports?
Football Hall of Fame Kicker Morten Andersen and four-time World Heavyweight Boxing Champ Evander Holyfield are known primarily for their excellence on the field and in the ring. But after a recent visit to the Certified Angus Beef ® Culinary Center to develop some signature game day dishes with the brand's Chef Tony Biggs and Chef Michael Ollier, they stretched their muscles in the kitchen, too.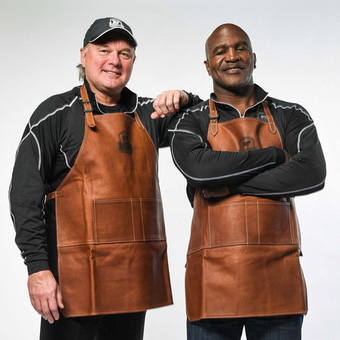 Holyfield's favorite steak is the Porterhouse—a big, beefy, beautifully marbled classic that's really two steaks in one: tender filet on one side of the T-shaped bone and strip steak on the other. For his recipe, created with Ollier, strip steaks are seasoned simply to let their natural flavor shine, grilled to the perfect doneness, and then finished with a tangy, tantalizing steak sauce.
Andersen, aka the "Great Dane," wanted to highlight the tenderloin—true to its name, the most tender cut of beef. In his recipe, created with Biggs, a tenderloin châteaubriand (bigger than a steak: perfect to share) is roasted to a perfect medium rare, and served with a rich béarnaise sauce that complements its mild flavor.
No matter which champion you want to channel in the kitchen, each recipe is sure to score big with your local team!
Get the recipes:
Evander's Grilled Strip Steaks with "Real Deal" Steak Sauce