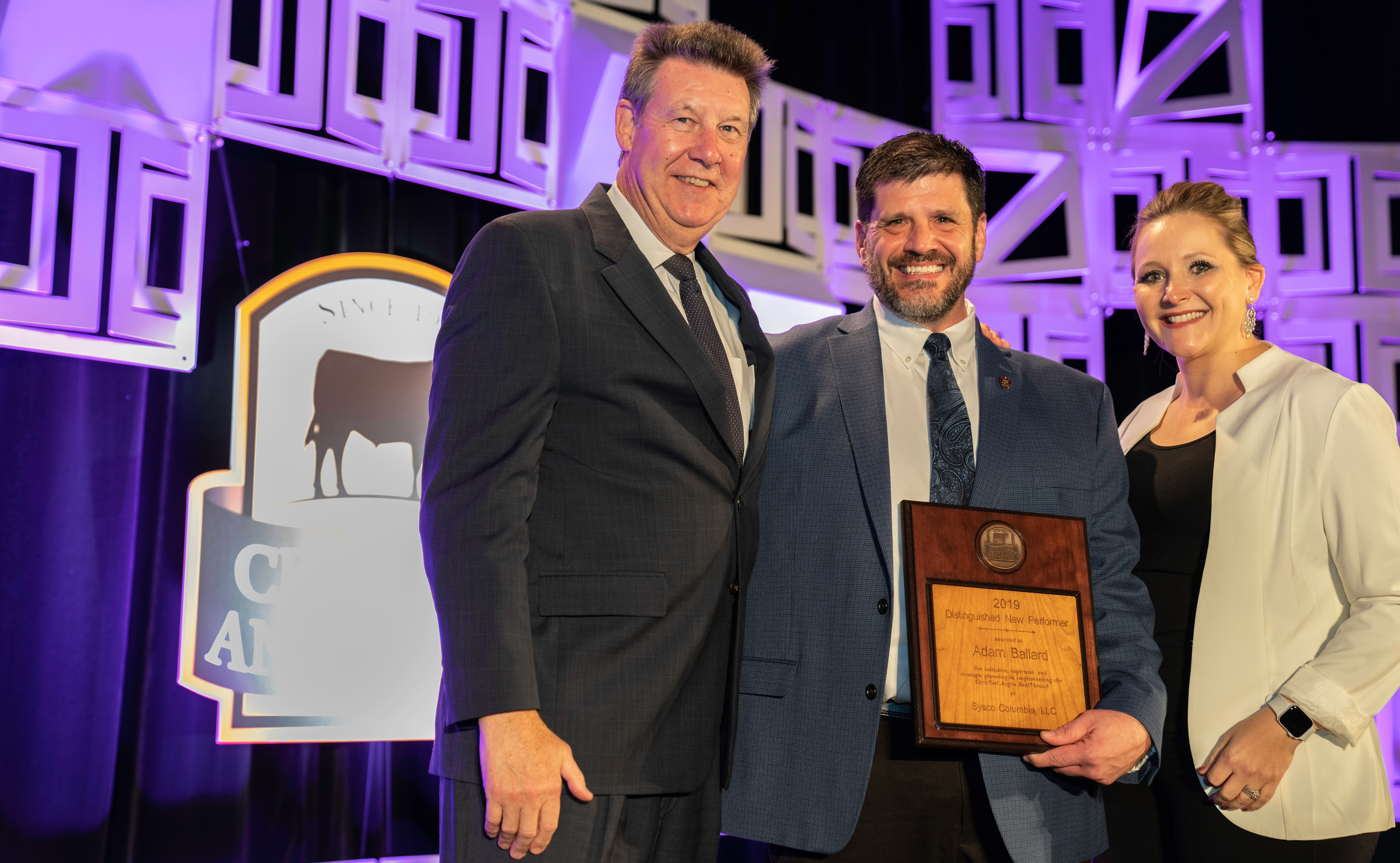 Certified Angus Beef
®
brand recognizes Sysco Columbia beef specialist
WOOSTER, Ohio – Feb. 28, 2019 – Adam Ballard, a center-of-the-plate specialist for Sysco Columbia, received the New Performer of the Year award from the Certified Angus Beef ® brand. Presented at the beef brand's annual foodservice seminar, the award recognizes a specialist with fewer than two years in the role for advanced focus in sharing beef menu, training and marketing solutions with his team and chefs.
"Adam is what you'd call a go-to person. If you need something and especially if it's around center of the plate, you know he's going to answer his phone or get right back to you and help," says Jason Burden, Sysco Columbia's vice president, sales. "His sales force and customers know they can depend on him."
Ballard was chosen among the brand's specialists throughout the United States and 49 other countries. Through trainings and promotions, he guides his team to help chefs understand and appreciate premium beef, so their customers can enjoy great-tasting beef entrées.
"Adam started out getting to know the customers," says Kacey Carbury, contract sales lead. "As he became closer and closer to those customers, they know to reach out to Adam when they have a question about the Certified Angus Beef ® brand, marketing, staff training or a ranch visit."
Adam has been very proactive in organizing those events and working to ensure customers understand the brand's quality and the people involved in bringing it to the table, starting with from family farmers and ranchers.
"Adam loves working with premium proteins, and most of all, working with our customers," says Kris Davis, director of business resources. "He's focused on making sure those menus accurately identify the brand by name, and he's dedicated to making sure customers appreciate the brand's quality."
About the Certified Angus Beef ® brand
World renowned for its exceptional quality and generous marbling, the Certified Angus Beef ® brand is the original brand of premium beef. It was created 40 years ago, in 1978, and is still owned today by family ranchers who are determined to bring the best Angus beef to the table. Ten exacting standards ensure superior taste and tenderness in every bite. For more information, visit CertifiedAngusBeef.com or follow the brand on Facebook, Twitter, Instagram, Pinterest and LinkedIn.
# # #