Scottish chef in Mississippi showcases long bone cuts in impressive ways
Long before he came to America from his native Scotland, Chef Simon Brown understood that all cuts of meat should be treated with a certain level of care and respect.
"Where I'm from, you use every single cut," says Brown, the 2008 Scottish Young Chef of the Year and chef de cuisine at Seafood R'evolution in Jackson, Miss. "And you show every cut the same kind of love that you'd show a Prime cut."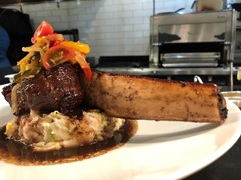 Need proof? The seafood-centric restaurant near the Mississippi Delta offers patrons two types of Certified Angus Beef ® brand tomahawks: one a traditional, long-bone rib tomahawk steak, and the other a sous-vide plate short rib "tomahawk."
"I've always loved studying barbecue," Brown says. "It's not something that we have back home, so I wanted to take something that's a braised piece of beef and still make it steak-like. It still falls off the bone, but it still has the appearance of a tomahawk steak."
Of course, with a name like Seafood R'evolution, its use of beef isn't what catapulted the restaurant into the stratosphere of best restaurants across the southern United States.
In truth, the John Folse- and Rick Tramonto-backed restaurant was built on preserving the culinary traditions of the Mississippi Gulf, and a gander at Brown's menu suggests that's precisely the standard that's being upheld.
But for a man who hails from the country that boasts being the birthplace of Aberdeen Angus cattle, ensuring that his beef component is up to the quality of his seafood will always be crucial.