Working in a restaurant is not just something Chef Chris Vogeli does. It is all he knows.
The chef proprietor at III Forks in Frisco, Texas, learned from family and roots what it takes to execute an excellent dining experience.
The family moved from Switzerland to Texas in the 1950s, when there was a big push from the Lone Star State to bring fine dining and classical dishes to its bigger cities.
Growing up helping his father and uncle, both chefs from Zurich, in their restaurants, Vogeli had done all the preliminaries: washing dishes, prepping salads, interacting with customers and more.
Next, after completing an associate's degree in culinary arts, the aspiring chef moved back to Switzerland for three years, where he apprenticed as a cook in five-star hotels.
Vogeli returned to the United States and worked his way up in chef kitchens until a momentous meeting in 1997 with famed steakhouse restauranteur Dale Wamstad, also known as "Del Frisco."
That led to the opening of III Forks, named for the confluence of the three forks of the Trinity River near the flagship location of a restaurant now also found in four other cities.
"Del said, 'I want to do this restaurant, and it will be the best steak and seafood restaurant that Dallas has ever seen,'" Vogeli recalls. "And now, here we are, 22 years later."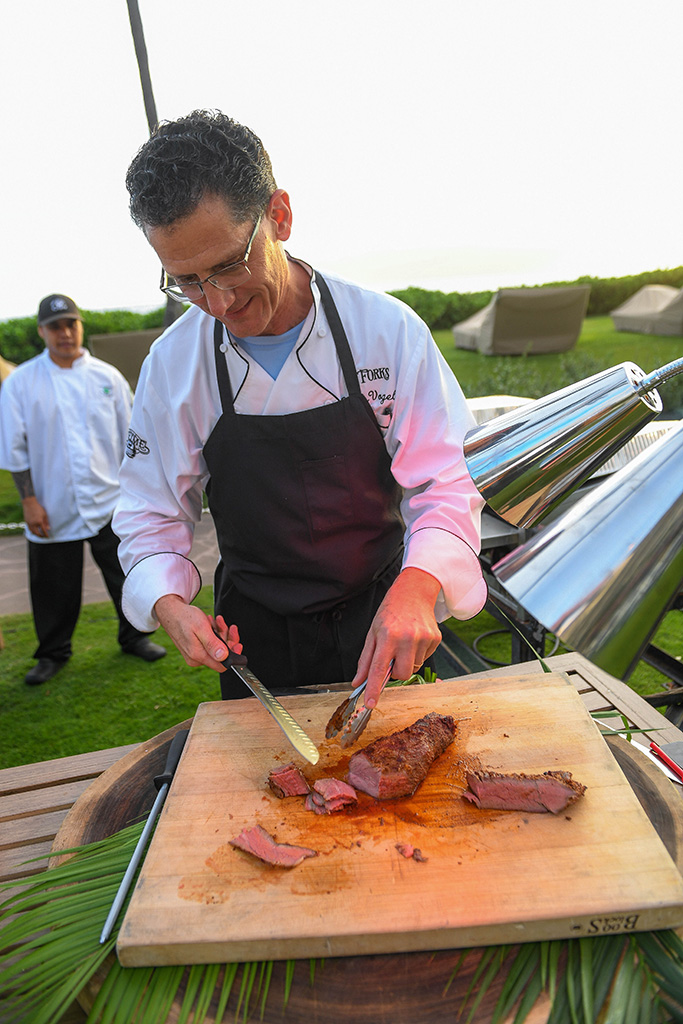 Consistency is Key
He knew the hardest and most important route to that vision would be creating and keeping a consistent experience. If it's a guest's first visit or their tenth, they should always have an enjoyable evening.
"We have a lot of businessmen and women who bring clients here repeatedly," he says. "Whether they came to seal a deal or just show them a good time, they know what to expect."
When it comes to maintaining high-level excellence, Vogeli prioritizes the food, the service and the experience.
"You have to make sure the beef is properly aged. You have to make sure the waitstaff looks nice, and they have to have good personalities, too."
No detail is too small.
"You have to make sure the guy comes and dusts all the mirrors every morning. That's just as important as the beef being high quality," the chef says. "All of that matters. You have to have the whole package."
Consistency is the No. 1 reason Vogeli prefers the Certified Angus Beef ® brand on his menu.
"My goal for III Forks goes hand-in-hand with the brand. We get quality beef with great standards every time," he says.
Recently, III Forks moved some six miles north to its new Frisco location. Although building, décor and street address have changed, the menu has not.
"Guests come to the new location and they say 'Oh, the steaks still taste the same' and that's so important to us. It's what they are expecting," Vogeli says.
Adjusting to the New Normal
Like many restaurants, III Forks had to adapt when COVID-19 restrictions reached the state.
It began offering hamburger meal kits, complete with III Forks special seasoning, and also offered dishes to-go.
"It was definitely humbling. I had to furlough a lot of my staff, unfortunately," Vogeli says. "I was doing a lot of tasks I haven't done in years like slicing, dicing and prepping the steaks myself. They were long days, but we survived."
With help from his partner beef brand, III Forks ran special promotions every Monday, when proceeds from every burger sold were matched and donated to first responders.
"We sold a lot of burgers but we gave more away," he recalls. "We visited firehouses, two major hospitals and the police station."
With restrictions loosening up, Vogeli is happy to welcome guests back for in-house dining, in keeping with capacity limits. While area businesses have slowed down, the local clientele steadily grows in supporting III Forks.
"They know we've been there for their celebrations and date nights," Vogeli says. "They still are coming to us for that, for birthdays and visiting with friends. I think people really enjoy going to a steakhouse and enjoying a good piece of beef that we prepare, not necessarily them. I think we're in a good position for the future."