According to the same folks who've decided that Jan. 28 is National Bubble Wrap Day, Oct. 3 is National Kevin Day and February (obviously) is National Embroidery Month, the month of June is officially crowned National Steakhouse Month.
While that's certainly flattering for the many hallowed halls of meat you'll come across from sea to shining sea, the reality is for the chefs pushing out plates adorned with giant hunks of sizzling seared meat on a nightly basis, let's face it: EVERY MONTH is steakhouse month.
But since the arbitrary spotlight is shining brightly on the steakhouse world, let's make the most of it by sharing tips on how to prep, cook and serve the perfect steak from some of the country's most adept culinary meat masters.
Chef Shawn Heine
Prime Cincinnati
Cincinnati, Ohio
Chef Heine doesn't mess around when it comes to fire in his downtown Cincinnati destination. His suggestion? Crank it up to 11 and make sure your steak has a nice sear on the outside. The combination of a crispy exterior and tender, juicy interior is what's so desirable to the palate, so don't hold back.
"People are afraid of the heat," Heine says. "Don't be. All my grills at Prime Cincinnati are raging at full power. When it comes to steaks, we're all fire, all the time."
Chef Glenn Wheeler
Spencer's for Steaks & Chops
Omaha, Neb.
The man who leads the kitchen in the epicenter of Cowtown believes patience is a virtue—in life, but most importantly, with steak. Resting is an oft-stated suggestion that's sometimes forgotten when the aromas of a still-sizzling piece of meat comes off the direct heat.
"People forget to let it rest," says Chef Wheeler, one of the most influential chefs in Omaha for the past 25 years. "But you have to. If you cut into it too soon, you'll lose juices—and flavor—all over your plate."
Tom and Lisa Perini
Perini Ranch Steakhouse
Buffalo Gap, Texas
Nobody knows beef like Texans, and nothing is more Texas than steakhouse icons Tom and Lisa Perini and their namesake Perini Ranch Steakhouse. While such menus always offer up a number of beefy choices, the James Beard Award winners recommend the ribeye above all else.
"It's well-marbled, flavorful and juicy," Lisa Perini says. "It really can't be beat. And in the famous words of Tom, no one has ever said 'Happy Father's Day! Let me take you out and buy you a chicken breast.'"
Chef Peter Vauthy
RED, the Steakhouse
Miami, Fla. and Cleveland, Ohio
Chef Vauthy says don't skimp on the steak. Talk to your butcher and pick out a nice, thick steak—around 2 inches—so that you can properly cook it to your desired degree of doneness. Thinner cuts can overcook too quickly if you're targeting medium rare.
And then? Make sure you give your cooking surface enough time to get good and hot.
"If you're using charcoal, make sure to let the coals turn white to ensure even cooking," Vauthy says. "If you're using propane, turn the grill on 20 minutes before cooking to ensure your grates are nice and hot, and then you can adjust the temperature accordingly."
Chef Steve Cain
El Gaucho
Seattle, Wash., and Portland, Ore.
Chef Cain cautions guests to take carving seriously. Even if a steak is cooked perfectly and rested appropriately, cutting it in the wrong direction can give the impression of toughness.
"Once your steak is rested, the most important thing is cutting against the grain," says Cain. "Secondly, you have to cut on the bias (angled, instead of straight up-and-down). I'd also approach certain cuts differently. I'd slice a top sirloin very thin due to the graininess of the meat, and a New York strip a little thicker because it has so much marbling."
Chef Mark Keiser
Oak Steakhouse
Charleston, S.C.
Salt isn't just salt in Chef Keiser's downtown Charleston kitchen. Keiser says to pay attention to the type of salt you're seasoning your steaks with, and if it's iodized, well … think again.
"Stick to the fundamental things we do in a professional kitchen," Keiser says. "My No. 1 suggestion is to make sure you're using kosher salt instead of iodized. All you really need to do is season your steak with kosher salt and cracked black pepper, and the flavor of your steak will shine."
Edd and Nina Hendee
Taste of Texas
Houston, Texas
Edd and Nina Hendee have built Taste of Texas into one of the busiest, most sought-after steakhouse experiences in the country. And it hasn't come by accident. They suggest seasoning your steak as soon as it comes out of the cooler.
"Salt is hygroscopic, meaning it grabs and holds on to surrounding water molecules," Edd Hendee says. "That salt will work its way into the meat and do just that, helping keep your steaks juicy on the grill."
Chef Chris Vogeli
III Forks
Dallas, Texas
Chef Vogeli fires steaks of all sizes and cuts at his Dallas restaurant, but for home cooks wishing for success without a restaurant background, he suggests buying a cut that you know is going to perform.
"When it comes to steaks, make sure you buy quality first," Vogeli says. "Start with something that's well-marbled, like the Certified Angus Beef ® brand. I'm a New York strip guy. It has such robust flavors to it. Just season it with salt and pepper, start with a high heat grill and sear both sides, then pull it away to a cooler part of the grill to finish it. Top it with some butter and let that melt all over. The combination of that butter with those natural juices is magical."
Chef Alejandra Padilla
Five Crowns/Side Door
Corona del Mar, Calif.
Chef Padilla oversees the sister restaurant to one of the most iconic meat-centric restaurants in the world, Lawry's Prime Rib, where knowing your cut terminology can mean all the difference in the world when it comes to what hits your plate. The Lawry's restaurant group is known far and wide for its Prime Rib, which, chef says, isn't the same as a ribeye.
"The ribeye 'steak' comes from the same primal cut as the Prime Rib, but the cooking methods are different," Padilla says. "A whole Prime Rib is more succulent because it's slow roasted [not grilled, as steaks typically are], and the time it takes in the oven transforms it into a centerpiece for a real special occasion. A ribeye steak will have more of a caramelized flavor because more of the surface of the steak is exposed to the high heat. It helps create a more 'meaty,' robust flavor."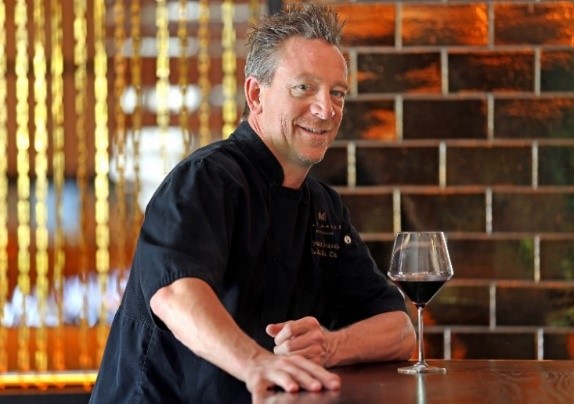 Chef Sean Brasel
Meat Market
Miami Beach, Fla.
The name says it all when it comes to Chef Brasel's insanely popular South Beach restaurant. But what sets Meat Market apart is Brasel's willingness to veer from the steakhouse standards. Confident cooks looking to try something new may find inspiration by following his lead.
"The bavette is my go-to," Brasel says of the cut, also known as the sirloin flap. "I cut them in 6 to 8 ounce portions and marinate them in a mixture of Aji pancha, kimchee base, Sriracha and water for 48 to 72 hours, then wood grill them slightly to char the outside. It's my favorite."
About the Certified Angus Beef ® brand
Since 1978, the Certified Angus Beef ® brand has owed its reputation for consistent pasture-to-plate quality to the community behind it. Chefs and cattlemen share a vision of excellence – in fact, they settle for nothing less. Each cut of beef meets 10 exacting quality standards to deliver superior flavor, tenderness and juiciness. Our team of beef and culinary experts spark exhilaration and new ideas, from interactive butchery to extraordinary cuisine, at our culinary center: CertifiedAngusBeef.com.