The farm and ranch families that supply the Certified Angus Beef ® brand go the extra mile.  This year's award winners exemplify a commitment to excellence in all that they do. Meet the farm families raising the best beef.
Seedstock Commitment to Excellence: Yon Family Farms, Kevin & Lydia Yon
Success to the Yons is more than selling quality seedstock. It's a quest of developing better grass, cattle and people that add value for their customers, community and consumers. The pursuit of quality in every detail of their operation earned the Yon family the Certified Angus Beef 2021 Seedstock Commitment to Excellence Award.
First-generation seedstock producers Kevin and Lydia Yon, along with their children, Drake, Sally and Corbin, have been continuously improving their farm since they drove the first fence posts on what was a 100-acre abandoned peach orchard in 1996.
As the family's grown to include four grandkids, the herd's expanded, too. Nearly 1,500 Angus cattle now graze their lush green pastures on the coastal plains outside of Ridge Spring, S.C.
"We're a family-owned seedstock operation that lives and works with the cattle," Kevin says.
It's been the couple's goal of raising the best beef from the beginning and it's never been more evident that is still their goal today.
"We target the Certified Angus Beef brand because to us, it's the mark of excellence. It's the mark of quality," Kevin says. "It's the best of the best. And we don't want to just be good. We don't want our customers just to be average. We want to strive for excellence in all we do."
Commercial Commitment to Excellence: San Rafael Cattle Company, Ross Humphreys
Most ranchers wear many hats. Ross Humphreys wears many hats for a few different reasons: he's a cowboy, chemist, book publisher, family man and conservationist. Grit in every venture makes him a successful businessman and his unrattled spirit makes the best of challenges; however, it's his relentless drive for raising high-quality beef that earned him the Certified Angus Beef 2021 Commercial Commitment to Excellence Award.
The Arizona rancher bought San Rafael Cattle Company in 1999 when he was 50 years old with zero years of experience in the cattle business. The pastures border Mexico in the biologically rich San Rafael Valley. Conservation in this pocket is just as much a priority of using Angus genetics for Humphreys.
The ranch is located on the north end of a rich, ecological site that looks like the great plains but is nestled into Arizona's high desert country.
"We've implemented protection and re-introduction plans, and learned so much about the animals and plants that live here," says his wife, Susan.
Ross is committed to his final career as a rancher.
"I want to come home to a beautiful place," he says. "I started doing this when I was 50, but I like the work. I like the cows."
Ambassador Commitment to Excellence: Pfeiffer Angus Farms, John and Gaye Pfeiffer
John and Gaye Pfieffer's mission is to make their communities better and more approachable. Their dedication to teaching and connecting with those further down the supply chain earned them the 2021 Certified Angus Beef Ambassador Award.
Serving on local school boards, state associations and hosting groups of chefs or meat counter managers on their farm is all part of the day in the life of the Pfeiffer family in central Oklahoma.
"We consider it a privilege to be able to host groups. It's always been our obligation we thought as producers to interact with all the different segments Certified Angus Beef interacts with to explain our role and how it all fits together," Gaye says.
Service is simply a part of the legacy they hope to leave on their patch of red dirt.
"A legacy to me means more than just acres and cows," Gaye shares. "A legacy to me means you are also sharing your values. You're sharing the love of the land, the importance of feeding the world and the importance of doing whatever it takes to make things better in the end."
Feedyard Commitment to Excellence: Shaw Feedyard
Dedicated to providing great, consistent Angus cattle, Shaw Feedyard was founded on quality.
Kendall Hopp manages the cattle while Bill Shaw leads the finances and his son, Brett Shaw, takes care of the farm, stockers and other duties assigned. Their teamwork, values and ability to consistently raise high-quality beef earned Shaw Feedyard the Certified Angus Beef 2021 Feedyard Commitment to Excellence Award.
The 7,500-head feedyard is in an area Hopp likens to Main Street for prime cattle country.
Just 45 miles from two major packing plants in Dodge City, Kansas, with a network of quality-minded cattlemen nearby, Shaw Feedyard fits the locality like a trendy restaurant downtown. The climate is favorable for keeping pens of fed steers and heifers comfortable and thriving. The Kansas wind keeps even the hottest summer days bearable.
It's a different sense of local. Accessing their supply and supporting the state economies until harvest, when much of their beef is shipped to higher-populated areas.
"It's our job to feed strangers," Brett says. "It's not a burden because I know the beef that we're putting in front of them is a consistent, efficient, sustainable product. And it will be for generations to come."
Certified Angus Beef Progressive Partner: U.S. Premium Beef, LLC (USPB)
To tell the U.S. Premium Beef, LLC (USPB) story today is to tell one that changed the beef industry for the better.
There are numbers like $625 million in grid premiums paid back to the cattleman generated from establishing the model for grid marketing that brought the rest of the industry on board to price cattle on carcass quality.
"There were a tremendous number of individuals who, each with a collection of ideas, became a team," says Tracy Tomas, USPB vice president of marketing. "And that team became very, very synergistic in result."
Fear was the initial motivator. Losing money and the dream of carrying on the family's cattle-raising legacy, Mark Gardiner knew he had to do something to survive in the beef business.
Calling his Kansas State University fraternity brothers who were also involved in cattle feeding, Gardiner started swapping ideas over the Pizza Hut lunch buffet. The ideas became a vision in hushed evening meetings. Competitors by day became allies by night.
In October 1997, the USPB stock offering went live, purchasing what was then Farmland National Beef Packing Company, LP. The fourth-largest beef processor in the United States.
By December, the new company was buying up to 10,000 head of cattle from its producer members.
Today, USPB has more than 2,900 rancher members and associates in 38 different states, and an approximate 15% ownership interest in National Beef Packing Company, LLC. The USPB mission includes increasing both the quality of beef and long-term profitability for cattle producers.
"We all love this business, but every cow is connected to a human. So, if we make sure the humans can be prosperous and survive, that's what sustainability is," Gardiner says. "That is the opportunity that USPB gave our family and thousands more across the United States."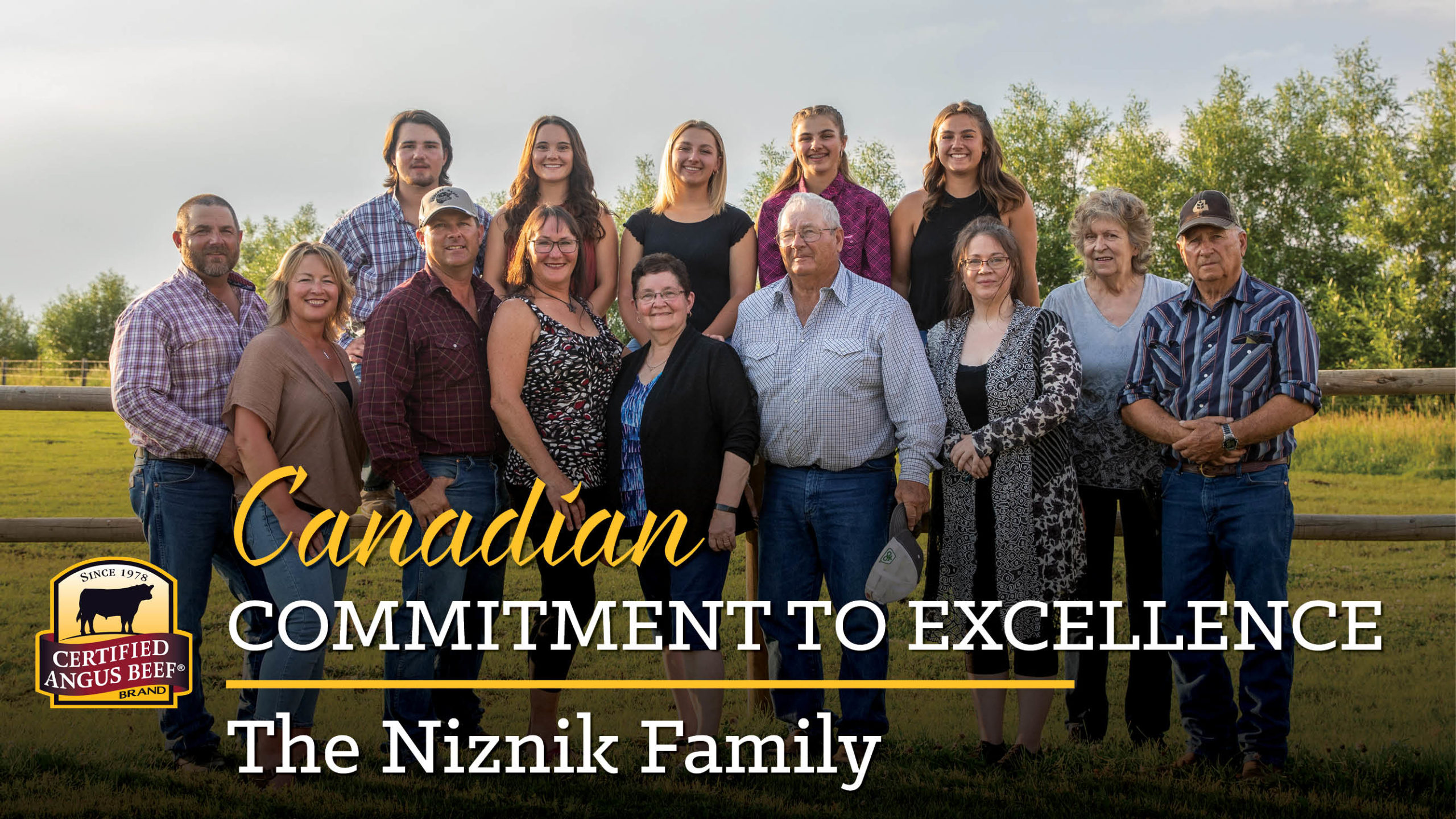 Canadian Commitment to Excellence: Niznik Ranch
To anyone else, it's just another ranch, but for brothers Brad and Bruce Niznik and their families, Niznik Ranch in Brooks, Alberta, is home.
Angus is more than just a black hide to the Niznik family. It's genetics and partnerships with cattlemen who have similar goals of producing the highest quality beef on the market.
Everything about the bulls they buy, the cows they cull and the grass their cows graze is meticulously planned. Each decision is first evaluated for how it will affect the ranch's economics, the land and the family.
"We're capitalizing and raising the best product and doing the best with the environment we're given," Brad says. "It is a culmination. Our goal is to reach the top, to be the best at what we do."
It's this mindset that earned the Niznik family the Certified Angus Beef 2021 Canadian Commitment to Excellence Award.