What's next? Today's students hold tomorrow's answers. Tackling the variety of challenges and opportunities in the beef supply chain are talented young leaders paving a path for the future. Certified Angus Beef recognized 10 undergraduate and five graduate students with bright ideas for making the best beef even better.   
Carrying the legacy of the brand's co-founder and executive director, Louis "Mick" Colvin, these students are recognized for pursuing a passion for agriculture through further education. To date, the fund has supported 101 recipients.   
"We are excited to help the next generation make an impact on the beef industry by awarding the largest amount of scholarship dollars we've ever given," says Mandy Atterholt, scholarship administrator and the brand's experience and education manager.  
Undergraduate awards:  
$7,500 – Abbey

 Schiefelbein

—Kansas State University 

 

$6,500 – Emily Saeugling – Iowa State University 

 

$5,000 – Lauren Lee – Texas A&M University 

 

$4,000 – Alexandria Cozzitorto – Texas A&M University 

 

$4,000 – Jaelyn Sewell – Oklahoma State University 

 

$1,000 – Lindsey Decker – Kansas State University 

 

$1,000 – Sadie Vander Wal – South Dakota State University 

 

$1,000 – Ameilia Hayden – University of Minnesota – Twin Cities  

 

$1,000 – Ellie Clark – University of Georgia 

 

$1,000 – Claire Stevenson – California Polytechnic State University San Luis Obispo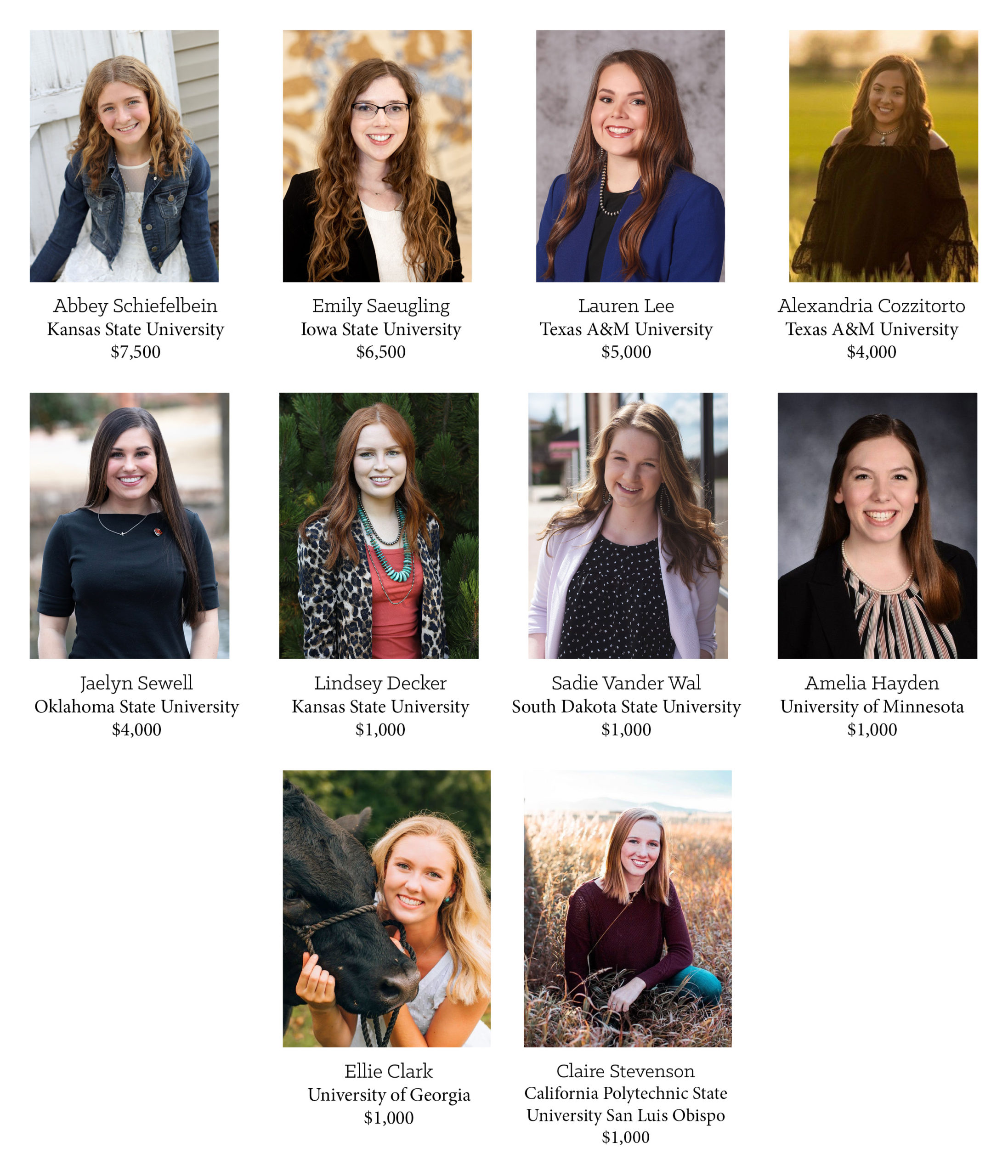 Graduate awards:
$7,500 – Ronald Trotta – University of Kentucky 

 

$6,500 – Emma Mortensen – Texas Tech University 

 

$5,000 – Becca Grimes – West Texas A&M University 

 

$4,000 – Kaitlyn Wesley – Texas Tech University 

 

$4,000 – Allie Martin – Texas Tech University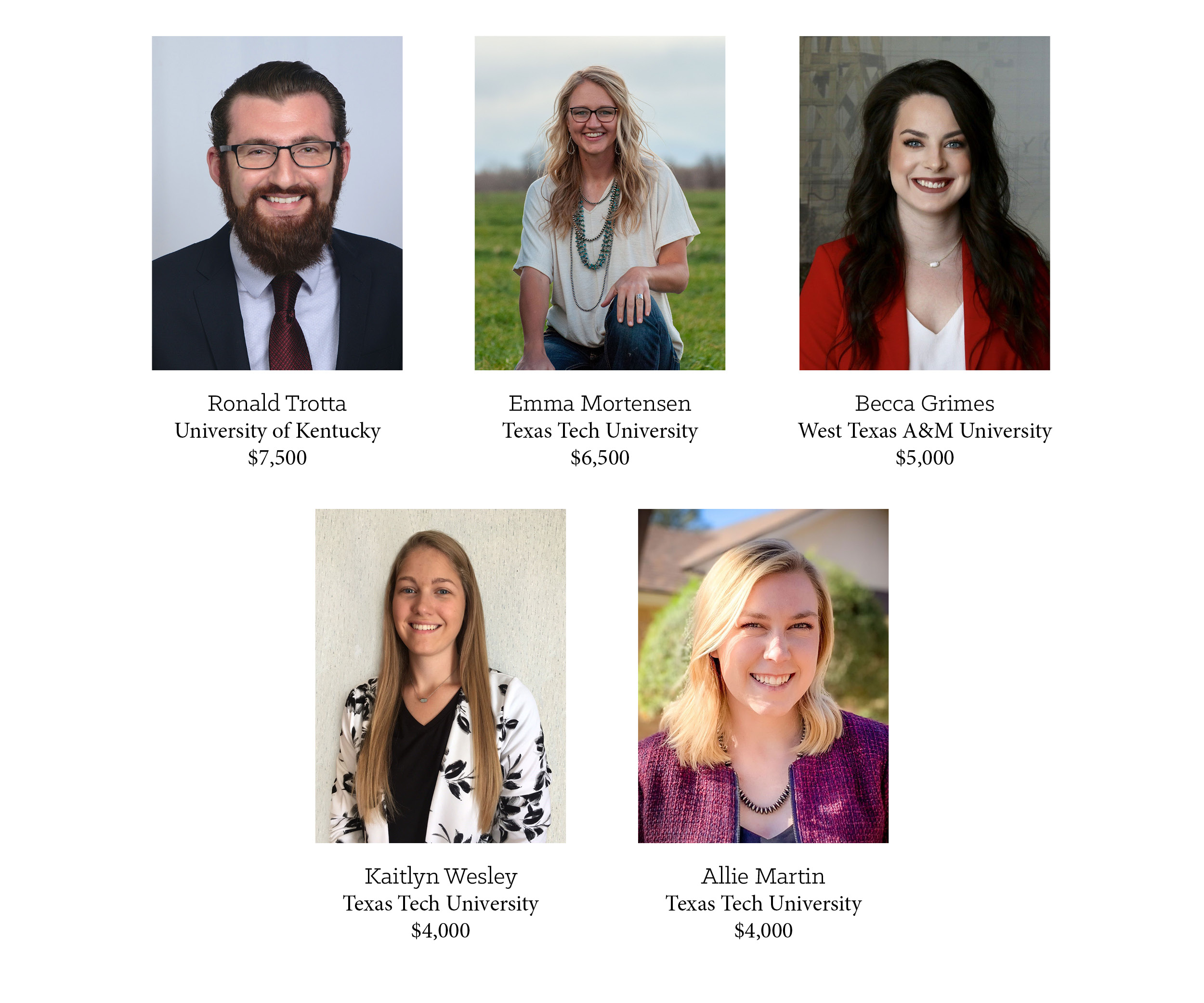 Applicants were challenged on how to improve the Certified Angus Beef ® brand to better serve consumers and cattlemen. The students shared ideas for growing the brand's reputation as the very best beef.   
"Our selection committee was impressed by the depth and quality of this year's applicants," Atterholt says.   
Their essays embodied a dedication to the beef industry and progressive ideas about the future of agriculture.  
Abbey Schiefelbein, a Kansas State University food science senior, suggests that while inevitable, change is especially prominent in consumer marketing. Her solution: collaborate with grill companies to produce a smart grill for easier cooking.   
"Through my examples, we will be able to expand our potential consumer base while reinforcing the idea of why they should always choose Certified Angus Beef over any Angus or beef company," Schiefelbein says.   
She suggests that a smart grill will take the guesswork out of cooking a steak and entice a consumer to grill more frequently.   
After graduation, Shiefelbein plans to pursue a master's degree in meat science, focusing on meat product research and development. She hopes to develop meal solutions that are convenient, healthy and flavorful.  
Ronald Trotta's research at the University of Kentucky examines how cattle nutrition can lead to increased profitability, performance and beef quality. The top graduate-award winner says his career goal is to create a cattle feeding research and teaching laboratory.  
"By focusing on beef nutrition, I hope to train students in addressing the challenges facing animal agriculture in the future," he says.   
Each year, top award winners receive an all-expense-paid trip to the Certified Angus Beef ® Annual Conference, held this year in Marco Island, Fla., September 22-24. There, students will have the opportunity to interact with leaders in the production, packing, retail and foodservice industries. The Colvin Golf Classic and auction are held in conjunction with the conference to raise funds for the scholarship program.