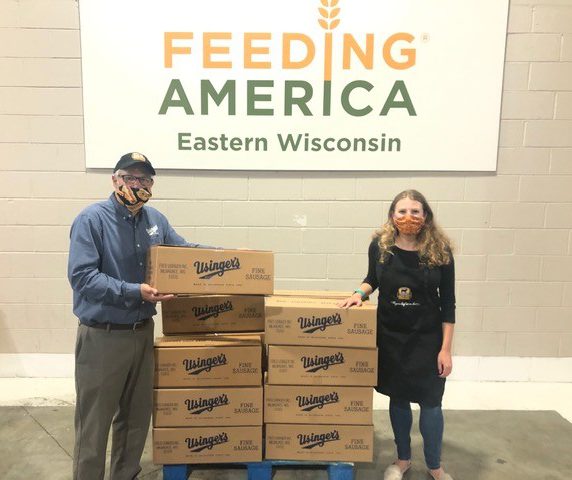 "There is nothing more American than National Hot Dog Day and nothing more important than helping our neighbors," said Jon Gabe, from Usinger's Famous Sausage, as he delivered frankfurters to Feeding America Eastern Wisconsin in Milwaukee's Stephanie Harte.  
It's an American symbol. Paired with mustard at a baseball game, a stick and the crackle of a campfire, or the "Come and get it!" yell from the kitchen.
Hot dogs are a staple of American summer, and all seasons for easy family meals or to-go menu options.
The pandemic shifted many parts of American life, from mask-wearing to virtual family game nights. At the same time, unemployment ballooned the need for assistance in what goes on the family dinner table. Feeding America estimates that their network food banks are assisting an additional 17.1 million food-insecure Americans this year. With the clouds of coronavirus hanging over July 2020, does the family dinner table still have a place for the family favorite frankfurter?
As Americans stocked up on food this spring, hot dogs rose to the top as a preferred comfort food. Retail sales realized double-digit gains compared to a year earlier for 15 weeks during March to June, according to 210 Analytics. Summer cookouts and holidays, such as Independence Day, continued to drive dollar sales nationwide. Beef hot dogs have been trending at 61% of total hot dog sales, the data analyst also reports.
In good times and bad, folks crave the flavor of a frankfurter.
To mark the occasion of National Hot Dog Month in July and National Hot Dog day on July 22, the North American Meat Institute united meat companies nationwide to deliver hot dogs to Feeding America locations, giving the hardest hit families a dinner to remember.
"The Meat Institute's initiative inspired us to collaborate with our partners to support their local communities," says Brett Erickson, director of value-added products, such as frankfurters, for the Certified Angus Beef ® brand. "Our family-owned beef frankfurter and sausage companies across America know the value of hard work and helping people in need. This was a way we could celebrate the holiday, give back and hopefully give folks something to smile about."
Six companies joined the effort, with Sysco Cleveland delivering hot dogs to the Greater Cleveland Food Bank on the beef brand's behalf. In all, the group delivered nearly 10,000 all-beef sausages to Feeding America locations in Ohio, Michigan, New York, Wisconsin, Nevada and Utah.
"These companies have deep roots in America," Erickson adds. "They focus on bringing old-world tradition to the table with clean ingredients so restaurants and grocery stores can offer a wide selection of delicious, unique proteins year-round."
In Carson City, Nev., Flocchini Family Provisions uses whole-muscle briskets and tri-tips and old-world family recipes for small-batch craft sausages, including brisket sausages.
"Our purpose is to make a gathering of friends and family more memorable by offering premium meat to chefs, restaurateurs and distributors, while exceeding their expectations for exceptional value and impassioned service," says Pat Norris, Certified Angus Beef® specialist at sister company Sierra Meat & Seafood.
At Lower Foods, family members Alan, Chad and Lee Lower delivered frankfurters July 10 to the Utah Food Bank. The Lower family offers products that are free from the common eight allergens and come from a certified gluten-free facility.
"All of us at Lower Foods appreciate being able to team up with the Certified Angus Beef ® brand for the National Hot Dog Day donation," shared Dean Boilesen, director of foodservice sales and operations. "We are grateful for the work the Utah Food Bank does and we understand what an incredible service it provides for Utah."
Usinger's has been making sausage in Milwaukee for 140 years using whole-muscle cuts, natural spices, fresh garlic and natural smoke. No MSG, artificial flavors or binders are used.
"There is nothing more American than National Hot Dog Day and nothing more important than helping our neighbors," said Jon Gabe, vice president of sales at Usinger's Famous Sausage. "Being able to participate in this event allows us to thank those who have supported us for all those years, and need a little support from us now."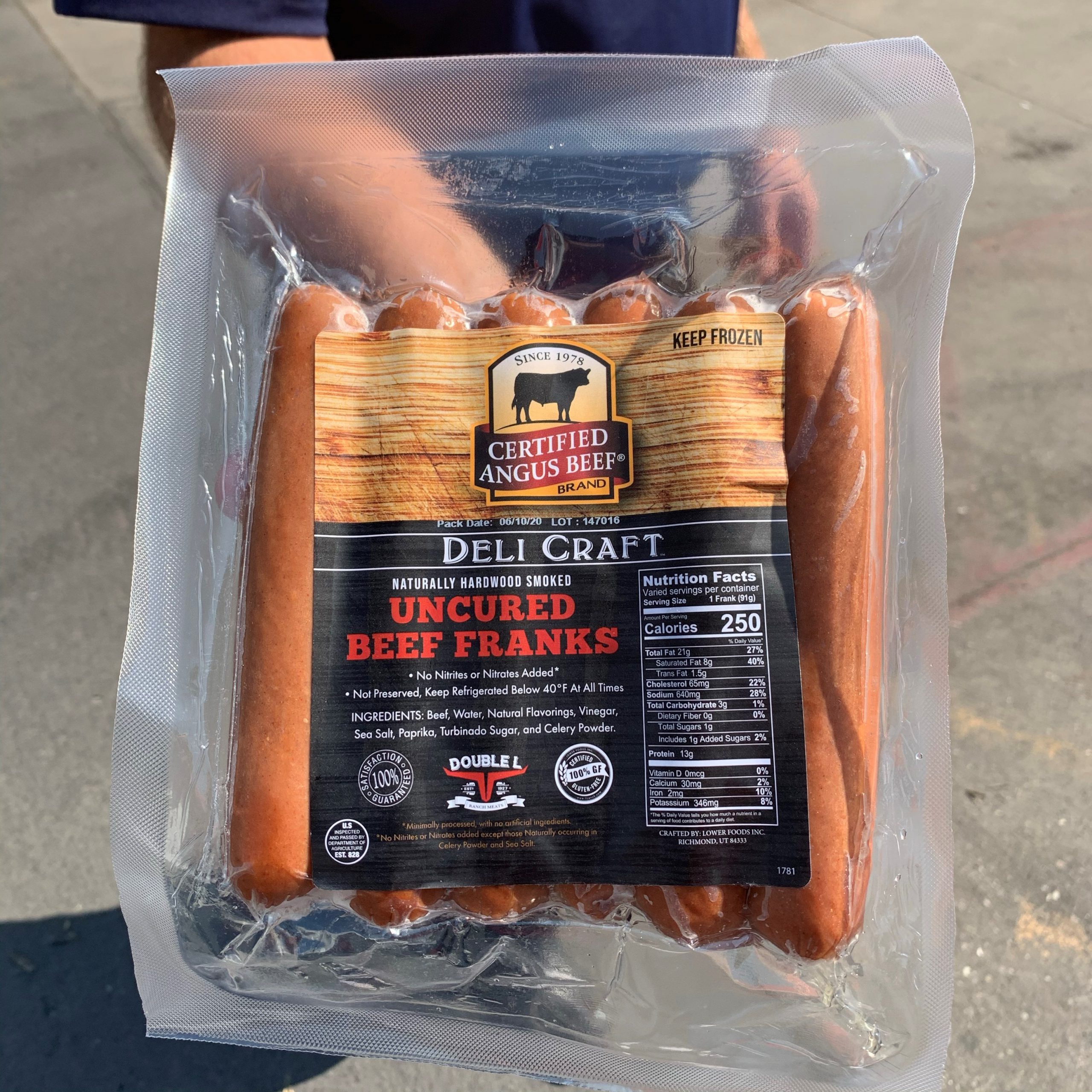 The best hot dogs are made with the best beef. Certified Angus Beef ® frankfurters meet the brand's 10 exacting standards and processors use the finest ingredients and old-world tradition to make deliciously unique, premium frankfurters and sausages. 
National Hot Dog day isn't the only time these meat companies connect with food banks in their local communities.
"We work with Feeding America, local churches, non-profits and food pantries to help our community throughout the year," said Bob Ebels, CFO at Little Town Jerky Company in Falmouth, Mich. "We looked at it as an opportunity to give back during this difficult time. We are also very proud of our Certified Angus Beef ® products and love to get them to people to enjoy."
The company specializes in smoked bratwurst, beef jerky and other specialty sausages. The fifth generation of family members work in the business.
Also participating in the National Hot Dog Day outreach were Old World Provisions and Kent Quality Foods. At Old World Provisions in Troy, N.Y., four generations have crafted frankfurters and specialty meats with the finest ingredients so retailers and restaurants can offer authentic New York taste and flavor. Kent Quality Foods, Grand Rapids, Mich., focuses on crafting franks, sausages and specialty meats for foodservice, and offers product training and customer solutions for success.
From the families that make the national favorite, to the families who gather for mealtime, frankfurters link people together for a taste of a traditional American summer.